On-Farm Dairy Processing Online Series 2022
---
Event Details
Date
May 25, 2022
June 1, 2022
June 8, 2022

Time
6:00pm
Location
Online via Zoom

Host
Southwest NY Dairy, Livestock and Field Crops Team
Camila Lage
607-422-6788
email Camila Lage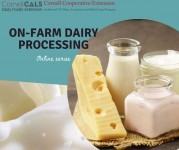 With the current volatile dairy market, rising input costs, and continued challenges in commercial dairy production, farm owners are looking for new ways to improve their profitability. For farms interested in diversifying or vertically integrating their business, one option could be on-farm processing of raw milk into value-added goods and bottled fluid milk for sale. Cornell Cooperative Extension and Cornell University experts are coming together to present a series of webinars to discuss the business considerations and regulatory requirements of on-farm dairy processing.
WHEN:
Session 1: Fitting On-Farm Dairy Processing into your Business to Improve Profitability
Wednesday, May 25th, 2022 - 6 pm to 7 pm
Presenters: Katelyn Walley-Stoll - Farm Business Specialist & Anika Gianforte - Dairy Processing & Marketing Specialist
Session 2: Considerations for Designing your Processing Facility for Quality Production
Wednesday, June 1st, 2022 - 6 pm to 7 pm
Presenters: Anika Gianforte - Dairy Processing & Marketing Specialist & Rob Ralyea - Sr. Extension Associate
Session 3: Managing the "Red Tape" for Efficient and Sustainable Value-Added Dairy
Wednesday, June 8th, 2022 - 6 pm to 8 pm
Presenters: Rob Ralyea - Sr. Extension Associate & Kimberly Bukowski - Extension Professional
REGISTRATION: This webinar is FREE and open to anyone interested in learning more about diversifying or vertically integrating their business through on-farm dairy processing. Registration is required, and at registration, attendees can choose whether they want to attend all 3 sessions or specific ones. Participants will receive the zoom webinar URL after their registration is confirmed. A recording of the webinar will be made available to registered participants.
LINK FOR REGISTRATION: https://cornell.zoom.us/webinar/register/WN_cTfizZZUQ4GoDem5TolLoQ
If you have any questions, would like to register over the phone, or require accommodations, please reach out to Camila Lage at (607) 422-6788 or at cd546@cornell.edu.

SWNYDLFC is a partnership between Cornell University and the CCE Associations of Allegany, Cattaraugus, Chautauqua, Erie, and Steuben counties. Their team includes Katelyn Walley-Stoll, Farm Business Management (716-640-0522); Camila Lage, Dairy Management (607-422-6788); and Amy Barkley, Livestock Management (716-640-0844). CCE is an employer and educator recognized for valuing AA/EEO, Protected Veterans, and Individuals with Disabilities and provides equal program and employment opportunities.
This work is based on upon work supported by USDA/NIFA under Award Number 2021-70027-34693.


Upcoming Events
Webinar-Challenges and Opportunities of Managing Transition Cows on AMS
June 1, 2023
Please join MSU Extension and Cornell Cooperative Extension Regional Teams for our talk with Pete Maslyn of Hemdale Dairy and Todd Ward of Direct Dairy Nutrition Services on managing transition cows on automated milking systems (AMS).
2023 Dairy Nutrition & Management Shortcourse
June 5 - June 9, 2023
Chazy, NY
This course is designed primarily for early career nutritionists and allied industry professionals seeking a more comprehensive foundation in the principles of dairy cattle nutrition and their application within dairy herd management.
Agritourism Workshops Monthly! - Agritourism Pricing Workshop
June 20, 2023
Are you thinking of starting an agritourism business or are you currently operating one?

Join our monthly lunch-hour, workshop virtual series and learn how to grow your agritourism business!
Each session will focus on specific topic to help aspiring agritourism entrepreneurs grow their knowledge and profit through this exciting on-farm business.

Cost: Free to attend, but registration required!

Announcements
Follow us on Instagram
See photos and reels of our most recent events and programs!
Join us on Facebook!
Follow us on Facebook to get up to date posts about events, workshops and everything NWNY!
Add us on LinkedIn!
Connect with us on LinkedIn to get more information about upcoming workshops and programs!
Watch us on YouTube
Watch instructional videos from specialists in the field!
Subscribe for Emails about Events & Workshops!