Dairy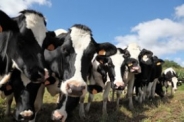 Dairy is the leading agricultural industry in New York State, and the state ranks third in the country for milk production. Our ten counties in western New York form an especially vibrant dairy region, with 943 dairy farms of many different sizes and production systems. Wyoming county is the top milk producing county in the state, producing 1.1 billion pounds annually.
Relevant Event
American Farmland Trust - Soil Health Field Day
August 31, 2021
Avon, NY
2021 Working Paper by John Hanchar and Aaron Ristow
John Hanchar, Farm Business Management
Northwest New York Dairy, Livestock & Field Crops
Last Modified: July 23, 2021
Working Paper
Achieving Improved Soil Health Outcomes While Maintaining or Improving Economic Viability: Case Study of a Dairy Farm Business in the Genesee River Watershed, New York


John Hanchar, Cornell University/College of Agric. & Life Sciences/CCE/Dairy, Livestock and Field Crops Program
Aaron Ristow, American Farmland Trust
Summary
The owners and primary operators of the Mulligan Farm, a dairy farm business in the Genesee River Watershed of New York, like many farm business owners today, seek to achieve improved soil health and related outcomes while maintaining or improving economic performance.
The Mulligan Farm has successfully planned and implemented numerous cropping system changes designed to achieve improved soil health and related results.
Economic analysis suggests that successful implementation of soil health improving practices coincided with improved economic performance.
Microgrant for Dairy Farmers in New York
Last Modified: February 11, 2021

The new Dairy Forward program is a partnership between American Farmland Trust (AFT) and Chobani. This program aims to help select dairy farm families in New York access information and professional services to help plan for farm transitions in the face of tremendous challenges such as a weak dairy economy, disruptions from severe weather, and an aging farmer population. AFT will make grants of $500 to $5,000 for professional services that further goals associated with farm transfer and succession planning, farm business planning, permanently protecting land, or adopting regenerative farming practices. This is a great opportunity for dairy farm families who are thinking about transitioning their farm to a new generation, hoping to protect their farm, looking to improve farm profitability, or are interested in adopting regenerative practices. Applications are currently available until funds are used up. Funds will be paid directly to business providers.
Dairy Culture Coach Winter 2020
Libby Eiholzer, Bilingual Dairy
Northwest New York Dairy, Livestock & Field Crops
Last Modified: December 18, 2020

Check out the latest issue of the Dairy Culture Coach:
Communicating with Your Multicultural Team
What's Happening in Mexico and Guatemala
Recognizing Your Team
Covid-19
It's always the Nutritionist's fault!
Last Modified: November 18, 2020
by: Casey Havekes, Betsy Hicks, Margaret Quaassdorff
Cornell Cooperative Extension Regional Dairy Specialists
The role your nutritionist plays in the success of your dairy goes beyond the diet they put together. Ensuring good communication, having a basic understanding of your diet, and knowing what additives are incorporated and why they are added, can improve performance on your dairy. It is equally important to recognize that herd management also plays a critical role in success as nutrition alone will only take your herd so far. Because of this, CCE Dairy Specialists hosted a webinar titled, "It's Always the Nutritionist's Fault! Understanding diets and improving communication on your dairy". In case you missed the live webinar, below is a recap of the main points.
Dairy Culture Coach Fall 2020
Libby Eiholzer, Bilingual Dairy
Northwest New York Dairy, Livestock & Field Crops
Last Modified: September 24, 2020

Check out the latest issue of the Dairy Culture Coach!
COVID-19 Update
Flu Season is Here
Influenza (gripe) / Influenza (flu)
Somatic Cell Count / Conteo de Células Somáticas
Keep SCC Low / Mantener bajo el CCS
Farm Financial Management Practices for Unfavorable Economic Conditions
Last Modified: July 10, 2020
Sound financial planning and control improve owner's abilities to manage their businesses during unfavorable economic conditions. Consider the current environment affected by the COVID-19 pandemic, and the lack of rain in many areas. Budgeting is a valuable farm financial management practice for these situations. Visit (Brandie, please insert link here) to learn more about budgeting and its value in managing your farm business.
Handling Heat Stress in Dairy Cows
Last Modified: July 10, 2020
Heat stress occurs when cows' bodies accumulate a heat load that they are unable to dissipate. It can be measured with the Temperature-Humidity Index (THI). The heat stress threshold for dairy cows is 68, with increasing numbers indicating the potential for negative impacts on cow performance.
Dairy Alert 5.7.20
Libby Eiholzer, Bilingual Dairy
Northwest New York Dairy, Livestock & Field Crops
Last Modified: May 7, 2020

Check out the following topics:
IPM Practices for Flies on Your Cattle
COVID-19 Supplies
Bunker Safety
Virtual Farm Visits/Consultations
Are You Milking Some Cows You Shouldn't Be?
Last Modified: April 17, 2020
This article shares resources from Pro-DAIRY to help you develop management strategies for your dairy moving forward. It shares some lessons from the historical Milk Diversion Program that might help inform decision making in this price downturn. Your business must be nimble and ready to change production practices to bring costs in line with the prices you are receiving and paying. Eventually, markets will reopen and sales will return. In the meantime, easing back on the throttle in how we manage cows and how many cows we keep could be good strategies for the current situation.
" Do's and Don'ts for Dairy farmers When Facing Financial Difficulty"
Last Modified: April 10, 2020
During times of financial difficulty it is important to be mindful and methodical in financial decision making. " Do's and Don'ts for Dairy farmers When Facing Financial Difficulty" provides guidance on making objective decisions during a financial downturn.
Dairy Culture Coach Spring 2020
Libby Eiholzer, Bilingual Dairy
Northwest New York Dairy, Livestock & Field Crops
Last Modified: April 8, 2020

The latest issue of the Dairy Culture Coach includes the following topics:
Reliable Resources for Spanish- & English-Speaking Farmworkers about COVID-19
Spanish Webinar: Mastitis Treatment Decisions
Growing Great People Webinars
Bring Your Own Bag
Some Thoughts on the Current State of Dairy Markets - April 1, 2020
Joan Sinclair Petzen, Farm Business Management
Northwest New York Dairy, Livestock & Field Crops
Last Modified: April 3, 2020
Excerpts from information provided by Andrew Novakovic, PHD, Professor Emeritus, Cornell University and, Dr. Mark Stephenson, University of Wisconsin, Madison


Upcoming Events
NY Corn & Soybean Growers - 2021 Summer Crop Tour
August 5, 2021
Canandaigua, NY
American Farmland Trust - Women for the Land Learning Circle - Conservation Action
August 9, 2021
Perry, NY
2021 Aurora Farm Field Day

August 12, 2021
Aurora, NY
Announcements
The NWNY Team is Hiring!
The NWNT Dairy, Livestock and Field Crops Team is currently looking for a Field Crops Specialist.
As the Field Crops Specialist, you will provide commercial crop growers, producers, consultants, and industry representatives with the knowledge and educational resources necessary to assess production and management practices. You will focus on developing an education and applied research program in the areas of forage production management, soil health/nutrient management and advancing the principles, applications and implementation of precision agriculture technologies for growers. Other responsibilities include:
Providing producers and industry with a framework to analyze production and management alternatives and maximize profit opportunities based on emerging best-management practices.
Analyzing and evaluating major program efforts with the input of all program partners and making recommendations for enhancing these efforts.
Participating in regional, statewide, and national workgroups.
Initiating and conducting field demonstrations and in-depth applied research projects appropriate to the needs of commercial crop production.
Individually and collaboratively exploring and pursuing new and additional funding sources to enhance and extend program opportunities.
Planning and implementing educational programs utilizing a variety of methods, including direct teaching through group experiences, social media, newsletters, electronic technology, use of the internet, and distance learning.
Preparing quarterly reports and yearly impact statements on program progress and accomplishments.
This position is full-time and will be located in Mount Morris, New York. This is a three-year appointment with possible extension depending on funding and performance. Applications must be submitted by July 31, 2021.
*NEW* The NWNY Team Blog!
Our goal for
this blog
is to share with farmers and allied industry professionals, technical and applicable resources regarding all aspects of dairy farming, livestock and small farms, field crops and soils, and topics related to farm business management and precision agriculture.

The blog will feature Crop Alerts, Dairy Alerts, Bilingual (Spanish) Resources, Upcoming Events and more from our team members. This blog is free for everyone to use, explore and enjoy. When new material is published, subscribers will receive an email notification.

We hope you enjoy this new platform, and are looking forward to engaging with you in the future!