Beginning Farms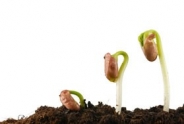 Farms continue to increase in the NWNY region. Many are part-timers, utilizing small acreages to raise hay and other crops, dairy or beef cattle, sheep, goats, hogs, and chickens, both egg layers and broilers. There are many aspects to beginning a farm - business planning, production, marketing, and risk management. There are many resources available to assist farms with start-up.
Most Recent Beginning Farms Content
Stockpiling Pastures
Nancy Glazier, Small Farms
Northwest New York Dairy, Livestock & Field Crops
Last Modified: July 10, 2018

Begin to stockpile your pastures in August to extend the grazing season.
The Meaning and Use of Feed Analysis
Last Modified: February 27, 2018

Beef Specialist Mike Baker explains the nutrient requirements for beef cattle and interpreting the forage analysis.
Know a Better Pasture
Nancy Glazier, Small Farms
Northwest New York Dairy, Livestock & Field Crops
Last Modified: February 20, 2018


Pasture is a great way to feed your livestock during the growing season.
Upcoming Events
Corn Silage Pre-Harvest Workshops
August 23 - August 24, 2018
Morning and Afternoon sessions
Corn silage harvest is drawing near. The way corn silage is harvested and stored is a single event that affects your operation for the entire next year. Are you prepared to set your operation up for success? Plan to attend one of the following on-farm Corn Silage Pre-Harvest workshops to hear the latest research-backed strategies you can implement on your dairy this corn silage season.
2018 New York Corn & Soybean Yield Contest
August 25, 2018

See attached flyer for Contest Rules and Entry Form.
No-Till & Never-Till Soil Health Workshop

August 28, 2018
12:00 p.m. - 5:30 p.m.
Stafford, NY
The Western New York Soil Health Alliance will be holding a Soil Health Workshop focusing on No-Till practices and benefits. They will be digging underground to look at a section of field that has NEVER had any tillage and compare it to the adjacent area with a history of tillage practices. In addition, there will be information on the problem of slugs and voles in the higher residue farming practices.
Northwest New York Dairy, Livestock & Field Crops - Cornell Cooperative Extension
Your Trusted Source for Research-Based Knowledge