Newsletters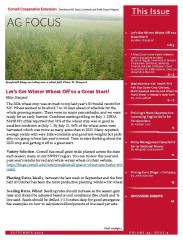 Ag Focus is a joint newsletter of the NWNY Dairy, Livestock & Field Crops Team and PRO-DAIRY. It provides readers with information on upcoming meetings, pesticide updates, pest management strategies, cultural practices, marketing ideas and research results from Cornell and Cornell Cooperative Extension. Ag Focus is produced monthly January - December.

To simplify information, brand names of products may be used in this publication. No endorsement is intended, nor is criticism implied of similar products not named.

Every effort has been made to provide correct, complete and up-to-date pesticide recommendations. Changes occur constantly and human errors are still possible. These recommendations are not a substitute for pesticide labeling. Please read the label before applying pesticides.

By law and purpose, Cooperative Extension is dedicated to serving the people on a non-discriminatory basis.

All NWNY Dairy, Livestock & Field Crops Program enrollees receive 12 issues of Ag Focus via email included with their enrollment. For more information, contact Cathy Wallace.

If you are enrolled in the NWNY Dairy, Livestock & Field Crops Team, log in (black panel at top of screen) to view current issues of Ag Focus newsletter.

If you are not enrolled in our program, you must enroll to view current issues.

Archived
Crop Alerts
Marestail Control, Weed Control Wheat, Alfalfa Stand Assess
September 9, 2016 (PDF; 812KB)
Corn Silage Harvest, Forage Inventory, Harvest Management
Corn Rootworm (CRW), Pea Aphids, Flea Beetle
Potassium Deficienci, Spider Mite Injury, Grasshoppers
Japanese Beetles, 2-Spotted Spider Mit, Armyworms
Cereal Leaf Beetle, Armyworms in Corn, Cutworm in Corn
Winter Wheat Pollina, Stripe Rust, Alfalfa Weevil Feedi
Wheat/Barley Update, Hay Harvest, Alfalfa Weevil
Soybeans, Wheat, Triticale Forage
Wheat, Precision Ag Day
September 18, 2015 (PDF; 984KB)
Winter Wheat, Stalk Rots in Corn, Weed Problems
September 4, 2015 (PDF; 1161KB)
Corn Silage, Silo Safety, Cover Crops
Soil Health
Spider Mites, Soybean Aphids, Soybean Diseases
Soft Red Winter, Soft White Winter, Winter Malting Barle
Small Grain Update, Weed Control, Cover Crops
Grain Corn, Soybean Yield Contes
Wheat Update, Soybean Nodulation, Corn Diseases
Wheat/Malting Barley, Soybean Update, White Mold Mushrooms
Vomitoxin, Grasshoppers, Wheat Harvest Aid
Soybean Aphids, Fusarium Head Scab, Potato Leafhoppers
Slugs, Millipedes, Wheat is Flowering
Winter Wheat, Barley, Frost Damage, Black Cutworm
Wheat Rust, Cereal Leaf Beetle, Black Cutworm
Triticale Forage, Wheat Update, Alfalfa Update
Wheat Weeds, Cutworm & Armyworm, Nitrogen Grass
Nitrogen Wheat, Cover Crops Control, Manure Advisory
Wheat Alfalfa, Early Nitrogen, Frost Seeding
September 19, 2014 (PDF; 478KB)
Corn Silage Harvest, Soybean Harvest Aids, Winter Wheat Barley
Immature Corn, Wheat Variety Plant, Soybean Aphids Mold
Corn Diseases, Cover Crops Alfalfa, Drones
Corn Soybeans Aphids, Fungicide White Mold, Yield Contest
Harvest Wheat Oats, Late Corn Nitrogen, Soybeans Cover Crops
Corn Nitrogen Weeds, Soybeans Buckwheat, Barley Fungicides
Slugs Corn Soybeans, Wheat Barley FHB DON, Planters & Tillage
Triticale Haylage, Cereal Leaf Beetle, Alfalfa Weevils
Triticale Harvest, Haylage Corn Safety, Fungicide Resistance
Wheat Nitrogen, Powdery Mildew, Barley Winterkill
Weeds in Wheat, Planting Fertility, First Forage Harvest
Tiller Counts Wheat, Delayed Planting, Potassium Oat Barley
Wheat Nitrogen, Triticale Nitrogen, Custom Rates
Burndown Herbicide, Wet Soil, Small Grains Haylage
Small Grain Nitrogen, Frost Seeding
Winter Injury, Bt Table, Small Grain Nitrogen
Gypsum Manure Fumes, Oct Plant Sm Grains, Silage Harvest
Upcoming Events
VFD Regulations - What Does It Mean for Livestock Owners & Beekeepers
March 28, 2017
6:00pm - 8:00 pm
Warsaw, NY
If you want to learn more about the VFD, Veterinarian Feed Directive, and how it might affect you and home treatments of your livestock, plan to attend this information session.

Getting Started in Agritourism Workshop, Creating a Destination Farm
March 30, 2017
8:30 am - 3:00 pm
Rochester, NY
Cornell Extensions of Monroe and Tompkins County proudly invites farmers, food entrepreneurs, horse-farm owners, and other Agribusiness operators to attend the Agritourism workshop.

NYS Livestock Summit - Montour Falls Location
March 30, 2017
1:00 pm - 4:00 pm
Montour Falls, NY
Calling experienced livestock producers: We know you face tremendous challenges to grow your business. What are the undeveloped opportunities and how can we collectively address them?

Announcements
Heavy Snow Loads
The recent accumulation of snow in many areas throughout NYS has caused some agricultural buildings to fail. Failure can be the result of several itmes linked to the snow load present on the building. This document talks about snow accumulation and points about understanding pending barn failures.
Click here to read the rest of the article.
Do's and Don'ts for Barn Snow Removal
Removal of significant snow accumulations off of a barn roof is best performed in a systematic way to reduce the risk of injury or death to both barn occupants and those working on the roof. Removing roof snow without a proper approach may actually cause more damage than if left alone in some cases by creating an unbalanced and/or concentrated roof load. This document explains the proper approach to removing accumulated snow from roofs.
Click here to read the rest of the article.
Latest Dairy Market Watch
An educational newsletter to keep producers informed of changing market factors affecting the dairy industry.
How to Read Dairy Market Watch
.
Dairy Market Watch - February 2017
Northwest New York Dairy, Livestock & Field Crops - Cornell Cooperative Extension
Your Trusted Source for Research-Based Knowledge