Newsletters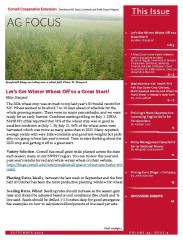 Ag Focus is a monthly publication of the NWNY Dairy, Livestock & Field Crops Team. It provides readers with information on upcoming meetings, pesticide updates, pest management strategies, cultural practices, marketing ideas and research results from Cornell and Cornell Cooperative Extension. Ag Focus is produced monthly January - December.

To simplify information, brand names of products may be used in this publication. No endorsement is intended, nor is criticism implied of similar products not named.

Every effort has been made to provide correct, complete and up-to-date pesticide recommendations. Changes occur constantly and human errors are still possible. These recommendations are not a substitute for pesticide labeling. Please read the label before applying pesticides.

By law and purpose, Cornell Cooperative Extension is dedicated to serving the people on a non-discriminatory basis.

All NWNY Dairy, Livestock & Field Crops Program enrollees receive 12 issues of Ag Focus via email included with their enrollment. For more information, contact Brandie Waite, bls238@cornell.edu or 585.343.3040 ext. 138.

If you are enrolled in the NWNY Dairy, Livestock & Field Crops Team, log in (black panel at top of screen) to view current issues of Ag Focus newsletter.

If you are not enrolled in our program, you must enroll to view current issues.

Archived Ag Focus Newsletters
2021 Ag Focus Newsletters
2020 Ag Focus Newsletters
2019 Ag Focus Newsletters
2018 Ag Focus Newsletters
2017 Ag Focus Newsletters
2016 Ag Focus Newsletters
2015 Ag Focus Newsletters
2014 Ag Focus Newsletters
2013 Ag Focus Newsletters
2012 Ag Focus Newsletters
2011 Ag Focus Newsletters
Archived
Crop Alerts
2020 Crop Alerts
2019 Crop Alerts
2018 Crop Alerts
2017 Crop Alerts
2016 Crop Alerts
2015 Crop Alerts
2014 Crop Alerts
2013 Crop Alerts


Upcoming Events
Farm Specific Tax Code Benefits
January 25, 2022
For farm businesses of all shapes and sizes, tune in to learn more about the tax advantages available for farms. This workshop will include information for the current tax season.
2022 Annie's Project: Know Your Numbers, Know Your Options
January 25, 2022
February 1, 2022
February 8, 2022
February 15, 2022
February 22, 2022

This five-part series empowers farm women to prepare and analyze their own financial statements, enhance farm business decision making, and effectively communicate with their team.
Net Zero for NY Dairy - What You Need to Know
February 2 - February 3, 2022
This conference has gathered dairy industry experts to shed light on what "getting to net zero" means for dairy producers.
Announcements
The NWNY Team Blog
Our goal for
this blog
is to share with farmers and allied industry professionals, technical and applicable resources regarding all aspects of dairy farming, livestock and small farms, field crops and soils, and topics related to farm business management and precision agriculture.

The blog will feature Crop Alerts, Dairy Alerts, Bilingual (Spanish) Resources, Upcoming Events and more from our team members. This blog is free for everyone to use, explore and enjoy. When new material is published, subscribers will receive an email notification.

We hope you enjoy this new platform, and are looking forward to engaging with you in the future!