Newsletters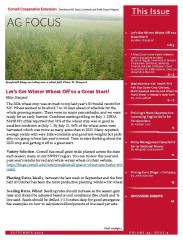 Ag Focus is a monthly publication of the NWNY Dairy, Livestock & Field Crops Team. It provides readers with information on upcoming meetings, pesticide updates, pest management strategies, cultural practices, marketing ideas and research results from Cornell and Cornell Cooperative Extension. Ag Focus is produced monthly January - December.

To simplify information, brand names of products may be used in this publication. No endorsement is intended, nor is criticism implied of similar products not named.

Every effort has been made to provide correct, complete and up-to-date pesticide recommendations. Changes occur constantly and human errors are still possible. These recommendations are not a substitute for pesticide labeling. Please read the label before applying pesticides.

By law and purpose, Cornell Cooperative Extension is dedicated to serving the people on a non-discriminatory basis.

All NWNY Dairy, Livestock & Field Crops Program enrollees receive 12 issues of Ag Focus via email included with their enrollment. For more information, contact Ashley Knapp, ak2367@cornell.edu or 585.343.3040 ext. 138.

If you are enrolled in the NWNY Dairy, Livestock & Field Crops Team, log in (black panel at top of screen) to view current issues of Ag Focus newsletter.

If you are not enrolled in our program, you must enroll to view current issues.

Archived Ag Focus Newsletters
2022 Ag Focus Newsletters
2021 Ag Focus Newsletters
2020 Ag Focus Newsletters
2019 Ag Focus Newsletters
2018 Ag Focus Newsletters
2017 Ag Focus Newsletters
2016 Ag Focus Newsletters
2015 Ag Focus Newsletters
2014 Ag Focus Newsletters
2013 Ag Focus Newsletters
2012 Ag Focus Newsletters
2011 Ag Focus Newsletters
Archived
Crop Alerts
2020 Crop Alerts
2019 Crop Alerts
2018 Crop Alerts
2017 Crop Alerts
2016 Crop Alerts
2015 Crop Alerts
2014 Crop Alerts
2013 Crop Alerts


Upcoming Events
Webinar-Challenges and Opportunities of Managing Transition Cows on AMS
June 1, 2023
Please join MSU Extension and Cornell Cooperative Extension Regional Teams for our talk with Pete Maslyn of Hemdale Dairy and Todd Ward of Direct Dairy Nutrition Services on managing transition cows on automated milking systems (AMS).
2023 Dairy Nutrition & Management Shortcourse
June 5 - June 9, 2023
Chazy, NY
This course is designed primarily for early career nutritionists and allied industry professionals seeking a more comprehensive foundation in the principles of dairy cattle nutrition and their application within dairy herd management.
Agritourism Workshops Monthly! - Agritourism Pricing Workshop
June 20, 2023
Are you thinking of starting an agritourism business or are you currently operating one?

Join our monthly lunch-hour, workshop virtual series and learn how to grow your agritourism business!
Each session will focus on specific topic to help aspiring agritourism entrepreneurs grow their knowledge and profit through this exciting on-farm business.

Cost: Free to attend, but registration required!

Announcements
Follow us on Instagram
See photos and reels of our most recent events and programs!
Join us on Facebook!
Follow us on Facebook to get up to date posts about events, workshops and everything NWNY!
Add us on LinkedIn!
Connect with us on LinkedIn to get more information about upcoming workshops and programs!
Watch us on YouTube
Watch instructional videos from specialists in the field!
Subscribe for Emails about Events & Workshops!