Newsletters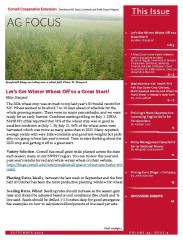 Ag Focus is a joint newsletter of the NWNY Dairy, Livestock & Field Crops Team and PRO-DAIRY. It provides readers with information on upcoming meetings, pesticide updates, pest management strategies, cultural practices, marketing ideas and research results from Cornell and Cornell Cooperative Extension. Ag Focus is produced monthly January - December.

To simplify information, brand names of products may be used in this publication. No endorsement is intended, nor is criticism implied of similar products not named.

Every effort has been made to provide correct, complete and up-to-date pesticide recommendations. Changes occur constantly and human errors are still possible. These recommendations are not a substitute for pesticide labeling. Please read the label before applying pesticides.

By law and purpose, Cooperative Extension is dedicated to serving the people on a non-discriminatory basis.

All NWNY Dairy, Livestock & Field Crops Program enrollees receive 12 issues of Ag Focus via email included with their enrollment. For more information, contact Linda Risewick.

If you are enrolled in the NWNY Dairy, Livestock & Field Crops Team, log in (black panel at top of screen) to view current issues of Ag Focus newsletter.

If you are not enrolled in our program, you must enroll to view current issues.

Archived
Crop Alerts
September 10, 2018 (PDF; 1229KB)
Soybean Disease, Cover Crops, Gibberella Ear Rot
Corn, Winter Wheat, Soybean
soybean diseases, white mold, fusarium wilt
Waterhemp, Corn Rootworm, Flea Beetle
Spider Mites, Pea Aphid, Potato Leafhoppers
Japanese Beetles, Interseed, Armyworms
Cover Crops, Corn Herbicides, Interseeding
Winter Wheat, Cereal Leaf Beetles, Potato Leafhoppers
Alfalfa, Herbicides on Wheat, Triticale Forage
Wheat Yield Contest
September 7, 2017 (PDF; 2113KB)
Red Winter Wheat, Soft White Wheat
Soybean Nodulation, Soybean Aphids, Stink Bugs
Interseeding, Potato Leafhopper, Wheat Harvest Aid
Potato Leafhopper, Alfalfa Weevil, Pea Aphid
Cereal Leaf Beetle, Armyworm Alert, Black Cutworm Alert
Winter Tritcale, Wide Swath Harvest, 1st Cutting Forage
Alfalfa Weevil Larva, Leaf Spot, Spring Wheat Disease
Manure storage optio
Marestail Control, Weed Control Wheat, Alfalfa Stand Assess
September 9, 2016 (PDF; 812KB)
Corn Silage Harvest, Forage Inventory, Harvest Management
Corn Rootworm (CRW), Pea Aphids, Flea Beetle
Potassium Deficienci, Spider Mite Injury, Grasshoppers
Japanese Beetles, 2-Spotted Spider Mit, Armyworms
Cereal Leaf Beetle, Armyworms in Corn, Cutworm in Corn
Winter Wheat Pollina, Stripe Rust, Alfalfa Weevil Feedi
Wheat/Barley Update, Hay Harvest, Alfalfa Weevil
Soybeans, Wheat, Triticale Forage
Wheat, Precision Ag Day
September 18, 2015 (PDF; 984KB)
Winter Wheat, Stalk Rots in Corn, Weed Problems
September 4, 2015 (PDF; 1161KB)
Corn Silage, Silo Safety, Cover Crops
Soil Health
Spider Mites, Soybean Aphids, Soybean Diseases
Soft Red Winter, Soft White Winter, Winter Malting Barle
Small Grain Update, Weed Control, Cover Crops
Grain Corn, Soybean Yield Contes
Wheat Update, Soybean Nodulation, Corn Diseases
Wheat/Malting Barley, Soybean Update, White Mold Mushrooms
Vomitoxin, Grasshoppers, Wheat Harvest Aid
Soybean Aphids, Fusarium Head Scab, Potato Leafhoppers
Slugs, Millipedes, Wheat is Flowering
Winter Wheat, Barley, Frost Damage, Black Cutworm
Wheat Rust, Cereal Leaf Beetle, Black Cutworm
Triticale Forage, Wheat Update, Alfalfa Update
Wheat Weeds, Cutworm & Armyworm, Nitrogen Grass
Nitrogen Wheat, Cover Crops Control, Manure Advisory
Wheat Alfalfa, Early Nitrogen, Frost Seeding
September 19, 2014 (PDF; 478KB)
Corn Silage Harvest, Soybean Harvest Aids, Winter Wheat Barley
Immature Corn, Wheat Variety Plant, Soybean Aphids Mold
Corn Diseases, Cover Crops Alfalfa, Drones
Corn Soybeans Aphids, Fungicide White Mold, Yield Contest
Harvest Wheat Oats, Late Corn Nitrogen, Soybeans Cover Crops
Corn Nitrogen Weeds, Soybeans Buckwheat, Barley Fungicides
Slugs Corn Soybeans, Wheat Barley FHB DON, Planters & Tillage
Triticale Haylage, Cereal Leaf Beetle, Alfalfa Weevils
Triticale Harvest, Haylage Corn Safety, Fungicide Resistance
Wheat Nitrogen, Powdery Mildew, Barley Winterkill
Weeds in Wheat, Planting Fertility, First Forage Harvest
Tiller Counts Wheat, Delayed Planting, Potassium Oat Barley
Wheat Nitrogen, Triticale Nitrogen, Custom Rates
Burndown Herbicide, Wet Soil, Small Grains Haylage
Small Grain Nitrogen, Frost Seeding
Winter Injury, Bt Table, Small Grain Nitrogen
Gypsum Manure Fumes, Oct Plant Sm Grains, Silage Harvest
Upcoming Events
MENTAL HEALTH FIRST AID
January 17, 2019
8:30 A.M. - 5:00 P.M. $25 includes lunch and a manual
WARSAW, NY
Mental Health First Aid teaches you
how to identify, understand and respond to signs of mental illnesses and substance use disorders.
This 8-hour training gives you the skills you need to reach out and provide initial support to someone who may be developing a mental health or substance use problem and help connect them to appropriate care. Register online here:
https://reg.cce.cornell.edu/MentalHealthFirstAidTraining_10508
or email lma96@cornell.edu.
NYBPA Winter Management Meeting- "Dairy cross bred calf - opportunity for the dairy & beef industry"
January 18, 2019
9:45 a.m. Welcome - 5:00 p.m. Adjournment
East Syracuse, NY
On January 18, 2018 in Syracuse, the New York Beef Producer's Association is presenting a day-long session on the cross bred dairy calf. Speakers will include farmers and extension professionals with experience in this field. The keynote speaker will be from Wulf Genetics working with Genex to supply beef bulls of various breeds to use on Jersey and Holstein cows. To date they have raised and finished over 50,000 cross bred calves. Plan to spend the day and learn about how this enterprise may fit in your dairy operation to provide another source of cash flow. For more information, please contact Brenda Bippert, NYBPA Executive Secretary, nybeefproducers@aol.com, (716) 902-4305, or
http://www.nybpa.org/abwc.htm
Labor Road Show II - Canandaigua
January 31, 2019
9:00 am - 4:00 pm
Canandaigua, NY
If you have employees, then you need to be at the New York Labor Road Show II. Experts from farms, private industry and the university will focus on critical topics that affect all farm employers including: employee housing, onboarding, sexual harassment prevention, employee engagement , safety, wage and hour laws, and worker care.
Announcements
2019 Pesticide Training & Re-certification Series Wednesdays in Feb 2019
Anyone interested in obtaining a pesticide certification and meets the DEC requirements, OR, current applicators seeking pesticide re-certification credits should attend. 2.5 re-cert core credits will be available for each class.
Wednesdays 2/6, 2/13, 2/20, 2/27 from 7-9 p.m.,
EXAM is Wed., March 6 from 6:30- 11 pm.
CCE Ontario, 480 N Main St., Canandaigua. Cost $175 includes manual and all classes. Exam fee $100. Re-certificaton is $25/class. Register: 585-394-3977 x 427 or x 436, or email nea8cornell.edu or rw43@cornell.edu. Website
www.cceontario.org
.
Three Free Digester Workshops offered through CCE St. Lawrence Co.
CCE of St. Lawrence County is offering three FREE workshops showcasing the research results from our feasibility study of anaerobic digester technology on small farms. The research was conducted by our partners at Clarkson University using the anaerobic digester at the Extension Learning Farm, which is fed both manure from a dairy operation and vegetable waste from our commercial kitchen. The digester heats a small green house that starts our seedling plants. We have a small scale vegetable-only digester as well. The research and program targets small dairies under 200 head, livestock producers, horticulture producers and anyone interested in alternative energy.
Program will be held on December 5, January 7, and March 6. A catered meal is provided at each program. Participants within the North Country Region will be given a $25 stipend to help cover travel costs, those from outside the region will be given $50. To receive the stipend, participants will need to complete a pre/post-test survey.
More information and registration information can be found here:
http://stlawrence.cce.cornell.edu/events/2018/12/05/exploring-digester-technology
New Guidance for Mortality Disposal Issued
NYS Department of Ag and Markets has posted guidelines on disposal of livestock carcasses, in response to reports that some rendering companies have halted pickups from farms.
https://nwnyteam.cce.cornell.edu/submission.php?id=761&crumb=dairy|1
Northwest New York Dairy, Livestock & Field Crops - Cornell Cooperative Extension
Your Trusted Source for Research-Based Knowledge