Newsletters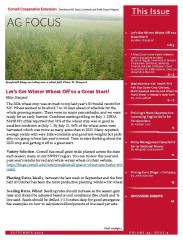 Ag Focus is a joint newsletter of the NWNY Dairy, Livestock & Field Crops Team and PRO-DAIRY. It provides readers with information on upcoming meetings, pesticide updates, pest management strategies, cultural practices, marketing ideas and research results from Cornell and Cornell Cooperative Extension. Ag Focus is produced monthly January - December.

To simplify information, brand names of products may be used in this publication. No endorsement is intended, nor is criticism implied of similar products not named.

Every effort has been made to provide correct, complete and up-to-date pesticide recommendations. Changes occur constantly and human errors are still possible. These recommendations are not a substitute for pesticide labeling. Please read the label before applying pesticides.

By law and purpose, Cooperative Extension is dedicated to serving the people on a non-discriminatory basis.

All NWNY Dairy, Livestock & Field Crops Program enrollees receive 12 issues of Ag Focus via email included with their enrollment. For more information, contact Cathy Wallace.

If you are enrolled in the NWNY Dairy, Livestock & Field Crops Team, log in (black panel at top of screen) to view current issues of Ag Focus newsletter.

If you are not enrolled in our program, you must enroll to view current issues.

Archived
Crop Alerts
Winter Tritcale, Wide Swath Harvest, 1st Cutting Forage
Alfalfa Weevil Larva, Leaf Spot, Spring Wheat Disease
Manure storage optio
Marestail Control, Weed Control Wheat, Alfalfa Stand Assess
September 9, 2016 (PDF; 812KB)
Corn Silage Harvest, Forage Inventory, Harvest Management
Corn Rootworm (CRW), Pea Aphids, Flea Beetle
Potassium Deficienci, Spider Mite Injury, Grasshoppers
Japanese Beetles, 2-Spotted Spider Mit, Armyworms
Cereal Leaf Beetle, Armyworms in Corn, Cutworm in Corn
Winter Wheat Pollina, Stripe Rust, Alfalfa Weevil Feedi
Wheat/Barley Update, Hay Harvest, Alfalfa Weevil
Soybeans, Wheat, Triticale Forage
Wheat, Precision Ag Day
September 18, 2015 (PDF; 984KB)
Winter Wheat, Stalk Rots in Corn, Weed Problems
September 4, 2015 (PDF; 1161KB)
Corn Silage, Silo Safety, Cover Crops
Soil Health
Spider Mites, Soybean Aphids, Soybean Diseases
Soft Red Winter, Soft White Winter, Winter Malting Barle
Small Grain Update, Weed Control, Cover Crops
Grain Corn, Soybean Yield Contes
Wheat Update, Soybean Nodulation, Corn Diseases
Wheat/Malting Barley, Soybean Update, White Mold Mushrooms
Vomitoxin, Grasshoppers, Wheat Harvest Aid
Soybean Aphids, Fusarium Head Scab, Potato Leafhoppers
Slugs, Millipedes, Wheat is Flowering
Winter Wheat, Barley, Frost Damage, Black Cutworm
Wheat Rust, Cereal Leaf Beetle, Black Cutworm
Triticale Forage, Wheat Update, Alfalfa Update
Wheat Weeds, Cutworm & Armyworm, Nitrogen Grass
Nitrogen Wheat, Cover Crops Control, Manure Advisory
Wheat Alfalfa, Early Nitrogen, Frost Seeding
September 19, 2014 (PDF; 478KB)
Corn Silage Harvest, Soybean Harvest Aids, Winter Wheat Barley
Immature Corn, Wheat Variety Plant, Soybean Aphids Mold
Corn Diseases, Cover Crops Alfalfa, Drones
Corn Soybeans Aphids, Fungicide White Mold, Yield Contest
Harvest Wheat Oats, Late Corn Nitrogen, Soybeans Cover Crops
Corn Nitrogen Weeds, Soybeans Buckwheat, Barley Fungicides
Slugs Corn Soybeans, Wheat Barley FHB DON, Planters & Tillage
Triticale Haylage, Cereal Leaf Beetle, Alfalfa Weevils
Triticale Harvest, Haylage Corn Safety, Fungicide Resistance
Wheat Nitrogen, Powdery Mildew, Barley Winterkill
Weeds in Wheat, Planting Fertility, First Forage Harvest
Tiller Counts Wheat, Delayed Planting, Potassium Oat Barley
Wheat Nitrogen, Triticale Nitrogen, Custom Rates
Burndown Herbicide, Wet Soil, Small Grains Haylage
Small Grain Nitrogen, Frost Seeding
Winter Injury, Bt Table, Small Grain Nitrogen
Gypsum Manure Fumes, Oct Plant Sm Grains, Silage Harvest
Upcoming Events
No upcoming events at this time.
Announcements
1st Cutting Forage Quality Update
We are into the third week of monitoring 1st cutting for quality this year. Our procedure consists of using alfalfa height to predict Neutral Detergent Fiber (NDF) for alfalfa, alfalfa/grass mixed and grass stands.
Alfalfa height has proven to be a reliable indicator of NDF values in the field.
Height indicators alfalfa and grass for NDF content are below:
In general we say 100% grass stands should be cut when nearby alfalfa is 14 inches tall to achieve the desired 50% NDF.
Begin cutting 50/50 mixed alfalfa and grass stands when nearby alfalfa is 22 inches tall for the desired 44% NDF.
Begin cutting 100% alfalfa stands when alfalfa is 28 inches tall for desired 40% NDF.
Predicted days to cut are based on daily NDF increases for grasses of 1% point, 50/50 mixed stands of 0.8% points and alfalfa of 0.5% point. NDF usually increases about 0.8 to 1.2/day for grasses expecting the lower end of that range in cooler weather and the higher end in warmer. Alfalfa NDF increases about 0.4 to 0.7/ day again depending on temperatures. Predictions are adjusted for the coming week's weather and right now assuming normal growth.
In the attached spreadsheet locations around the region are listed where we have measured alfalfa height. You can use the location and elevation as a guide to conditions that may be similar to your farm.
The 2017 hay crop is ahead of 2016 first cutting. For 2017 on May 17, 2017 the alfalfa averaged 20 inches tall and only 2% of the fields were 18 inches or less. Triticale and grass fields should be knocked down at this point otherwise you will be losing quality. It is important that you get first cutting off in a timely manner, so if it comes down to making a choice between planting corn or getting first cutting, opt for the first cutting. The warmer summer weather may help the corn but you can't get first cutting quality back and you may lose the advantage of adequate soil moisture to gain a quality second harvest.
Mixed stand harvest should start by the weekend with pure alfalfa stands (28 inches for desired 40% NDF) to follow a week later.
Click here for spreadsheet

Latest Dairy Market Watch
An educational newsletter to keep producers informed of changing market factors affecting the dairy industry.
How to Read Dairy Market Watch
.
Dairy Market Watch - April 2017
Northwest New York Dairy, Livestock & Field Crops - Cornell Cooperative Extension
Your Trusted Source for Research-Based Knowledge