Newsletters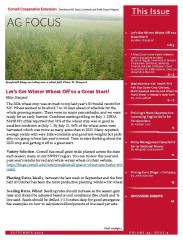 Ag Focus is a monthly publication of the NWNY Dairy, Livestock & Field Crops Team. It provides readers with information on upcoming meetings, pesticide updates, pest management strategies, cultural practices, marketing ideas and research results from Cornell and Cornell Cooperative Extension. Ag Focus is produced monthly January - December.

To simplify information, brand names of products may be used in this publication. No endorsement is intended, nor is criticism implied of similar products not named.

Every effort has been made to provide correct, complete and up-to-date pesticide recommendations. Changes occur constantly and human errors are still possible. These recommendations are not a substitute for pesticide labeling. Please read the label before applying pesticides.

By law and purpose, Cornell Cooperative Extension is dedicated to serving the people on a non-discriminatory basis.

All NWNY Dairy, Livestock & Field Crops Program enrollees receive 12 issues of Ag Focus via email included with their enrollment. For more information, contact Brandie Waite, bls238@cornell.edu or 585.343.3040 ext. 138.

If you are enrolled in the NWNY Dairy, Livestock & Field Crops Team, log in (black panel at top of screen) to view current issues of Ag Focus newsletter.

If you are not enrolled in our program, you must enroll to view current issues.

Archived Ag Focus Newsletters
2019 Ag Focus Newsletters
2018 Ag Focus Newsletters
2017 Ag Focus Newsletters
2016 Ag Focus Newsletters
2015 Ag Focus Newsletters
2014 Ag Focus Newsletters
2013 Ag Focus Newsletters
2012 Ag Focus Newsletters
2011 Ag Focus Newsletters
Archived
Crop Alerts
2019 Crop Alerts
2018 Crop Alerts
2017 Crop Alerts
2016 Crop Alerts
2015 Crop Alerts
2014 Crop Alerts
2013 Crop Alerts
Upcoming Events
Modern On Farm Preparedness - Urgent Situations
January 23, 2020
1-4 pm
Perry, NY
Preparedness for Urgent Situations. Be Prepared for a fire, weather emergency or barn damage. Learn from NYCAMH and the local fire department how to prepare for the unexpected.
On-Farm, 1-4 pm
Modern On-Farm Preparedness (All 6 Sessions)
January 23 - February 27, 2020
1-2 pm Webinars, 1-4 pm On farm
Six sessions created to help farms prepare for modern situations
- Jan 23: Urgent Situations (on-farm)
- Jan 30: F.A.R.M 4.0 Update (live webinar)
- Feb 6: Activists (live webinar)
- Feb 13: Social Media (on-farm)
- Feb 20: Disease Outbreaks & Biosecurity (live webinar)
- Feb 27: On Farm Safety - Prevention, Prevention, Prevention (on-farm)
NY Corn & Soybean Winter Expo
January 23, 2020
8:00am - 3:00pm
Liverpool, NY
The New York Corn & Soybean Growers Association invites you to join us on Thursday, January 23, 2020 for our Winter Expo in Syracuse, New York.
KEYNOTE SPEAKER-ZACH JOHNSON, MILLENNIAL FARMER
Announcements
Resources for Managing Overtime
Beginning January 1, 2020, farm employers in New York will be required to pay overtime to certain employees for all hours worked over 60 in a week. We've developed some
tools to help farm employers consider management strategies
to respond to this change. Tools include an excel calculator to estimate the cost of overtime and an extension bulletin to help you consider and evaluate changes on your farm.