Newsletters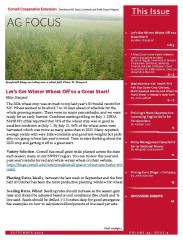 Ag Focus is a monthly publication of the NWNY Dairy, Livestock & Field Crops Team. It provides readers with information on upcoming meetings, pesticide updates, pest management strategies, cultural practices, marketing ideas and research results from Cornell and Cornell Cooperative Extension. Ag Focus is produced monthly January - December.

To simplify information, brand names of products may be used in this publication. No endorsement is intended, nor is criticism implied of similar products not named.

Every effort has been made to provide correct, complete and up-to-date pesticide recommendations. Changes occur constantly and human errors are still possible. These recommendations are not a substitute for pesticide labeling. Please read the label before applying pesticides.

By law and purpose, Cornell Cooperative Extension is dedicated to serving the people on a non-discriminatory basis.

All NWNY Dairy, Livestock & Field Crops Program enrollees receive 12 issues of Ag Focus via email included with their enrollment. For more information, contact Brandie Waite, bls238@cornell.edu or 585.343.3040 ext. 138.

If you are enrolled in the NWNY Dairy, Livestock & Field Crops Team, log in (black panel at top of screen) to view current issues of Ag Focus newsletter.

If you are not enrolled in our program, you must enroll to view current issues.

Archived Ag Focus Newsletters
2019 Ag Focus Newsletters
2018 Ag Focus Newsletters
2017 Ag Focus Newsletters
2016 Ag Focus Newsletters
2015 Ag Focus Newsletters
2014 Ag Focus Newsletters
2013 Ag Focus Newsletters
2012 Ag Focus Newsletters
2011 Ag Focus Newsletters
Archived
Crop Alerts
2019 Crop Alerts
2018 Crop Alerts
2017 Crop Alerts
2016 Crop Alerts
2015 Crop Alerts
2014 Crop Alerts
2013 Crop Alerts
Upcoming Events
*NEW* Automated Milking System (AMS) Management Discussion Group - Mount Morris, NY
November 14, 2019
5:30pm - 8:00pm
Mount Morris, NY
Milk Quality Management in AMS systems will be our first topic, with future discussion group topics to include: lameness and cow comfort, milk production, AMS daily task efficiency, and AMS maintenance.

New York Labor Roadshow III
November 18 - November 22, 2019
8:30 am - 4:00 pm
Major changes are coming for farm employment laws in New York. The Ag Workforce Development Council is organizing Labor Roadshow III to help farms learn about the changes and adapt their businesses for success.

Cow Comfort Program- Freestall
December 2, 2019
9:30 am - 3:00 pm
Avon, NY
The Cow Comfort Workshops are an educational program for farmers, employees and agriservice professionals who work directly with dairy cows. The workshops will cover economics of improving cow comfort, stall design and management, stocking density, heat abatement and effects on production.


Announcements
Preventing Sexual Harassment on Farms
If you're wondering how to get your farm business in compliance with NYS Sexual Harassment Regulations, you've come to the right place.
The 2018 New York State budget included new regulations addressing sexual harassment in the workplace that became effective on October 9, 2018 for all New York employers, including agricultural employers. All employers are required to have a sexual harassment prevention policy and to provide annual, interactive sexual harassment prevention training for all employees. Check out the resources developed by Cornell Ag Workforce Development, including step-by-step instructions and farm-friendly training videos.
RMA Announces Additional One-time Changes to Prevented Planting Provisions
June 29, 2019
RMA Announces Additional One-time Changes to Prevented Planting Provisions
for 2019 Crop Year
In response to delayed and prevented planting resulting from above average rainfall and wetness, the USDA Risk Management Agency has made a one-time change to the 2019 crop year prevented planting rules that effectively allows silage corn, if planted as a cover crop following local agricultural expert guidelines, to be acceptable as a post-prevented planting cover crop. Under this one-time rule change, producers are allowed to produce this crop while retaining their prevented planting payment. This change couples with previously announced one-time changes to the prevented planting rules - including expanded acceptable uses for post-prevented planting cover crops and a change in the cover crop haying and grazing start date rule - serve to help those struggling to meet their forage needs due to the weather.
Read the full article
from the New York Crop Insurance Education Program.
The USDA-RMA states that "For crop insurance purposes, a cover crop is a crop generally recognized by agricultural experts as agronomically sound for the area for erosion control or other purposes related to conservation or soil improvement." PRO-DAIRY specialists Joe Lawrence and Karl Czymmek and Dr. Quirine Ketterings, Professor and Director of Cornell Nutrient Management Spear Program have
released a letter
stating "Corn on Prevented Planting acres meets these objectives."