Grazing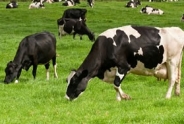 New York has an excellent climate for pasture production - ample rainfall, fertile soils and moderate temperatures. Pasture plants include cool season grasses and legumes. Many dairy and livestock farms utilize pasture during the growing season with about 280,500 acres grazed.
Fencing is an essential component to a grazing operation. These include high-tensile, woven wire, wood, and less frequently barbed wire. Water is an essential piece, too. Recommendations are for water in every paddock.
Dung Beetles in Pastures
Last Modified: June 15, 2020
Dung Beetles Aid in Reducing Flies and Gastrointestinal Parasites in Pastures
Reducing the Risk of Compaction When Grazing Cover Crops
Nancy Glazier, Small Farms & Livestock
Northwest New York Dairy, Livestock & Field Crops
Last Modified: October 31, 2019

The benefits of cover crops have been known for many
years; one is remediating compaction.
Pricing Corn Silage -- Fall 2019
John Hanchar, Farm Business Management
Northwest New York Dairy, Livestock & Field Crops
Last Modified: September 13, 2019
Analysis suggests corn silage price depends on corn silage quantities, alfalfa hay price, the price received by farmers for milk, and corn grain price.
Analysis for NY suggests that estimated corn silage price is most sensitive to corn silage quantities, alfalfa hay price and corn grain price.
Price estimates combined with understanding of relevant supply and demand factors from an individual farm business owner's perspective can aid decision making regarding corn silage price. Given recently available alfalfa hay and corn grain prices (May through July, 2019, and August 27, 2019, respectively), price analysis for NY suggests an estimated corn silage price of about $45 per ton. The Fall 2018 estimate was about $41 per ton.
Deer Farming
Nancy Glazier, Small Farms & Livestock
Northwest New York Dairy, Livestock & Field Crops
Last Modified: December 3, 2018

Cervid production is a $3 billion industry in the US. There are many opportunities for farms to raise deer, but proper care and health management is critical.
Financial Balancing Act Means Managing Risk is Essential
Joan Sinclair Petzen, Farm Business Management
Northwest New York Dairy, Livestock & Field Crops
Last Modified: September 19, 2018
The present long-term downturn in commodity prices brings with it increased financial pressure on farm operations. Alternatives for managing risk are continually evolving. For many in agriculture, and particularly dairy, self-insurance has been the go-to method of risk management. Two new tools, the USDA Market Facilitation Program (MFP) and Dairy Revenue Protection Insurance (DRP) are coming on line and a third, Rainfall Index - Pasture, Rangeland, and Forage (RI-PRF) merits serious consideration.
Stockpiling Pastures
Nancy Glazier, Small Farms & Livestock
Northwest New York Dairy, Livestock & Field Crops
Last Modified: July 10, 2018

Begin to stockpile your pastures in August to extend the grazing season.
Know a Better Pasture
Nancy Glazier, Small Farms & Livestock
Northwest New York Dairy, Livestock & Field Crops
Last Modified: February 20, 2018


Pasture is a great way to feed your livestock during the growing season.
Meet the Specialist, Nancy Glazier
Last Modified: February 20, 2018


Meet Small Farms Specialist Nancy Glazier as she works with Peter Lehning and John Lehning, new beef producers.
Improved Meat Marketing for Small Scale Farms in the Northeast
Last Modified: October 6, 2017


Part 1. Understand the customer and their needs: Developing marketing strategy.
Labeling Guideline on Documentation Needed to Substantiate Animal Raising Claims
Nancy Glazier, Small Farms & Livestock
Northwest New York Dairy, Livestock & Field Crops
Last Modified: September 8, 2017


The Food Safety and Inspection Service (FSIS) is the Agency in USDA with the responsibility for ensuring that the labeling of meat and poultry products is truthful and not misleading.
Creating an Optimal Promotional Strategy for your business
Last Modified: July 17, 2017

At some time or another, most businesses find themselves developing various types of promotions to stimulate sales. Promotions are rarely "one-off" occurrences rather they are a part of an overall company promotional strategy. Article by Debra Wood Perosio, Dyson School of Applied Economics and Management, Cornell University.
Decoding the Label: Know Your Beef Choices
Last Modified: May 10, 2017


Check out the newly released fact sheet on types of beef production practices.


Upcoming Events
Income Tax Planning for Farms that File a Schedule F
October 13, 2021
October 20, 2021
October 27, 2021

A three-part series for farms that are already filing a Schedule F covering tax planning and goals, handling farm profits/losses, and strategies to improve your tax position while also working positively with your accountant/tax preparer.
Design Your Succession Plan
November 2, 2021
November 9, 2021
November 16, 2021
November 30, 2021
December 7, 2021
December 14, 2021

How will your family farm operate in the future when the owner retires or is gone? Are you currently working with another generation who may be questioning their role in the future of the farm or are you yourself questioning your current role? Join Cornell Cooperative Extension across New York State, the Central NY Dairy & Field Crops Team, and the Capital Area Ag & Horticulture Program, for our 6-part webinar series November 2, 2021 - December 14, 2021.
Bovine Reproduction & Artificial Insemination Training Course Nov. 3-4, 2021
November 3 - November 4, 2021
Shortsville, NY
Join us for a two day workshop with hands-on training that will be offered in both English and Spanish in cooperation with Javier Cheang, Genex. Space is limited, register today!
Announcements
The NWNY Team is Hiring!
The NWNY Dairy, Livestock and Field Crops Team is currently looking for a Field Crops Specialist.
As the Field Crops Specialist, you will provide commercial crop growers, producers, consultants, and industry representatives with the knowledge and educational resources necessary to assess production and management practices. You will focus on developing an education and applied research program in the areas of forage production management, soil health/nutrient management and advancing the principles, applications and implementation of precision agriculture technologies for growers. Other responsibilities include:
Providing producers and industry with a framework to analyze production and management alternatives and maximize profit opportunities based on emerging best-management practices.
Analyzing and evaluating major program efforts with the input of all program partners and making recommendations for enhancing these efforts.
Participating in regional, statewide, and national workgroups.
Initiating and conducting field demonstrations and in-depth applied research projects appropriate to the needs of commercial crop production.
Individually and collaboratively exploring and pursuing new and additional funding sources to enhance and extend program opportunities.
Planning and implementing educational programs utilizing a variety of methods, including direct teaching through group experiences, social media, newsletters, electronic technology, use of the internet, and distance learning.
Preparing quarterly reports and yearly impact statements on program progress and accomplishments.
This position is full-time and will be located in Mount Morris, New York. This is a three-year appointment with possible extension depending on funding and performance. Applications must be submitted by October 31, 2021.
The NWNY Team Blog!
Our goal for
this blog
is to share with farmers and allied industry professionals, technical and applicable resources regarding all aspects of dairy farming, livestock and small farms, field crops and soils, and topics related to farm business management and precision agriculture.

The blog will feature Crop Alerts, Dairy Alerts, Bilingual (Spanish) Resources, Upcoming Events and more from our team members. This blog is free for everyone to use, explore and enjoy. When new material is published, subscribers will receive an email notification.

We hope you enjoy this new platform, and are looking forward to engaging with you in the future!