Enrollment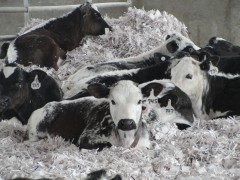 We invite you to enroll in the NWNY Dairy, Livestock and Field Crops Program to benefit from the expertise of our Specialists. Enrollment includes 12 issues of the Ag Focus newsletter, telephone/email consultations, direct mailings of special event notices and important crop information, reduced registration fees for our educational meetings, and on-farm educational opportunities.

In 2016, our program will be supported, in part, by 10 county Cornell Cooperative Extensions: Genesee, Livingston, Monroe, Niagara, Ontario, Orleans, Seneca, Wayne, Wyoming and Yates Counties. Enrollment discounts are given to those that live, farm or conduct agricultural services in those counties (In-Region Enrollment). However, we still welcome those that do not live, farm or conduct ag services in those counties to enroll in our program (Out-Of-Region Enrollment). See the Enrollment information PDF for a list of enrollment benefits covered under each type of enrollment.

You may enroll in our program (form below) by printing and mailing the PDF Enrollment form below.



Enrollment Information (PDF; 196KB)
Upcoming Events
Corn Silage Pre-Harvest Workshops
August 23 - August 24, 2018
Morning and Afternoon sessions
Corn silage harvest is drawing near. The way corn silage is harvested and stored is a single event that affects your operation for the entire next year. Are you prepared to set your operation up for success? Plan to attend one of the following on-farm Corn Silage Pre-Harvest workshops to hear the latest research-backed strategies you can implement on your dairy this corn silage season.
2018 New York Corn & Soybean Yield Contest
August 25, 2018

See attached flyer for Contest Rules and Entry Form.
No-Till & Never-Till Soil Health Workshop

August 28, 2018
12:00 p.m. - 5:30 p.m.
Stafford, NY
The Western New York Soil Health Alliance will be holding a Soil Health Workshop focusing on No-Till practices and benefits. They will be digging underground to look at a section of field that has NEVER had any tillage and compare it to the adjacent area with a history of tillage practices. In addition, there will be information on the problem of slugs and voles in the higher residue farming practices.
Northwest New York Dairy, Livestock & Field Crops - Cornell Cooperative Extension
Your Trusted Source for Research-Based Knowledge