Enrollment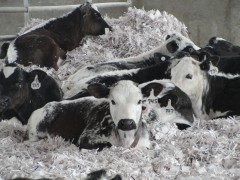 Cornell University, in partnership with the
Cornell Cooperative Extension Associations in nine counties contribute to the NWNY Team so that producers in their counties have access to affordable production education. These counties are: Genesee, Livingston, Monroe, Niagara, Ontario, Orleans, Seneca, Wayne & Wyoming.
The team specialists provide education in five program areas:

Dairy Management

- Calf Care, Precision Feed Management, Cow Comfort, Discussion Groups, Upgrading Dairy Employee Skills, Hoof Health & Lameness, Quality Milk Production & Bilingual Labor Management Facilitation.

Farm Business

- Dairy Farm Business Summary (DFBS) Program, Economic Analysis, Farm Financial Management, Education and Business Transition to a New Generation.

Field Crops

- Grain and Forage Production & Storage, Integrated Pest Management, Soil Fertility and Nutrient Management, Corn, Soybean & Wheat Congresses and On-Farm Applied Research.

Small Farms & Livestock

- Pasture Walks, Livestock Educational Programs, Grazing Management & Plan Development and Beginning Farmer Education.

Precision Ag

- Advanced Agricultural Engineering Technologies, Power and Machinery, Management and Adoption, Philosophy and Creating of Management Zones, Decision-Making Tools and Variable Rate Applications, Data Management and On-Farm Applied Research.
Other benefits you receive from enrollment:
• Telephone/email consultations with an area specialist.
• Educational meetings and conferences - reduced registration fees for Congresses.
• Direct mailings for special events or important information for your farm.
• In-field educational opportunities - specialists visit your farm to share information or problem-solve, upon request.
• Conduct/coordinate on-farm research trials in the region
Enrollment Information (PDF; 257KB)
Upcoming Events
Herbicide Resistant Weed Control Virtual Field Day

October 21, 2020
This free online event will offer 2 DEC pesticide applicator credits and CCE CEU's. Pre-Registration is required for DEC credits!
Announcements
*NEW* The NWNY Team Blog!
Our goal for
this blog
is to share with farmers and allied industry professionals, technical and applicable resources regarding all aspects of dairy farming, livestock and small farms, field crops and soils, and topics related to farm business management and precision agriculture.

The blog will feature Crop Alerts, Dairy Alerts, Bilingual (Spanish) Resources, Upcoming Events and more from our team members. This blog is free for everyone to use, explore and enjoy. When new material is published, subscribers will receive an email notification.

We hope you enjoy this new platform, and are looking forward to engaging with you in the future!
Dialing Into Your Best Dairy - * New Podcast Series *
Dialing Into Your Best Dairy
A Podcast Series​
Hosted by Cornell Cooperative Extension Regional Dairy Specialists and Cornell CALS PRO-DAIRY
Episodes in this series will discuss management practices and tips to reach your herd's full genetic potential. In
8 episodes
, PRO-DAIRY and CCE Dairy Specialists will discuss the different life stages of the dairy cow, including raising calves through the milk phase and weaning; managing weaned heifers up to freshening; making decisions about which replacements to keep including talking about inventory, disease prevention, and culling decisions; feeding and nutrition management during lactation; facilities, time management, and ventilation considerations throughout lactation; and management factors around reproduction, gestation, and the dry period.