Enrollment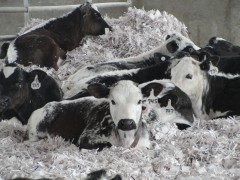 Cornell University, in partnership with the
Cornell Cooperative Extension Associations in nine counties contribute to the NWNY Team so that producers in their counties have access to affordable production education. These counties are: Genesee, Livingston, Monroe, Niagara, Ontario, Orleans, Seneca, Wayne & Wyoming.
The team specialists provide education in five program areas:

Dairy Management

- Calf Care, Precision Feed Management, Cow Comfort, Discussion Groups, Upgrading Dairy Employee Skills, Hoof Health & Lameness, Quality Milk Production & Bilingual Labor Management Facilitation.

Farm Business

- Dairy Farm Business Summary (DFBS) Program, Economic Analysis, Farm Financial Management, Education and Business Transition to a New Generation.

Field Crops

- Grain and Forage Production & Storage, Integrated Pest Management, Soil Fertility and Nutrient Management, Corn, Soybean & Wheat Congresses and On-Farm Applied Research.

Small Farms & Livestock

- Pasture Walks, Livestock Educational Programs, Grazing Management & Plan Development and Beginning Farmer Education.

Precision Ag

- Advanced Agricultural Engineering Technologies, Power and Machinery, Management and Adoption, Philosophy and Creating of Management Zones, Decision-Making Tools and Variable Rate Applications, Data Management and On-Farm Applied Research.
Other benefits you receive from enrollment:
• Telephone/email consultations with an area specialist.
• Educational meetings and conferences - reduced registration fees for Congresses.
• Direct mailings for special events or important information for your farm.
• In-field educational opportunities - specialists visit your farm to share information or problem-solve, upon request.
• Conduct/coordinate on-farm research trials in the region
Enrollment Information (PDF; 189KB)


Upcoming Events
Income Tax Planning for Farms that File a Schedule F
October 13, 2021
October 20, 2021
October 27, 2021

A three-part series for farms that are already filing a Schedule F covering tax planning and goals, handling farm profits/losses, and strategies to improve your tax position while also working positively with your accountant/tax preparer.
Design Your Succession Plan
November 2, 2021
November 9, 2021
November 16, 2021
November 30, 2021
December 7, 2021
December 14, 2021

How will your family farm operate in the future when the owner retires or is gone? Are you currently working with another generation who may be questioning their role in the future of the farm or are you yourself questioning your current role? Join Cornell Cooperative Extension across New York State, the Central NY Dairy & Field Crops Team, and the Capital Area Ag & Horticulture Program, for our 6-part webinar series November 2, 2021 - December 14, 2021.
Bovine Reproduction & Artificial Insemination Training Course Nov. 3-4, 2021
November 3 - November 4, 2021
Shortsville, NY
Join us for a two day workshop with hands-on training that will be offered in both English and Spanish in cooperation with Javier Cheang, Genex. Space is limited, register today!
Announcements
The NWNY Team is Hiring!
The NWNY Dairy, Livestock and Field Crops Team is currently looking for a Field Crops Specialist.
As the Field Crops Specialist, you will provide commercial crop growers, producers, consultants, and industry representatives with the knowledge and educational resources necessary to assess production and management practices. You will focus on developing an education and applied research program in the areas of forage production management, soil health/nutrient management and advancing the principles, applications and implementation of precision agriculture technologies for growers. Other responsibilities include:
Providing producers and industry with a framework to analyze production and management alternatives and maximize profit opportunities based on emerging best-management practices.
Analyzing and evaluating major program efforts with the input of all program partners and making recommendations for enhancing these efforts.
Participating in regional, statewide, and national workgroups.
Initiating and conducting field demonstrations and in-depth applied research projects appropriate to the needs of commercial crop production.
Individually and collaboratively exploring and pursuing new and additional funding sources to enhance and extend program opportunities.
Planning and implementing educational programs utilizing a variety of methods, including direct teaching through group experiences, social media, newsletters, electronic technology, use of the internet, and distance learning.
Preparing quarterly reports and yearly impact statements on program progress and accomplishments.
This position is full-time and will be located in Mount Morris, New York. This is a three-year appointment with possible extension depending on funding and performance. Applications must be submitted by October 31, 2021.
The NWNY Team Blog!
Our goal for
this blog
is to share with farmers and allied industry professionals, technical and applicable resources regarding all aspects of dairy farming, livestock and small farms, field crops and soils, and topics related to farm business management and precision agriculture.

The blog will feature Crop Alerts, Dairy Alerts, Bilingual (Spanish) Resources, Upcoming Events and more from our team members. This blog is free for everyone to use, explore and enjoy. When new material is published, subscribers will receive an email notification.

We hope you enjoy this new platform, and are looking forward to engaging with you in the future!