Enrollment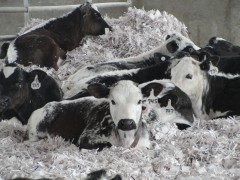 We invite you to enroll in the NWNY Dairy, Livestock and Field Crops Program to benefit from the expertise of our Specialists. Enrollment includes 12 issues of the Ag Focus newsletter, telephone/email consultations, direct mailings of special event notices and important crop information, reduced registration fees for our educational meetings, and on-farm educational opportunities.

In 2016, our program will be supported, in part, by 10 county Cornell Cooperative Extensions: Genesee, Livingston, Monroe, Niagara, Ontario, Orleans, Seneca, Wayne, Wyoming and Yates Counties. Enrollment discounts are given to those that live, farm or conduct agricultural services in those counties (In-Region Enrollment). However, we still welcome those that do not live, farm or conduct ag services in those counties to enroll in our program (Out-Of-Region Enrollment). See the Enrollment information PDF for a list of enrollment benefits covered under each type of enrollment.

You may enroll in our program (form below) by printing and mailing the PDF Enrollment form below.



Enrollment Information (PDF; 176KB)
Upcoming Events
VFD Regulations - What Does It Mean for Livestock Owners & Beekeepers
March 28, 2017
6:00pm - 8:00 pm
Warsaw, NY
If you want to learn more about the VFD, Veterinarian Feed Directive, and how it might affect you and home treatments of your livestock, plan to attend this information session.

Getting Started in Agritourism Workshop, Creating a Destination Farm
March 30, 2017
8:30 am - 3:00 pm
Rochester, NY
Cornell Extensions of Monroe and Tompkins County proudly invites farmers, food entrepreneurs, horse-farm owners, and other Agribusiness operators to attend the Agritourism workshop.

NYS Livestock Summit - Montour Falls Location
March 30, 2017
1:00 pm - 4:00 pm
Montour Falls, NY
Calling experienced livestock producers: We know you face tremendous challenges to grow your business. What are the undeveloped opportunities and how can we collectively address them?

Announcements
Heavy Snow Loads
The recent accumulation of snow in many areas throughout NYS has caused some agricultural buildings to fail. Failure can be the result of several itmes linked to the snow load present on the building. This document talks about snow accumulation and points about understanding pending barn failures.
Click here to read the rest of the article.
Do's and Don'ts for Barn Snow Removal
Removal of significant snow accumulations off of a barn roof is best performed in a systematic way to reduce the risk of injury or death to both barn occupants and those working on the roof. Removing roof snow without a proper approach may actually cause more damage than if left alone in some cases by creating an unbalanced and/or concentrated roof load. This document explains the proper approach to removing accumulated snow from roofs.
Click here to read the rest of the article.
Latest Dairy Market Watch
An educational newsletter to keep producers informed of changing market factors affecting the dairy industry.
How to Read Dairy Market Watch
.
Dairy Market Watch - February 2017
Northwest New York Dairy, Livestock & Field Crops - Cornell Cooperative Extension
Your Trusted Source for Research-Based Knowledge