Enrollment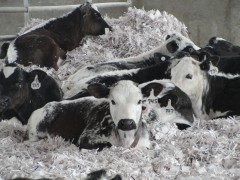 Cornell University, in partnership with the
Cornell Cooperative Extension Associations in nine counties contribute to the NWNY Team so that producers in their counties have access to affordable production education. These counties are: Genesee, Livingston, Monroe, Niagara, Ontario, Orleans, Seneca, Wayne & Wyoming.
The team specialists provide education in five program areas:

Dairy Management

- Calf Care, Precision Feed Management, Cow Comfort, Discussion Groups, Upgrading Dairy Employee Skills, Hoof Health & Lameness, Quality Milk Production & Bilingual Labor Management Facilitation.

Farm Business

- Dairy Farm Business Summary (DFBS) Program, Economic Analysis, Farm Financial Management, Education and Business Transition to a New Generation.

Field Crops

- Grain and Forage Production & Storage, Integrated Pest Management, Soil Fertility and Nutrient Management, Corn, Soybean & Wheat Congresses and On-Farm Applied Research.

Small Farms & Livestock

- Pasture Walks, Livestock Educational Programs, Grazing Management & Plan Development and Beginning Farmer Education.

Precision Ag

- Advanced Agricultural Engineering Technologies, Power and Machinery, Management and Adoption, Philosophy and Creating of Management Zones, Decision-Making Tools and Variable Rate Applications, Data Management and On-Farm Applied Research.
Other benefits you receive from enrollment:
• Telephone/email consultations with an area specialist.
• Educational meetings and conferences - reduced registration fees for Congresses.
• Direct mailings for special events or important information for your farm.
• In-field educational opportunities - specialists visit your farm to share information or problem-solve, upon request.
• Conduct/coordinate on-farm research trials in the region
Enrollment Information (PDF; 229KB)


Upcoming Events
Webinar-Challenges and Opportunities of Managing Transition Cows on AMS
June 1, 2023
Please join MSU Extension and Cornell Cooperative Extension Regional Teams for our talk with Pete Maslyn of Hemdale Dairy and Todd Ward of Direct Dairy Nutrition Services on managing transition cows on automated milking systems (AMS).
2023 Dairy Nutrition & Management Shortcourse
June 5 - June 9, 2023
Chazy, NY
This course is designed primarily for early career nutritionists and allied industry professionals seeking a more comprehensive foundation in the principles of dairy cattle nutrition and their application within dairy herd management.
Agritourism Workshops Monthly! - Agritourism Pricing Workshop
June 20, 2023
Are you thinking of starting an agritourism business or are you currently operating one?

Join our monthly lunch-hour, workshop virtual series and learn how to grow your agritourism business!
Each session will focus on specific topic to help aspiring agritourism entrepreneurs grow their knowledge and profit through this exciting on-farm business.

Cost: Free to attend, but registration required!

Announcements
Follow us on Instagram
See photos and reels of our most recent events and programs!
Join us on Facebook!
Follow us on Facebook to get up to date posts about events, workshops and everything NWNY!
Add us on LinkedIn!
Connect with us on LinkedIn to get more information about upcoming workshops and programs!
Watch us on YouTube
Watch instructional videos from specialists in the field!
Subscribe for Emails about Events & Workshops!