Enrollment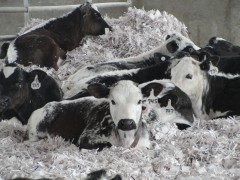 We invite you to enroll in the NWNY Dairy, Livestock and Field Crops Program to benefit from the expertise of our Specialists. Enrollment includes 12 issues of the Ag Focus newsletter, telephone/email consultations, direct mailings of special event notices and important crop information, reduced registration fees for our educational meetings, and on-farm educational opportunities.

In 2016, our program will be supported, in part, by 10 county Cornell Cooperative Extensions: Genesee, Livingston, Monroe, Niagara, Ontario, Orleans, Seneca, Wayne, Wyoming and Yates Counties. Enrollment discounts are given to those that live, farm or conduct agricultural services in those counties (In-Region Enrollment). However, we still welcome those that do not live, farm or conduct ag services in those counties to enroll in our program (Out-Of-Region Enrollment). See the Enrollment information PDF for a list of enrollment benefits covered under each type of enrollment.

You may enroll in our program (form below) by printing and mailing the PDF Enrollment form below.



Enrollment Information (PDF; 176KB)
Upcoming Events
Soil Health Workshop with Cover Crop Interseeder & Herbicide Demonstration

August 22, 2017
8:30 am - 3:30 pm
Albion, NY
Speakers: Wendy Taheri - a nationally recognized expert in Mycorrhizal Fungi and John Wallace - soon to be a Cornell professor with extensive experince in Drilled Interseeding of corn.
In the afternoon we will have a field demonstration of a test plot with 8 drilled interseedings of cover crops in field corn combined with a test of 4 different pre-emerge herbicides, in addition to Wendy Taheri demonstrating soil health features from a soil pit.
CCE Adirondack Railroad Excursion (Extension Employees & Family ONLY)
August 26, 2017
9:30 am - 7:00 pm
Utica, NY
Back by popular demand the Adirondack Summer Excursion will roll again on the Adirondack Scenic Railroad, The New York State Association of County Agricultural Agents (NYSACAA) is once again hosting this summer adventure. This event is open to all county, regional and campus CCE employees and their families.
You do not have to be a member of NYSACAA to attend.

Last year's trip reviews were very positive. Don't miss this opportunity to enjoy a day full of great scenery, comradery and networking with other CCE folks from around the state.
Summer Dairy Research Update: Heifer Reproduction & Hypocalcemia
September 6, 2017
7:00 pm - 9:00 pm
Batavia, NY
Line-up of speakers:
Julio O. Giordano, DVM, MS, PhD, Cornell University, St. John Family Sesquicentennial, Assistant Professor - Dairy Cattle Biology & Management Department of Animal Science
Magdalena Masello Souza, DVM, Cornell University, PhD Student - Dairy Cattle Biology & Management Lab
Robert A. Lynch, DVM, Cornell Univeristy PRO-DAIRY Program, Herd Health & Management Specialist
Northwest New York Dairy, Livestock & Field Crops - Cornell Cooperative Extension
Your Trusted Source for Research-Based Knowledge