Soil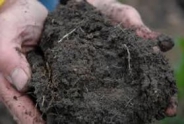 Effectively managing the soils of western New York for long-term productivity and sustainability is the foundation for crop production in New York's bread basket. This page contains resources and information to help farmers manage their soils and the nutrients used to grow their crops.
A wide range of soils are farmed in western New York. Heavy clays sit on limestone bedrock along the Niagara Escarpment in Niagara and Orleans counties. Southern Wyoming, Livingston, Yates, and Seneca counties have acidic glacial loams. Highly productive loam soils are alongside heavy clays and gravelly sands, throughout the region and sometimes even in the same field. Muck soils naturally contain high levels of organic matter, while mineral soils vary greatly in their organic matter content depending on management history. Practices that increase soil health and productivity such reduced tillage, cover cropping, tile drainage, and diverse crop rotations continue to be adopted by western New York farmers.
Western New York farmers have been very proactive by adopting practices such as manure injection, nutrient management planning, split fertilizer applications, conservation tillage, and precision nutrient management in order to protect the natural resources they live near while increasing their productivity. While many farms make use of manure which contains many nutrients, farmers also typically apply nitrogen, phosphorous, potassium, and sulfur fertilizers along with lime to their fields. These fertilizers are placed with the crop seed as a "pop-up", 2 inches to the side and below the seed as a "starter", deep banded with tillage equipment, broadcasted on the soil surface, and occasionally applied as a foliar fertilizer. On-farm research by the NWNY Team continues to help farmers fine-tune their fertilizer applications to their crop rotations and tillage systems.
SOIL CATEGORIES
Most Recent Soil Content
Crop Alert
Mike Stanyard, Team Leader, Field Crops
Northwest New York Dairy, Livestock & Field Crops
Last Modified: July 27, 2018

Timely observations, information, and control strategies for managing pests, fertility, and current conditions on northwestern NY farms.
Forage Congress - Presentations
Nancy Glazier, Small Farms & Livestock
Northwest New York Dairy, Livestock & Field Crops
Last Modified: March 14, 2017


New to the NWNY Team's lineup this winter was Forage Congress at the Genesee River Restaurant and Reception Center in Mount Morris, NY.

This event covered timely topics recommended by the region's producers. The morning's session began with an overview of the cropping plan from the ground up, economics of high fiber digestibility, and new alfalfa varieties with quality grasses. The afternoon covered double cropping with winter triticale and options for properly storing silages.
Entry Point Precision Ag Technology: Benefits & Costs for Decision Making
John Hanchar, Farm Business Management
Northwest New York Dairy, Livestock & Field Crops
Last Modified: March 15, 2016


Two benefits attributed to auto steer mentioned frequently by producers and their advisors are reduced stress and reduced fatigue. Combine these benefits with expected favorable economic and financial impacts, and auto steer has the potential to be a beneficial change in practice for farmers, one that farmers will likely want to evaluate for their business.
Upcoming Events
Beginning Farmer/Hobby Farmer Workshop $5/pp, class size is limited, so pre-register by April 15th!
April 27, 2019
9:00 am - 1:00 pm
Canandaigua, NY
This hands-on workshop is for beginning or part-time farmers who would like to improve their farm machinery skills, learn to properly and safely maintain their equipment to protect their investment. If you have been thinking about buying a tractor, new or used, two-wheel or four-wheel drive, compact or utility or more come join us. Topics include: selecting the right size/type tractor for the job; basic maintenance; staying safe around tractors and equipment; attaching implements properly; and information about ROPS and SMV's. There will be time for questions.
Pre-registration requested by April 15, 2019 email Amy with your name, address, and phone number or call 585-394-3977 x 429.
Fee: $5.00/person. Class size is limited.
2019 Pastured Poultry Seminar, lunch included so please register by May 10th! $25/person
May 18, 2019
Registration begins at 8:00 a.m.w/ coffee & donuts with the Program running from 9:00 a.m. - 5 p. m.
Attica, NY
The main speaker this year is
Eli Reiff
of Mifflinburg Pennsylvania. Eli raises broilers, turkeys, sheep, and beef, all on pasture. Topics to be covered will include the
pasture
,
feed and nutrition
,
marketing
,
costs
, and much more. As we grow as farm operators and get bigger, we may not pay as much attention to the basics as we should. So those areas are where we will start, and then expand to cover the group's interests.
Mike Badger, Director of the American Pastured Poultry Producers Association
will also be available for a round-table discussion. Plans are to have representatives from Farm Bureau, NYCAMH for farm health and safety, Wyoming County Chamber of Commerce, and Cornell Cooperative Extension of Wyoming County, as well as others.
Calling all 9th-12th graders! 4th Annual Precision Agriculture Day at Genesee Community College
May 21, 2019
9:00 am - 1:30 pm Register by Friday May 10th! $15/per person includes lunch
Batavia, NY
Calling all 9th-12th graders! We have an exciting new program for students interested in technology, science, engineering, and agriculture!
Would you like to:
Learn about how Drones collect information
Check out some potential career opportunities that have new and ever-changing technology
Learn how these technologies can be used in our own backyards in WNY
Discover potential and exciting career opportunities
Announcements
Producers Previously Enrolled in the LGM Program Now Eligible for MPP
Dairy Producers Previously Enrolled in the Livestock Gross Margin Program Now Eligible for 2018 Margin Protection Program
The U.S. Department of Agriculture (USDA) today announced that dairy producers who elected to participate in the Livestock Gross Margin for Dairy Cattle Program (LGM-Dairy) now have the opportunity to participate in the Margin Protection Program for Dairy (MPP-Dairy) for 2018 coverage. Sign-up will take place March 25 through May 10, 2019.
Eligible producers can enroll during the sign-up period at their local USDA service center. To locate your office, visit
farmers.gov
.
Smart Farming Team Technical Assistance Grant Application
The
Labor Ready Farmer Project
is offering grants to provide up to 12 hours of Technical Assistance (TA) consulting services to farms who want to make improvements to their farm's processes in hiring, training, managing or evaluating employees. Applicants will choose from one of the following four areas for TA assistance and identify a specific project. If selected they will be matched with a "Smart Farming Team" of consultants who will provide one on one technical assistance.
HIRING EMPLOYEES 101 - GETTING OFF TO A GOOD START
ONBOARDING & TRAINING EMPLOYEES QUICKLY AND EFFECTIVELY
FINE-TUNING & IMPROVING THE WORKING ENVIRONMENT
H2-A READINESS
Please complete this
application
and send to Nicole Waters, Beginning Farm Project Coordinator for the Cornell Small Farms Program. The form can be submitted by email, mail or in-person at the address listed below. Please feel free to call or email with any questions.
Nicole Waters - Beginning Farmer Project Coordinator
Plant Science Building, Room 15b
Tower Road, Cornell University
Ithaca, NY 14853
Phone: 607-255-9911
Email: nw42@cornell.edu

Applications accepted on a rolling basis.
USDA Announces January Income over Feed Cost Margin Triggers First 2019 Dairy Sa
WASHINGTON, March 6, 2019
? The U.S. Department of Agriculture's Farm Service Agency (FSA) announced this week that the January 2019 income over feed cost margin was $7.99 per hundredweight, triggering the first payment for eligible dairy producers who purchase the appropriate level of coverage under the new but yet-to-be established Dairy Margin Coverage (
DMC
) program.
DMC
, which replaces the Margin Protection Program for Dairy, is a voluntary risk management program for dairy producers that was authorized by the 2018 Farm Bill.
DMC
offers protection to dairy producers when the difference between the all milk price and the average feed cost (the margin) falls below a certain dollar amount selected by the producer.

Agriculture Secretary Sonny Perdue announced last week that sign up for
DMC
will open by mid-June of this year. At the time of sign up, producers who elect a
DMC
coverage level between $8.00 and $9.50 would be eligible for a payment for January 2019.
For example, a dairy operation with an established production history of 3 million pounds (30,000 cwt.) that elects the $9.50 coverage level for 50 percent of its production could potentially be eligible to receive $1,887.50 for January.
Sample calculation:
$9.50 - $7.99 margin = $1.51 difference
$1.51 times 50 percent of production times 2,500 cwt. (30,000 cwt./12) = $1,887.50
The calculated annual premium for coverage at $9.50 on 50 percent of a 3-million-pound production history for this example would be $2,250.
Sample calculation:
3,000,000 times 50 percent = 1,500,000/100 = 15,000 cwt. times 0.150 premium fee = $2,250
Operations making a one-time election to participate in DMC through 2023 are eligible to receive a 25 percent discount on their premium for the existing margin coverage rates.
"
Congress created the Dairy Margin Coverage program to provide an important financial safety net for dairy producers, helping them weather shifting milk and feed prices
," FSA Administrator Richard Fordyce said. "
This program builds on the previous Margin Protection Program for Dairy, carrying forward many of the program upgrades made last year based on feedback from producers. We're working diligently to implement the DMC program and other FSA programs authorized by the 2018 Farm Bill
."
Additional details about
DMC
and other FSA farm bill program changes can be found at
farmers.gov/farmbill.
New Guidance for Mortality Disposal Issued
NYS Department of Ag and Markets has posted guidelines on disposal of livestock carcasses, in response to reports that some rendering companies have halted pickups from farms.
https://nwnyteam.cce.cornell.edu/submission.php?id=761&crumb=dairy|1