Soil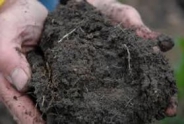 Effectively managing the soils of western New York for long-term productivity and sustainability is the foundation for crop production in New York's bread basket. This page contains resources and information to help farmers manage their soils and the nutrients used to grow their crops.
A wide range of soils are farmed in western New York. Heavy clays sit on limestone bedrock along the Niagara Escarpment in Niagara and Orleans counties. Southern Wyoming, Livingston, Yates, and Seneca counties have acidic glacial loams. Highly productive loam soils are alongside heavy clays and gravelly sands, throughout the region and sometimes even in the same field. Muck soils naturally contain high levels of organic matter, while mineral soils vary greatly in their organic matter content depending on management history. Practices that increase soil health and productivity such reduced tillage, cover cropping, tile drainage, and diverse crop rotations continue to be adopted by western New York farmers.
Western New York farmers have been very proactive by adopting practices such as manure injection, nutrient management planning, split fertilizer applications, conservation tillage, and precision nutrient management in order to protect the natural resources they live near while increasing their productivity. While many farms make use of manure which contains many nutrients, farmers also typically apply nitrogen, phosphorous, potassium, and sulfur fertilizers along with lime to their fields. These fertilizers are placed with the crop seed as a "pop-up", 2 inches to the side and below the seed as a "starter", deep banded with tillage equipment, broadcasted on the soil surface, and occasionally applied as a foliar fertilizer. On-farm research by the NWNY Team continues to help farmers fine-tune their fertilizer applications to their crop rotations and tillage systems.
SOIL CATEGORIES
Most Recent Soil Content
Crop Alert
Mike Stanyard, Team Leader, Field Crops
Northwest New York Dairy, Livestock & Field Crops
Last Modified: July 27, 2018

Timely observations, information, and control strategies for managing pests, fertility, and current conditions on northwestern NY farms.
Forage Congress - Presentations
Nancy Glazier, Small Farms
Northwest New York Dairy, Livestock & Field Crops
Last Modified: March 14, 2017


New to the NWNY Team's lineup this winter was Forage Congress at the Genesee River Restaurant and Reception Center in Mount Morris, NY.

This event covered timely topics recommended by the region's producers. The morning's session began with an overview of the cropping plan from the ground up, economics of high fiber digestibility, and new alfalfa varieties with quality grasses. The afternoon covered double cropping with winter triticale and options for properly storing silages.
Entry Point Precision Ag Technology: Benefits & Costs for Decision Making
John Hanchar, Farm Business Management
Northwest New York Dairy, Livestock & Field Crops
Last Modified: March 15, 2016


Two benefits attributed to auto steer mentioned frequently by producers and their advisors are reduced stress and reduced fatigue. Combine these benefits with expected favorable economic and financial impacts, and auto steer has the potential to be a beneficial change in practice for farmers, one that farmers will likely want to evaluate for their business.
Upcoming Events
Calving and Neonatal Calf Care Training **CLASS FULL**
October 26 - November 9, 2018
Two-day program, held two weeks apart: Oct 26th and Nov 9th, each meet at 9:30 a.m - 3:00 p.m.
Cornell Cooperative Extension and Cornell CALS PRO-DAIRY are holding a two-day Calving and Neonatal Calf Care Training at several locations in October and November.
2018 Feed Dealer Seminar with guest speakers Dr. Tom Overton and Dr. Kristen Reed, Ph.D.
December 14, 2018
11:00 a.m. - 2:00 p.m. with lunch provided
Batavia, NY
The Feed Dealer Seminars are specifically targeted for nutritionists, veterinarians, crop and management consultants, extension educators, and dairy producers with specific interest in nutrition-oriented topics. They are designed to blend the latest concepts in feeding and other management aspects of dairies with field level application. They have been conducted annually as a road show with multiple sites in New York for many years with an additional Vermont location held during the past several years in collaboration with the Northeast Agribusiness and Feed Alliance.
Corn Congress - Batavia Location

January 9, 2019
10:00 a.m. - 3:00 p.m.
Batavia, NY
Check back periodically for more updates.
Announcements
WNY SOIL HEALTH ALLIANCE WORKSHOP & ANNUAL MEETING 12/19
Dec 19, 2018, 8:30 a.m. - 3:00 p.m. Quality Inn & Suites, 8250 Park Rd. Batavia, NY.
Kris Nichols
will be presenting information on
Regenerative Farming Practices and Hands-On Tools for Assessing Soil Health
.
John Wallace
will be presenting Penn State research on
Weed Management and Soil Health practices
. For more information contact: Dennis Kirby at 585-589-5959. DEC & CCA credits pending.
NYS Ag & Markets is interested in hearing from NY dairy farmers
NYS Commissioner of Agriculture and Markets is interested in hearing from NY dairy farmers regarding the status of the dairy industry and their ideas as to improvements that could be made to various programs and institutions that impact the financial environment of dairy markets. The survey will remain open until December 3, 2018 The results of the survey will be collected and summarized by staff of the NYSDAM. The survey does not take long to complete.
Cornell Small Farms Online Courses are now open for registration!
There are more than 20 courses to help farmers of all experience levels improve their technical and business skills.
The full list of courses can be found here:
http://smallfarms.cornell.edu/online-courses/
Harvest Strategies and Forage Quality Monitoring for Corn Silage
A great deal of time is spent on the basics of an optimum corn silage harvest. This time is justified as these steps are critical to a successful harvest, where the decisions made during a very short time period impact the farm's production performance and economics for the upcoming year. These important decisions include harvesting at the proper dry matter, adequate kernel processing, proper length of cut, and proper packing and covering of bunk silos. The following will cover additional considerations for understanding and managing the forage quality of the crop. For more information, please visit
Pro-DAIRY's website
.
Latest Dairy Market Watch
An educational newsletter to keep producers informed of changing market factors affecting the dairy industry.
Dairy Market Watch - Sept 2018
New Guidance for Mortality Disposal Issued
NYS Department of Ag and Markets has posted guidelines on disposal of livestock carcasses, in response to reports that some rendering companies have halted pickups from farms.
https://nwnyteam.cce.cornell.edu/submission.php?id=761&crumb=dairy|1
Northwest New York Dairy, Livestock & Field Crops - Cornell Cooperative Extension
Your Trusted Source for Research-Based Knowledge