Soil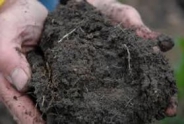 Effectively managing the soils of western New York for long-term productivity and sustainability is the foundation for crop production in New York's bread basket. This page contains resources and information to help farmers manage their soils and the nutrients used to grow their crops.
A wide range of soils are farmed in western New York. Heavy clays sit on limestone bedrock along the Niagara Escarpment in Niagara and Orleans counties. Southern Wyoming, Livingston, Yates, and Seneca counties have acidic glacial loams. Highly productive loam soils are alongside heavy clays and gravelly sands, throughout the region and sometimes even in the same field. Muck soils naturally contain high levels of organic matter, while mineral soils vary greatly in their organic matter content depending on management history. Practices that increase soil health and productivity such reduced tillage, cover cropping, tile drainage, and diverse crop rotations continue to be adopted by western New York farmers.
Western New York farmers have been very proactive by adopting practices such as manure injection, nutrient management planning, split fertilizer applications, conservation tillage, and precision nutrient management in order to protect the natural resources they live near while increasing their productivity. While many farms make use of manure which contains many nutrients, farmers also typically apply nitrogen, phosphorous, potassium, and sulfur fertilizers along with lime to their fields. These fertilizers are placed with the crop seed as a "pop-up", 2 inches to the side and below the seed as a "starter", deep banded with tillage equipment, broadcasted on the soil surface, and occasionally applied as a foliar fertilizer. On-farm research by the NWNY Team continues to help farmers fine-tune their fertilizer applications to their crop rotations and tillage systems.
SOIL CATEGORIES
Most Recent Soil Content
Forage Congress - Presentations
Nancy Glazier, Small Farms
Northwest New York Dairy, Livestock & Field Crops
Last Modified: March 14, 2017


New to the NWNY Team's lineup this winter was Forage Congress at the Genesee River Restaurant and Reception Center in Mount Morris, NY.

This event covered timely topics recommended by the region's producers. The morning's session began with an overview of the cropping plan from the ground up, economics of high fiber digestibility, and new alfalfa varieties with quality grasses. The afternoon covered double cropping with winter triticale and options for properly storing silages.
Crop Alert
Mike Stanyard, Team Leader, Field Crops
Northwest New York Dairy, Livestock & Field Crops
Last Modified: September 9, 2016


Timely observations, information, and control strategies for managing pests, fertility, and current conditions on northwestern NY farms.
Entry Point Precision Ag Technology: Benefits & Costs for Decision Making
John Hanchar, Farm Business Management
Northwest New York Dairy, Livestock & Field Crops
Last Modified: March 15, 2016


Two benefits attributed to auto steer mentioned frequently by producers and their advisors are reduced stress and reduced fatigue. Combine these benefits with expected favorable economic and financial impacts, and auto steer has the potential to be a beneficial change in practice for farmers, one that farmers will likely want to evaluate for their business.
Upcoming Events
VFD Regulations - What Does It Mean for Livestock Owners & Beekeepers
March 28, 2017
6:00pm - 8:00 pm
Warsaw, NY
If you want to learn more about the VFD, Veterinarian Feed Directive, and how it might affect you and home treatments of your livestock, plan to attend this information session.

Getting Started in Agritourism Workshop, Creating a Destination Farm
March 30, 2017
8:30 am - 3:00 pm
Rochester, NY
Cornell Extensions of Monroe and Tompkins County proudly invites farmers, food entrepreneurs, horse-farm owners, and other Agribusiness operators to attend the Agritourism workshop.

NYS Livestock Summit - Montour Falls Location
March 30, 2017
1:00 pm - 4:00 pm
Montour Falls, NY
Calling experienced livestock producers: We know you face tremendous challenges to grow your business. What are the undeveloped opportunities and how can we collectively address them?

Announcements
Heavy Snow Loads
The recent accumulation of snow in many areas throughout NYS has caused some agricultural buildings to fail. Failure can be the result of several itmes linked to the snow load present on the building. This document talks about snow accumulation and points about understanding pending barn failures.
Click here to read the rest of the article.
Do's and Don'ts for Barn Snow Removal
Removal of significant snow accumulations off of a barn roof is best performed in a systematic way to reduce the risk of injury or death to both barn occupants and those working on the roof. Removing roof snow without a proper approach may actually cause more damage than if left alone in some cases by creating an unbalanced and/or concentrated roof load. This document explains the proper approach to removing accumulated snow from roofs.
Click here to read the rest of the article.
Latest Dairy Market Watch
An educational newsletter to keep producers informed of changing market factors affecting the dairy industry.
How to Read Dairy Market Watch
.
Dairy Market Watch - February 2017
Northwest New York Dairy, Livestock & Field Crops - Cornell Cooperative Extension
Your Trusted Source for Research-Based Knowledge