Soil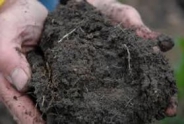 Effectively managing the soils of western New York for long-term productivity and sustainability is the foundation for crop production in New York's bread basket. This page contains resources and information to help farmers manage their soils and the nutrients used to grow their crops.
A wide range of soils are farmed in western New York. Heavy clays sit on limestone bedrock along the Niagara Escarpment in Niagara and Orleans counties. Southern Wyoming, Livingston, Yates, and Seneca counties have acidic glacial loams. Highly productive loam soils are alongside heavy clays and gravelly sands, throughout the region and sometimes even in the same field. Muck soils naturally contain high levels of organic matter, while mineral soils vary greatly in their organic matter content depending on management history. Practices that increase soil health and productivity such reduced tillage, cover cropping, tile drainage, and diverse crop rotations continue to be adopted by western New York farmers.
Western New York farmers have been very proactive by adopting practices such as manure injection, nutrient management planning, split fertilizer applications, conservation tillage, and precision nutrient management in order to protect the natural resources they live near while increasing their productivity. While many farms make use of manure which contains many nutrients, farmers also typically apply nitrogen, phosphorous, potassium, and sulfur fertilizers along with lime to their fields. These fertilizers are placed with the crop seed as a "pop-up", 2 inches to the side and below the seed as a "starter", deep banded with tillage equipment, broadcasted on the soil surface, and occasionally applied as a foliar fertilizer. On-farm research by the NWNY Team continues to help farmers fine-tune their fertilizer applications to their crop rotations and tillage systems.
SOIL CATEGORIES
Relevant Event
Soil Health Workshop with Cover Crop Interseeder & Herbicide Demonstration

August 22, 2017
8:30 am - 3:30 pm
Albion, NY
Most Recent Soil Content
Crop Alert
Mike Stanyard, Team Leader, Field Crops
Northwest New York Dairy, Livestock & Field Crops
Last Modified: August 1, 2017


Timely observations, information, and control strategies for managing pests, fertility, and current conditions on northwestern NY farms.
Forage Congress - Presentations
Nancy Glazier, Small Farms
Northwest New York Dairy, Livestock & Field Crops
Last Modified: March 14, 2017


New to the NWNY Team's lineup this winter was Forage Congress at the Genesee River Restaurant and Reception Center in Mount Morris, NY.

This event covered timely topics recommended by the region's producers. The morning's session began with an overview of the cropping plan from the ground up, economics of high fiber digestibility, and new alfalfa varieties with quality grasses. The afternoon covered double cropping with winter triticale and options for properly storing silages.
Entry Point Precision Ag Technology: Benefits & Costs for Decision Making
John Hanchar, Farm Business Management
Northwest New York Dairy, Livestock & Field Crops
Last Modified: March 15, 2016


Two benefits attributed to auto steer mentioned frequently by producers and their advisors are reduced stress and reduced fatigue. Combine these benefits with expected favorable economic and financial impacts, and auto steer has the potential to be a beneficial change in practice for farmers, one that farmers will likely want to evaluate for their business.
Upcoming Events
Soil Health Workshop with Cover Crop Interseeder & Herbicide Demonstration

August 22, 2017
8:30 am - 3:30 pm
Albion, NY
Speakers: Wendy Taheri - a nationally recognized expert in Mycorrhizal Fungi and John Wallace - soon to be a Cornell professor with extensive experince in Drilled Interseeding of corn.
In the afternoon we will have a field demonstration of a test plot with 8 drilled interseedings of cover crops in field corn combined with a test of 4 different pre-emerge herbicides, in addition to Wendy Taheri demonstrating soil health features from a soil pit.
CCE Adirondack Railroad Excursion (Extension Employees & Family ONLY)
August 26, 2017
9:30 am - 7:00 pm
Utica, NY
Back by popular demand the Adirondack Summer Excursion will roll again on the Adirondack Scenic Railroad, The New York State Association of County Agricultural Agents (NYSACAA) is once again hosting this summer adventure. This event is open to all county, regional and campus CCE employees and their families.
You do not have to be a member of NYSACAA to attend.

Last year's trip reviews were very positive. Don't miss this opportunity to enjoy a day full of great scenery, comradery and networking with other CCE folks from around the state.
Summer Dairy Research Update: Heifer Reproduction & Hypocalcemia
September 6, 2017
7:00 pm - 9:00 pm
Batavia, NY
Line-up of speakers:
Julio O. Giordano, DVM, MS, PhD, Cornell University, St. John Family Sesquicentennial, Assistant Professor - Dairy Cattle Biology & Management Department of Animal Science
Magdalena Masello Souza, DVM, Cornell University, PhD Student - Dairy Cattle Biology & Management Lab
Robert A. Lynch, DVM, Cornell Univeristy PRO-DAIRY Program, Herd Health & Management Specialist
Northwest New York Dairy, Livestock & Field Crops - Cornell Cooperative Extension
Your Trusted Source for Research-Based Knowledge