About Program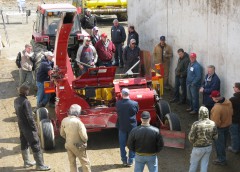 The NWNY Dairy, Livestock and Field Crops Team is one of the outstanding regional agricultural Cornell Cooperative Extension programs in New York, serving a 10-county region in the western part of the state. The team's specialists work together with Cornell faculty and extension educators statewide to provide service to the farms large and small whether dairy, livestock, hay, corn, wheat or soybean focused. The team is part of the Cornell College of Agriculture & Life Sciences' Pro-Dairy program outreach. Educational programs and individual assistance cover a wide area of best management practices and as well as dairy farm business. For dairy farms, a bilingual dairy specialist provides producers with employee training and human resource facilitation in Spanish. Educational and support venues range from on individual farm management team meetings and troubleshooting to multi-day classroom and hands-on training and from ongoing farmer group discussion meetings to thematic day long symposia.


The Northwest New York Dairy, Livestock & Field Crops is supported, in part, by ten
county Cornell Cooperative Extensions including: Genesee, Livingston, Monroe,
Niagara, Ontario, Orleans, Seneca, Wayne, Wyoming and Yates Counties.

To visit one of these Cornell Cooperative Extension's web sites,
simply click on a county within the map.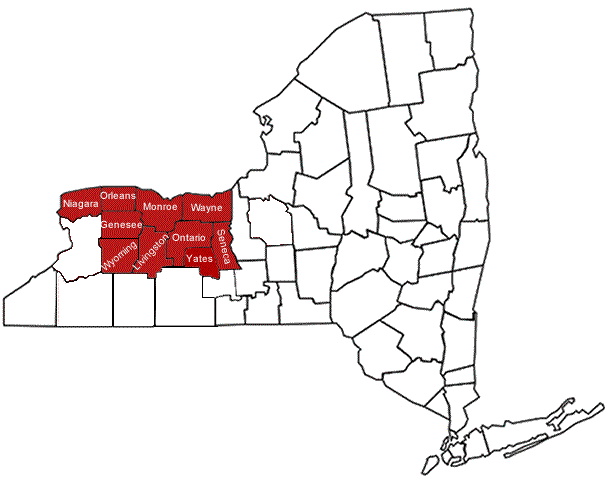 Upcoming Events
No upcoming events at this time.
Announcements
1st Cutting Forage Quality Update
We are into the third week of monitoring 1st cutting for quality this year. Our procedure consists of using alfalfa height to predict Neutral Detergent Fiber (NDF) for alfalfa, alfalfa/grass mixed and grass stands.
Alfalfa height has proven to be a reliable indicator of NDF values in the field.
Height indicators alfalfa and grass for NDF content are below:
In general we say 100% grass stands should be cut when nearby alfalfa is 14 inches tall to achieve the desired 50% NDF.
Begin cutting 50/50 mixed alfalfa and grass stands when nearby alfalfa is 22 inches tall for the desired 44% NDF.
Begin cutting 100% alfalfa stands when alfalfa is 28 inches tall for desired 40% NDF.
Predicted days to cut are based on daily NDF increases for grasses of 1% point, 50/50 mixed stands of 0.8% points and alfalfa of 0.5% point. NDF usually increases about 0.8 to 1.2/day for grasses expecting the lower end of that range in cooler weather and the higher end in warmer. Alfalfa NDF increases about 0.4 to 0.7/ day again depending on temperatures. Predictions are adjusted for the coming week's weather and right now assuming normal growth.
In the attached spreadsheet locations around the region are listed where we have measured alfalfa height. You can use the location and elevation as a guide to conditions that may be similar to your farm.
The 2017 hay crop is ahead of 2016 first cutting. For 2017 on May 17, 2017 the alfalfa averaged 20 inches tall and only 2% of the fields were 18 inches or less. Triticale and grass fields should be knocked down at this point otherwise you will be losing quality. It is important that you get first cutting off in a timely manner, so if it comes down to making a choice between planting corn or getting first cutting, opt for the first cutting. The warmer summer weather may help the corn but you can't get first cutting quality back and you may lose the advantage of adequate soil moisture to gain a quality second harvest.
Mixed stand harvest should start by the weekend with pure alfalfa stands (28 inches for desired 40% NDF) to follow a week later.
Click here for spreadsheet

Latest Dairy Market Watch
An educational newsletter to keep producers informed of changing market factors affecting the dairy industry.
How to Read Dairy Market Watch
.
Dairy Market Watch - April 2017
Northwest New York Dairy, Livestock & Field Crops - Cornell Cooperative Extension
Your Trusted Source for Research-Based Knowledge