Resources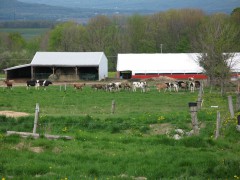 We have compiled a list of useful resources for farmers, consultants and agri-business professionals, organized by category. We hope that these websites can provide you with additional information and guidance.
GENERAL
Cornell Cooperative Extension (CCE)
The Cornell Cooperative Extension website provides an overview of CCE programs across New York State.
Cornell Nutrient Management Spear Program
The vision of the Cornell University's Nutrient Management Spear Program is to assess current knowledge, identify research and educational needs, conduct applied, field and laboratory-based research, facilitate technology and knowledge transfer, and aid in the on-farm implementation of beneficial strategies for field crop nutrient management, including timely application of organic and inorganic nutrient sources to improve profitability and competitiveness of New York State farms while protecting the environment. For more information about our program activities see our latest (3-2-2013) Program Report.
What's Cropping Up
Newsletter for New York Field Crops and Soils
http://css.cals.cornell.edu/cals/css/extension/cropping-up/index.cfm
Cornell Field Crops Home Page
Providing timely field crops, soil and pest management information to the agricultural community of New York State.
http://www.fieldcrops.org/Pages/Home.aspx
NYS IPM Program
Developing sustainable ways to manage pests and help people to use methods that minimize environmental, health, and economic risks.
http://www.nysipm.cornell.edu/
The Cornell Nutrient Analysis Laboratory
Provide accurate and cost effective analysis of soil (Cornell Soil Health Test, Illinois Soil Nutrient Test, other specialized soil tests), plant and water samples.
Cornell Soil Health
Information to help you return your soil to a healthy state or keep an already good soil productive.
http://soilhealth.cals.cornell.edu
Precision Agriculture
An excellent website for Precision Agriculture Resources.
http://www.aces.edu/anr/precisionag/
BUSINESS
Cornell Small Farms Program
http://www.smallfarms.cornell.edu
NE Beginning Farmer Program
http://nebeginningfarmers.org/
GUIDELINES
Cornell Guide for Integrated Field Crop Management
http://ipmguidelines.org/FieldCrops/Default.aspx
Upcoming Events
VFD Regulations - What Does It Mean for Livestock Owners & Beekeepers
March 28, 2017
6:00pm - 8:00 pm
Warsaw, NY
If you want to learn more about the VFD, Veterinarian Feed Directive, and how it might affect you and home treatments of your livestock, plan to attend this information session.

Getting Started in Agritourism Workshop, Creating a Destination Farm
March 30, 2017
8:30 am - 3:00 pm
Rochester, NY
Cornell Extensions of Monroe and Tompkins County proudly invites farmers, food entrepreneurs, horse-farm owners, and other Agribusiness operators to attend the Agritourism workshop.

NYS Livestock Summit - Montour Falls Location
March 30, 2017
1:00 pm - 4:00 pm
Montour Falls, NY
Calling experienced livestock producers: We know you face tremendous challenges to grow your business. What are the undeveloped opportunities and how can we collectively address them?

Announcements
Heavy Snow Loads
The recent accumulation of snow in many areas throughout NYS has caused some agricultural buildings to fail. Failure can be the result of several itmes linked to the snow load present on the building. This document talks about snow accumulation and points about understanding pending barn failures.
Click here to read the rest of the article.
Do's and Don'ts for Barn Snow Removal
Removal of significant snow accumulations off of a barn roof is best performed in a systematic way to reduce the risk of injury or death to both barn occupants and those working on the roof. Removing roof snow without a proper approach may actually cause more damage than if left alone in some cases by creating an unbalanced and/or concentrated roof load. This document explains the proper approach to removing accumulated snow from roofs.
Click here to read the rest of the article.
Latest Dairy Market Watch
An educational newsletter to keep producers informed of changing market factors affecting the dairy industry.
How to Read Dairy Market Watch
.
Dairy Market Watch - February 2017
Northwest New York Dairy, Livestock & Field Crops - Cornell Cooperative Extension
Your Trusted Source for Research-Based Knowledge