Resources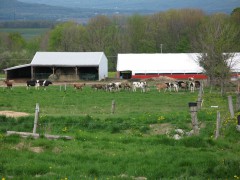 We have compiled a list of useful resources for farmers, consultants and agri-business professionals, organized by category. We hope that these websites can provide you with additional information and guidance.
GENERAL
Cornell Cooperative Extension (CCE)
The Cornell Cooperative Extension website provides an overview of CCE programs across New York State.
Cornell Nutrient Management Spear Program
The vision of the Cornell University's Nutrient Management Spear Program is to assess current knowledge, identify research and educational needs, conduct applied, field and laboratory-based research, facilitate technology and knowledge transfer, and aid in the on-farm implementation of beneficial strategies for field crop nutrient management, including timely application of organic and inorganic nutrient sources to improve profitability and competitiveness of New York State farms while protecting the environment. For more information about our program activities see our latest (3-2-2013) Program Report.
What's Cropping Up
Newsletter for New York Field Crops and Soils
http://css.cals.cornell.edu/cals/css/extension/cropping-up/index.cfm
Cornell Field Crops Home Page
Providing timely field crops, soil and pest management information to the agricultural community of New York State.
http://www.fieldcrops.org/Pages/Home.aspx
NYS IPM Program
Developing sustainable ways to manage pests and help people to use methods that minimize environmental, health, and economic risks.
http://www.nysipm.cornell.edu/
The Cornell Nutrient Analysis Laboratory
Provide accurate and cost effective analysis of soil (Cornell Soil Health Test, Illinois Soil Nutrient Test, other specialized soil tests), plant and water samples.
Cornell Soil Health
Information to help you return your soil to a healthy state or keep an already good soil productive.
http://soilhealth.cals.cornell.edu
Precision Agriculture
An excellent website for Precision Agriculture Resources.
http://www.aces.edu/anr/precisionag/
BUSINESS
Cornell Small Farms Program
http://www.smallfarms.cornell.edu
NE Beginning Farmer Program
http://nebeginningfarmers.org/
GUIDELINES
Cornell Guide for Integrated Field Crop Management
http://ipmguidelines.org/FieldCrops/Default.aspx
Upcoming Events
Malting Barley, Wheat & Rye Twilight Tour
June 21, 2018
5:30 p.m
Geneva, NY
Come walk through the Cornell winter malting barley, wheat and hybrid rye variety trial and take a tour of all the varieties being tested in 2018.
See which varieties will look good on your farm next year!
2018 CCE Adirondack Summer Excursion
July 21, 2018
9:30 am - 6:30 pm
Utica, NY
The New York State Association of Agricultural County Agents (NYSACAA) is dedicated to providing members of Cornell Cooperative Extension community with continuing education, a voice on campus and ways to keep connected with each other. Regional, statewide and national meetings bring members together for professional improvement and social interaction.
The board of directors has once again endorsed a summer social event to bring extension folks from across the state together this summer on the Adirondack Scenic Railroad
(
http://www.adirondackrr.com/adkrr
/).
You do not have to be a NYSACAA member to join us!
This excursion is open to all county, regional and campus employees and their families. It is unfortunate that there are county fairs in progress on that day, however this was the best choice for railroad operation purposes.
Corn Congress - Batavia Location

January 9, 2019
10:00 a.m. - 3:00 p.m.
Batavia, NY
Check back periodically for more updates.
Announcements
Latest Dairy Market Watch
An educational newsletter to keep producers informed of changing market factors affecting the dairy industry.
How to Read Dairy Market Watch
.
Dairy Market Watch - May 2018
1st Cutting Forage Quality Update - May 18, 2018
This is the first week of monitoring 1st cutting for quality this year. Our procedure consists of using alfalfa height to predict Neutral Detergent Fiber (NDF) for alfalfa, alfalfa/grass mixed and grass stands. Alfalfa height has proven to be a reliable indicator of NDF values in the field.
Click here for the rest of the information and chart.
Northwest New York Dairy, Livestock & Field Crops - Cornell Cooperative Extension
Your Trusted Source for Research-Based Knowledge