Resources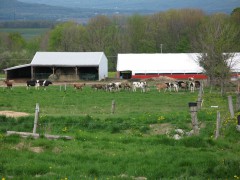 We have compiled a list of useful resources for farmers, consultants and agri-business professionals, organized by category. We hope that these websites can provide you with additional information and guidance.
GENERAL
Cornell Cooperative Extension (CCE)
The Cornell Cooperative Extension website provides an overview of CCE programs across New York State.
Cornell Field Crops Home Page
Providing timely field crops, soil and pest management information to the agricultural community of New York State.
http://www.fieldcrops.org/Pages/Home.aspx
Cornell Nutrient Management Spear Program
The vision of the Cornell University's Nutrient Management Spear Program is to assess current knowledge, identify research and educational needs, conduct applied, field and laboratory-based research, facilitate technology and knowledge transfer, and aid in the on-farm implementation of beneficial strategies for field crop nutrient management, including timely application of organic and inorganic nutrient sources to improve profitability and competitiveness of New York State farms while protecting the environment. For more information about our program activities see our latest (3-2-2013) Program Report.
Cornell Soil Health
Information to help you return your soil to a healthy state or keep an already good soil productive.
http://soilhealth.cals.cornell.edu
NYS IPM Program
Developing sustainable ways to manage pests and help people to use methods that minimize environmental, health, and economic risks.
http://www.nysipm.cornell.edu/
Precision Agriculture
An excellent website for Precision Agriculture Resources.
http://www.aces.edu/anr/precisionag/
The Cornell Nutrient Analysis Laboratory
Provide accurate and cost effective analysis of soil (Cornell Soil Health Test, Illinois Soil Nutrient Test, other specialized soil tests), plant and water samples.
What's Cropping Up
Newsletter for New York Field Crops and Soils
http://css.cals.cornell.edu/cals/css/extension/cropping-up/index.cfm
BUSINESS
Cornell Small Farms Program
http://www.smallfarms.cornell.edu
NE Beginning Farmer Program
http://nebeginningfarmers.org/
GUIDELINES
Cornell Guide for Integrated Field Crop Management
http://ipmguidelines.org/FieldCrops/Default.aspx
Upcoming Events
Modern On Farm Preparedness - Urgent Situations
January 23, 2020
1-4 pm
Perry, NY
Preparedness for Urgent Situations. Be Prepared for a fire, weather emergency or barn damage. Learn from NYCAMH and the local fire department how to prepare for the unexpected.
On-Farm, 1-4 pm
Modern On-Farm Preparedness (All 6 Sessions)
January 23 - February 27, 2020
1-2 pm Webinars, 1-4 pm On farm
Six sessions created to help farms prepare for modern situations
- Jan 23: Urgent Situations (on-farm)
- Jan 30: F.A.R.M 4.0 Update (live webinar)
- Feb 6: Activists (live webinar)
- Feb 13: Social Media (on-farm)
- Feb 20: Disease Outbreaks & Biosecurity (live webinar)
- Feb 27: On Farm Safety - Prevention, Prevention, Prevention (on-farm)
NY Corn & Soybean Winter Expo
January 23, 2020
8:00am - 3:00pm
Liverpool, NY
The New York Corn & Soybean Growers Association invites you to join us on Thursday, January 23, 2020 for our Winter Expo in Syracuse, New York.
KEYNOTE SPEAKER-ZACH JOHNSON, MILLENNIAL FARMER
Announcements
Resources for Managing Overtime
Beginning January 1, 2020, farm employers in New York will be required to pay overtime to certain employees for all hours worked over 60 in a week. We've developed some
tools to help farm employers consider management strategies
to respond to this change. Tools include an excel calculator to estimate the cost of overtime and an extension bulletin to help you consider and evaluate changes on your farm.