Business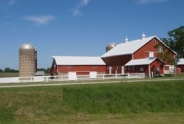 Farm Business Management efforts of the NWNY Dairy, Livestock, and Field Crops Program seek to increase the likelihood that the region's farm business owners achieve desired results by applying enhanced general business management, and farm financial management skills.
To achieve the above purpose, program specialists Petzen and Hanchar develop and deliver extension education opportunities designed to enhance participants' management skills, and abilities to apply principles and ideas from finance and economics in a management context.
Owners of farm businesses enhance their management skills, their capacities to measure the financial condition and performance of their businesses, and their capacities to utilize economic principles in decision making via workshops, classes, presentations, writings, and individual farm business summary and economic analysis work.
Management Education.
Emphasis is on enhancing the planning, implementation and control functions of the farm business manager.
Farm Finance and Economics.
Emphasis is on enhancing participants' abilities to measure the financial condition and performance of the business for management purposes, and to use economic principles in decision making. Basic and Advanced Farm Financial Management workshops, Cornell University Cooperative Extension's Dairy Farm Business Summary Program, and other Farm Business Summary and Analysis tools play prominent roles here. Economic analyses of proposed changes to farm businesses provide farm business owners with information for decision making -- for example, economic analysis of tractor drawn tile plows, intensive wheat management systems, cow comfort practices, stacked corn hybrids, hay conditioners, zone tillage depths and others.

BUSINESS CATEGORIES
Most Recent Business Content
Dairy Culture Coach September 2018
Libby Eiholzer, Bilingual Dairy
Northwest New York Dairy, Livestock & Field Crops
Last Modified: September 21, 2018

The latest issue of the Dairy Culture Coach is now available. Read on to learn more about:
Dairy Training Resources Guide
Fresh Cow Evaluation
Evaluación de las Vacas Frescas
Employee Wage Survey
Webinar on Worker Housing Concerns
Ag Workforce Journal
Financial Balancing Act Means Managing Risk is Essential
Joan Sinclair Petzen, Farm Business Management
Northwest New York Dairy, Livestock & Field Crops
Last Modified: September 19, 2018
The present long-term downturn in commodity prices brings with it increased financial pressure on farm operations. Alternatives for managing risk are continually evolving. For many in agriculture, and particularly dairy, self-insurance has been the go-to method of risk management. Two new tools, the USDA Market Facilitation Program (MFP) and Dairy Revenue Protection Insurance (DRP) are coming on line and a third, Rainfall Index - Pasture, Rangeland, and Forage (RI-PRF) merits serious consideration.
Pricing Corn Silage -- Fall 2018
John Hanchar, Farm Business Management
Northwest New York Dairy, Livestock & Field Crops
Last Modified: September 10, 2018

Summary
Analysis suggests corn silage price depends on corn silage quantities, alfalfa hay price, the price received by farmers for milk, and corn grain price.
Analysis for NY suggests that estimated corn silage price is most sensitive to corn silage quantities, alfalfa hay price and corn grain price.
Price estimates combined with understanding of relevant supply and demand factors from an individual farm business owner's perspective can aid decision making regarding corn silage price. Given recently available alfalfa hay and corn grain prices (May through July, 2018, and August 14, 2018, respectively), price analysis for NY suggests an estimated corn silage price of about $41 per ton. The Fall 2017 estimate was about $54 per ton.
Upcoming Events
Calving and Neonatal Calf Care Training **CLASS FULL**
October 26 - November 9, 2018
Two-day program, held two weeks apart: Oct 26th and Nov 9th, each meet at 9:30 a.m - 3:00 p.m.
Cornell Cooperative Extension and Cornell CALS PRO-DAIRY are holding a two-day Calving and Neonatal Calf Care Training at several locations in October and November.
2018 Feed Dealer Seminar with guest speakers Dr. Tom Overton and Dr. Kristen Reed, Ph.D.
December 14, 2018
11:00 a.m. - 2:00 p.m. with lunch provided
Batavia, NY
The Feed Dealer Seminars are specifically targeted for nutritionists, veterinarians, crop and management consultants, extension educators, and dairy producers with specific interest in nutrition-oriented topics. They are designed to blend the latest concepts in feeding and other management aspects of dairies with field level application. They have been conducted annually as a road show with multiple sites in New York for many years with an additional Vermont location held during the past several years in collaboration with the Northeast Agribusiness and Feed Alliance.
Corn Congress - Batavia Location

January 9, 2019
10:00 a.m. - 3:00 p.m.
Batavia, NY
Check back periodically for more updates.
Announcements
WNY SOIL HEALTH ALLIANCE WORKSHOP & ANNUAL MEETING 12/19
Dec 19, 2018, 8:30 a.m. - 3:00 p.m. Quality Inn & Suites, 8250 Park Rd. Batavia, NY.
Kris Nichols
will be presenting information on
Regenerative Farming Practices and Hands-On Tools for Assessing Soil Health
.
John Wallace
will be presenting Penn State research on
Weed Management and Soil Health practices
. For more information contact: Dennis Kirby at 585-589-5959. DEC & CCA credits pending.
NYS Ag & Markets is interested in hearing from NY dairy farmers
NYS Commissioner of Agriculture and Markets is interested in hearing from NY dairy farmers regarding the status of the dairy industry and their ideas as to improvements that could be made to various programs and institutions that impact the financial environment of dairy markets. The survey will remain open until December 3, 2018 The results of the survey will be collected and summarized by staff of the NYSDAM. The survey does not take long to complete.
Cornell Small Farms Online Courses are now open for registration!
There are more than 20 courses to help farmers of all experience levels improve their technical and business skills.
The full list of courses can be found here:
http://smallfarms.cornell.edu/online-courses/
Harvest Strategies and Forage Quality Monitoring for Corn Silage
A great deal of time is spent on the basics of an optimum corn silage harvest. This time is justified as these steps are critical to a successful harvest, where the decisions made during a very short time period impact the farm's production performance and economics for the upcoming year. These important decisions include harvesting at the proper dry matter, adequate kernel processing, proper length of cut, and proper packing and covering of bunk silos. The following will cover additional considerations for understanding and managing the forage quality of the crop. For more information, please visit
Pro-DAIRY's website
.
Latest Dairy Market Watch
An educational newsletter to keep producers informed of changing market factors affecting the dairy industry.
Dairy Market Watch - Sept 2018
New Guidance for Mortality Disposal Issued
NYS Department of Ag and Markets has posted guidelines on disposal of livestock carcasses, in response to reports that some rendering companies have halted pickups from farms.
https://nwnyteam.cce.cornell.edu/submission.php?id=761&crumb=dairy|1
Northwest New York Dairy, Livestock & Field Crops - Cornell Cooperative Extension
Your Trusted Source for Research-Based Knowledge