Grazing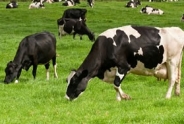 New York has an excellent climate for pasture production - ample rainfall, fertile soils and moderate temperatures. Pasture plants include cool season grasses and legumes. Many dairy and livestock farms utilize pasture during the growing season with about 280,500 acres grazed.
Fencing is an essential component to a grazing operation. These include high-tensile, woven wire, wood, and less frequently barbed wire. Water is an essential piece, too. Recommendations are for water in every paddock.
Most Recent Grazing Content
Creating an Optimal Promotional Strategy for your business
Last Modified: July 17, 2017

At some time or another, most businesses find themselves developing various types of promotions to stimulate sales. Promotions are rarely "one-off" occurrences rather they are a part of an overall company promotional strategy. Article by Debra Wood Perosio, Dyson School of Applied Economics and Management, Cornell University.
Decoding the Label: Know Your Beef Choices
Last Modified: May 10, 2017


Check out the newly released fact sheet on types of beef production practices.
Managing Spring Grass Growth and Selective Grazing
Last Modified: May 4, 2017

For most beef cattle farmers who are managing their pastures in a rotational grazing system two of the biggest spring challenges are the flush of rapid growth that will occur and selective grazing. OSU Wayne Co. extension educator Rory Lewandowski reviews some basic plant growth biology and grazing principles that may suggest some management strategies. Click
here
for the full article.
Upcoming Events
Soil Health Workshop with Cover Crop Interseeder & Herbicide Demonstration

August 22, 2017
8:30 am - 3:30 pm
Albion, NY
Speakers: Wendy Taheri - a nationally recognized expert in Mycorrhizal Fungi and John Wallace - soon to be a Cornell professor with extensive experince in Drilled Interseeding of corn.
In the afternoon we will have a field demonstration of a test plot with 8 drilled interseedings of cover crops in field corn combined with a test of 4 different pre-emerge herbicides, in addition to Wendy Taheri demonstrating soil health features from a soil pit.
CCE Adirondack Railroad Excursion (Extension Employees & Family ONLY)
August 26, 2017
9:30 am - 7:00 pm
Utica, NY
Back by popular demand the Adirondack Summer Excursion will roll again on the Adirondack Scenic Railroad, The New York State Association of County Agricultural Agents (NYSACAA) is once again hosting this summer adventure. This event is open to all county, regional and campus CCE employees and their families.
You do not have to be a member of NYSACAA to attend.

Last year's trip reviews were very positive. Don't miss this opportunity to enjoy a day full of great scenery, comradery and networking with other CCE folks from around the state.
Summer Dairy Research Update: Heifer Reproduction & Hypocalcemia
September 6, 2017
7:00 pm - 9:00 pm
Batavia, NY
Line-up of speakers:
Julio O. Giordano, DVM, MS, PhD, Cornell University, St. John Family Sesquicentennial, Assistant Professor - Dairy Cattle Biology & Management Department of Animal Science
Magdalena Masello Souza, DVM, Cornell University, PhD Student - Dairy Cattle Biology & Management Lab
Robert A. Lynch, DVM, Cornell Univeristy PRO-DAIRY Program, Herd Health & Management Specialist
Northwest New York Dairy, Livestock & Field Crops - Cornell Cooperative Extension
Your Trusted Source for Research-Based Knowledge