Livestock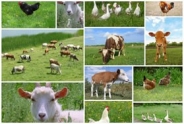 The livestock industry in New York totals $2.4 billion. For livestock marketing, New York ranks 39th for cattle and calf production, 20th for egg production, 24th for chicken production excluding broilers, 30th for hog and pig production, and 25th for sheep and lamb production. The most recent agriculture statistics for New York State can be found at
http://www.nass.usda.gov/Statistics_by_State/New_York/index.asp.
All livestock need food and water, and some require shelter.
Most Recent Livestock Content
Is Dairy Crossbreeding Right for You?
Nancy Glazier, Small Farms
Northwest New York Dairy, Livestock & Field Crops
Last Modified: May 14, 2018


Are you looking to generate a little more cash flow? Try breeding your low-end cows using beef semen. Dairy replacements are at a low value due to low milk prices and ample supply. According to Cornell/USDA Market News Reporters, well-muscled cross bred calves are bringing a $50-100 premium to Holstein calves. There needs to be a farm-specific strategy for this to be advantageous. To learn more, I recently met with Hannah Worden and Claire Mulligan to hear about ABS's InFocus program. This is one of several companies with an approach this opportunity.
The Meaning and Use of Feed Analysis
Last Modified: February 27, 2018

Beef Specialist Mike Baker explains the nutrient requirements for beef cattle and interpreting the forage analysis.
Know a Better Pasture
Nancy Glazier, Small Farms
Northwest New York Dairy, Livestock & Field Crops
Last Modified: February 20, 2018


Pasture is a great way to feed your livestock during the growing season.
Upcoming Events
Malting Barley, Wheat & Rye Twilight Tour
June 21, 2018
5:30 p.m
Geneva, NY
Come walk through the Cornell winter malting barley, wheat and hybrid rye variety trial and take a tour of all the varieties being tested in 2018.
See which varieties will look good on your farm next year!
2018 CCE Adirondack Summer Excursion
July 21, 2018
9:30 am - 6:30 pm
Utica, NY
The New York State Association of Agricultural County Agents (NYSACAA) is dedicated to providing members of Cornell Cooperative Extension community with continuing education, a voice on campus and ways to keep connected with each other. Regional, statewide and national meetings bring members together for professional improvement and social interaction.
The board of directors has once again endorsed a summer social event to bring extension folks from across the state together this summer on the Adirondack Scenic Railroad
(
http://www.adirondackrr.com/adkrr
/).
You do not have to be a NYSACAA member to join us!
This excursion is open to all county, regional and campus employees and their families. It is unfortunate that there are county fairs in progress on that day, however this was the best choice for railroad operation purposes.
Corn Congress - Batavia Location

January 9, 2019
10:00 a.m. - 3:00 p.m.
Batavia, NY
Check back periodically for more updates.
Announcements
Latest Dairy Market Watch
An educational newsletter to keep producers informed of changing market factors affecting the dairy industry.
How to Read Dairy Market Watch
.
Dairy Market Watch - May 2018
1st Cutting Forage Quality Update - May 18, 2018
This is the first week of monitoring 1st cutting for quality this year. Our procedure consists of using alfalfa height to predict Neutral Detergent Fiber (NDF) for alfalfa, alfalfa/grass mixed and grass stands. Alfalfa height has proven to be a reliable indicator of NDF values in the field.
Click here for the rest of the information and chart.
Northwest New York Dairy, Livestock & Field Crops - Cornell Cooperative Extension
Your Trusted Source for Research-Based Knowledge