Livestock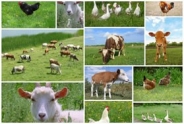 The livestock industry in New York totals $2.4 billion. For livestock marketing, New York ranks 39th for cattle and calf production, 20th for egg production, 24th for chicken production excluding broilers, 30th for hog and pig production, and 25th for sheep and lamb production. The most recent agriculture statistics for New York State can be found at
http://www.nass.usda.gov/Statistics_by_State/New_York/index.asp.
All livestock need food and water, and some require shelter.
Most Recent Livestock Content
New Guidance for Mortality Disposal Issued
Libby Eiholzer, Bilingual Dairy
Northwest New York Dairy, Livestock & Field Crops
Last Modified: August 1, 2018
NYS Department of Ag and Markets has posted guidelines on disposal of livestock carcasses, in response to reports that some rendering companies have halted pickups from farms.
Stockpiling Pastures
Nancy Glazier, Small Farms
Northwest New York Dairy, Livestock & Field Crops
Last Modified: July 10, 2018

Begin to stockpile your pastures in August to extend the grazing season.
Is Dairy Crossbreeding Right for You?
Nancy Glazier, Small Farms
Northwest New York Dairy, Livestock & Field Crops
Last Modified: May 14, 2018


Are you looking to generate a little more cash flow? Try breeding your low-end cows using beef semen. Dairy replacements are at a low value due to low milk prices and ample supply. According to Cornell/USDA Market News Reporters, well-muscled cross bred calves are bringing a $50-100 premium to Holstein calves. There needs to be a farm-specific strategy for this to be advantageous. To learn more, I recently met with Hannah Worden and Claire Mulligan to hear about ABS's InFocus program. This is one of several companies with an approach this opportunity.
Upcoming Events
Corn Silage Pre-Harvest Workshops
August 23 - August 24, 2018
Morning and Afternoon sessions
Corn silage harvest is drawing near. The way corn silage is harvested and stored is a single event that affects your operation for the entire next year. Are you prepared to set your operation up for success? Plan to attend one of the following on-farm Corn Silage Pre-Harvest workshops to hear the latest research-backed strategies you can implement on your dairy this corn silage season.
2018 New York Corn & Soybean Yield Contest
August 25, 2018

See attached flyer for Contest Rules and Entry Form.
No-Till & Never-Till Soil Health Workshop

August 28, 2018
12:00 p.m. - 5:30 p.m.
Stafford, NY
The Western New York Soil Health Alliance will be holding a Soil Health Workshop focusing on No-Till practices and benefits. They will be digging underground to look at a section of field that has NEVER had any tillage and compare it to the adjacent area with a history of tillage practices. In addition, there will be information on the problem of slugs and voles in the higher residue farming practices.
Northwest New York Dairy, Livestock & Field Crops - Cornell Cooperative Extension
Your Trusted Source for Research-Based Knowledge