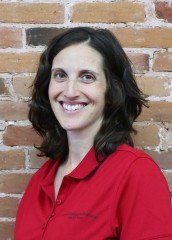 Kaitlyn Lutz, VMD
Bilingual Dairy Management Specialist
CCE Ontario
480 N Main St
Canandaigua, NY 14424
phone 585-394-3977
cell 585-689-3114
email Kaitlyn
Areas of Interest
Dairy, Dairy Management, Bilingual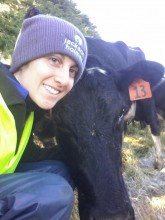 Kaitlyn is a native of South East Pennsylvania. She earned a bachelor's degree in Animal Science from University of Delaware in 2007 and a veterinary degree from University of Pennsylvania in 2011. Kaitlyn then went to Colorado State where she completed an internship in Livestock medicine and surgery. She returned to U. of Penn where she completed a residency in Food Animal medicine, spending much of her time teaching veterinary students on-farm. Kaitlyn then spent 4 years working internationally as a dairy practitioner in New Zealand, Turkey and Uruguay, focusing on large herd management and employee training. In 2018 Kaitlyn returned to the States and has been working in private dairy practice in Geneva. Kaitlyn is passionate about the health and welfare of dairy cattle and the people who work with them and believes that education and communication make all of the difference!


Upcoming Events
Webinar-Challenges and Opportunities of Managing Transition Cows on AMS
June 1, 2023
Please join MSU Extension and Cornell Cooperative Extension Regional Teams for our talk with Pete Maslyn of Hemdale Dairy and Todd Ward of Direct Dairy Nutrition Services on managing transition cows on automated milking systems (AMS).
2023 Dairy Nutrition & Management Shortcourse
June 5 - June 9, 2023
Chazy, NY
This course is designed primarily for early career nutritionists and allied industry professionals seeking a more comprehensive foundation in the principles of dairy cattle nutrition and their application within dairy herd management.
Agritourism Workshops Monthly! - Agritourism Pricing Workshop
June 20, 2023
Are you thinking of starting an agritourism business or are you currently operating one?

Join our monthly lunch-hour, workshop virtual series and learn how to grow your agritourism business!
Each session will focus on specific topic to help aspiring agritourism entrepreneurs grow their knowledge and profit through this exciting on-farm business.

Cost: Free to attend, but registration required!

Announcements
Follow us on Instagram
See photos and reels of our most recent events and programs!
Join us on Facebook!
Follow us on Facebook to get up to date posts about events, workshops and everything NWNY!
Add us on LinkedIn!
Connect with us on LinkedIn to get more information about upcoming workshops and programs!
Watch us on YouTube
Watch instructional videos from specialists in the field!
Subscribe for Emails about Events & Workshops!