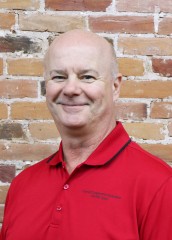 John Hanchar
Farm Business Management
CCE Livingston County
3 Murray Hill Drive
Mt. Morris, NY 14510-1153
phone 585-991-5438
cell 585-233-9249
fax 585-991-5434
email John
Areas of Interest
Economic Analysis, Farm Financial Management Education, Family Business Transition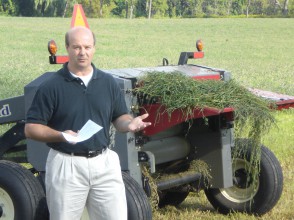 As the Extension Associate with Cornell University's NWNY Dairy, Livestock, and Field Crops Program/PRO-DAIRY, his work involves extension and research in the economics and management areas. Prominent aspects of his work include:
Instructor for Basic and Advanced Farm Financial Management Workshops for farm business owners.
Provider of business summary and analysis to help owners manage their farm businesses, including the use of Cornell University Cooperative Extension's Dairy Farm Business Summary Program, and other summary and analysis tools.
Developer of applied economic analysis for the purpose of examining expected benefits and costs, including most recently the economics of intensive wheat management systems, cow comfort practices, and tractor drawn tile plow investment and use.
Upcoming Events
Pasture Walk - Wild Geese Farm - Franklinville, NY
August 21, 2019
5:30pm - 8:30pm
Fanklinville, NY
Topics to include: Tools for Managing Rotational Grazed Pasture, Weed ID and Management and Calculating Cost of Production.
Bovine Reproduction and AI Training Course
September 24 - September 25, 2019
9:30am - 3:30pm
Shortsville, NY
This two-day AI workshop will be held on September 24 and 25.
Topics covered will include:

• Reproductive Physiology
• Synchronization Protocols
• Heat Detection
• Artificial Insemination
• Proper Thawing of Semen
• Loading A.I. guns
• Practice Breeding Cows
Corn Congress - Batavia Location

January 8, 2020
10:00 a.m. - 3:00 p.m.
Batavia, NY
Please join the NWNY Dairy, Livestock and Field Crop Program's team for our annual Corn Congress. DEC re-certification points and Certified Crop Adviser credits available, so bring your picture ID. Lunch is included. Hear from program-related professionals and visit with our sponsoring vendors.
Announcements
2019 NY Corn & Soybean Yield Contests - Entries Due 8/30/19
The annual corn and soybean yield contests sponsored by the New York Corn & Soybean Growers Association are underway.
Click Here
for the 2019 yield contest entry form. This form and contest rules can also be found on the NY Corn & Soybean Growers Association web page at:
https://nycornsoy.org/

Entry forms must be postmarked by Friday, August 30 and mailed or emailed to Mike Stanyard. Cost is $30 per entry. Good Luck!
Preventing Sexual Harassment on Farms
If you're wondering how to get your farm business in compliance with NYS Sexual Harassment Regulations, you've come to the right place. This is a recording of the presentations given at the live training on July 30 and July 31, 2019 across New York State, which provides updates and farm-specific resources developed by CCE. View the recording here:
https://youtu.be/_1IjmAj1Nb8
.
RMA Announces Additional One-time Changes to Prevented Planting Provisions
June 29, 2019
RMA Announces Additional One-time Changes to Prevented Planting Provisions
for 2019 Crop Year
In response to delayed and prevented planting resulting from above average rainfall and wetness, the USDA Risk Management Agency has made a one-time change to the 2019 crop year prevented planting rules that effectively allows silage corn, if planted as a cover crop following local agricultural expert guidelines, to be acceptable as a post-prevented planting cover crop. Under this one-time rule change, producers are allowed to produce this crop while retaining their prevented planting payment. This change couples with previously announced one-time changes to the prevented planting rules - including expanded acceptable uses for post-prevented planting cover crops and a change in the cover crop haying and grazing start date rule - serve to help those struggling to meet their forage needs due to the weather.
Read the full article
from the New York Crop Insurance Education Program.
The USDA-RMA states that "For crop insurance purposes, a cover crop is a crop generally recognized by agricultural experts as agronomically sound for the area for erosion control or other purposes related to conservation or soil improvement." PRO-DAIRY specialists Joe Lawrence and Karl Czymmek and Dr. Quirine Ketterings, Professor and Director of Cornell Nutrient Management Spear Program have
released a letter
stating "Corn on Prevented Planting acres meets these objectives."