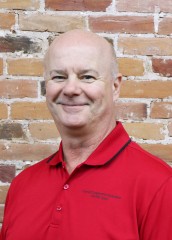 John Hanchar
Farm Business Management
CCE Livingston County
3 Murray Hill Drive
Mt. Morris, NY 14510-1153
phone 585-991-5438
cell 585-233-9249
fax 585-991-5434
email John
Areas of Interest
Economic Analysis, Farm Financial Management Education, Family Business Transition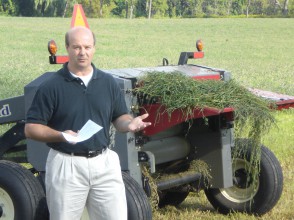 As the Extension Associate with Cornell University's NWNY Dairy, Livestock, and Field Crops Program/PRO-DAIRY, his work involves extension and research in the economics and management areas. Prominent aspects of his work include:
Instructor for Basic and Advanced Farm Financial Management Workshops for farm business owners.
Provider of business summary and analysis to help owners manage their farm businesses, including the use of Cornell University Cooperative Extension's Dairy Farm Business Summary Program, and other summary and analysis tools.
Developer of applied economic analysis for the purpose of examining expected benefits and costs, including most recently the economics of intensive wheat management systems, cow comfort practices, and tractor drawn tile plow investment and use.
Upcoming Events
MENTAL HEALTH FIRST AID
January 17, 2019
8:30 A.M. - 5:00 P.M. $25 includes lunch and a manual
WARSAW, NY
Mental Health First Aid teaches you
how to identify, understand and respond to signs of mental illnesses and substance use disorders.
This 8-hour training gives you the skills you need to reach out and provide initial support to someone who may be developing a mental health or substance use problem and help connect them to appropriate care. Register online here:
https://reg.cce.cornell.edu/MentalHealthFirstAidTraining_10508
or email lma96@cornell.edu.
NYBPA Winter Management Meeting- "Dairy cross bred calf - opportunity for the dairy & beef industry"
January 18, 2019
9:45 a.m. Welcome - 5:00 p.m. Adjournment
East Syracuse, NY
On January 18, 2018 in Syracuse, the New York Beef Producer's Association is presenting a day-long session on the cross bred dairy calf. Speakers will include farmers and extension professionals with experience in this field. The keynote speaker will be from Wulf Genetics working with Genex to supply beef bulls of various breeds to use on Jersey and Holstein cows. To date they have raised and finished over 50,000 cross bred calves. Plan to spend the day and learn about how this enterprise may fit in your dairy operation to provide another source of cash flow. For more information, please contact Brenda Bippert, NYBPA Executive Secretary, nybeefproducers@aol.com, (716) 902-4305, or
http://www.nybpa.org/abwc.htm
Labor Road Show II - Canandaigua
January 31, 2019
9:00 am - 4:00 pm
Canandaigua, NY
If you have employees, then you need to be at the New York Labor Road Show II. Experts from farms, private industry and the university will focus on critical topics that affect all farm employers including: employee housing, onboarding, sexual harassment prevention, employee engagement , safety, wage and hour laws, and worker care.
Announcements
2019 Pesticide Training & Re-certification Series Wednesdays in Feb 2019
Anyone interested in obtaining a pesticide certification and meets the DEC requirements, OR, current applicators seeking pesticide re-certification credits should attend. 2.5 re-cert core credits will be available for each class.
Wednesdays 2/6, 2/13, 2/20, 2/27 from 7-9 p.m.,
EXAM is Wed., March 6 from 6:30- 11 pm.
CCE Ontario, 480 N Main St., Canandaigua. Cost $175 includes manual and all classes. Exam fee $100. Re-certificaton is $25/class. Register: 585-394-3977 x 427 or x 436, or email nea8cornell.edu or rw43@cornell.edu. Website
www.cceontario.org
.
Three Free Digester Workshops offered through CCE St. Lawrence Co.
CCE of St. Lawrence County is offering three FREE workshops showcasing the research results from our feasibility study of anaerobic digester technology on small farms. The research was conducted by our partners at Clarkson University using the anaerobic digester at the Extension Learning Farm, which is fed both manure from a dairy operation and vegetable waste from our commercial kitchen. The digester heats a small green house that starts our seedling plants. We have a small scale vegetable-only digester as well. The research and program targets small dairies under 200 head, livestock producers, horticulture producers and anyone interested in alternative energy.
Program will be held on December 5, January 7, and March 6. A catered meal is provided at each program. Participants within the North Country Region will be given a $25 stipend to help cover travel costs, those from outside the region will be given $50. To receive the stipend, participants will need to complete a pre/post-test survey.
More information and registration information can be found here:
http://stlawrence.cce.cornell.edu/events/2018/12/05/exploring-digester-technology
New Guidance for Mortality Disposal Issued
NYS Department of Ag and Markets has posted guidelines on disposal of livestock carcasses, in response to reports that some rendering companies have halted pickups from farms.
https://nwnyteam.cce.cornell.edu/submission.php?id=761&crumb=dairy|1
Northwest New York Dairy, Livestock & Field Crops - Cornell Cooperative Extension
Your Trusted Source for Research-Based Knowledge