Event Details
Date
August 13 - August 14, 2019
Time
9:30am - 3:30pm
Location
Lamb Farms
6880 Albion Rd
Oakfield, NY 14125
Cost
$175.00 Enrolled w/ NWNY Team (currently receive Ag Focus)


$225.00 Not enrolled w/ NWNY Team

Contact your local CCE office for details on enrollment in the NWNY Team.


Host
Northwest New York Dairy, Livestock & Field Crops
Pre-Registration Deadline: August 9, 2019

EVENT HAS PASSED
Bovine Reproduction and AI Training Course
August 13 - August 14, 2019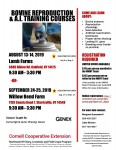 Topics covered will include:
• Reproductive Physiology
• Synchronization Protocols
• Heat Detection
• Artificial Insemination
• Proper Thawing of Semen
• Loading A.I. guns
• Practice Breeding Cows
The class will be taught by Jonna Egli & Javier Cheang from Genex.
*Note: This workshop is designed to introduce participants to artificial insemination methods. Participants will need continued practice after the workshop in order to become proficient at artificial insemination.*
Participants should bring rubber boots that are in good condition & can be sanitized for bio-security measures. Coveralls or work clothes will be necessary for the hands-on portion of the class.
Registration is required and there are limited spaces available.
Registration will be open from July 6- August 6.
Register online or by contacting Libby or Margaret. For more information, contact Margaret Quaassdorff at 585-405-2567 or Libby Eiholzer at 607-793-4847 .


Cost includes materials and lunches on both days.
$175/person enrolled in the NWNY Team*
$225/person not enrolled in the NWNY Team
*Not enrolled in the NWNY Team? Contact your local CCE office for more information.
Repro & AI Course Flyer (PDF; 577KB)
Upcoming Events
Cow Comfort Program- Tiestall
December 10, 2019
9:30 am - 3:00 pm
Penn Yan, NY
The Tie Stall Cow Comfort Workshop is an educational program for farmers, employees and agriservice professionals who work directly with dairy cows. Each session will include an on-farm portion where attendees walk through the farm and complete an assessment.

2019 Feed Dealers' Seminar
December 13, 2019
11:00 am - 2:00 pm
Batavia, NY
The Feed Dealer Seminars are specifically targeted for nutritionists, veterinarians, crop and management consultants, extension educators, and dairy producers with specific interest in nutrition-oriented topics.

Info Session on the Farm Laborers Fair Labor Practices Act- Newark
December 17, 2019
10:00- 11:30 am
Newark, NY
Come join the NWNY Dairy team and Agriculture Labor Specialists from NYS Department of Labor to get the answers you need.

Announcements
Preventing Sexual Harassment on Farms
If you're wondering how to get your farm business in compliance with NYS Sexual Harassment Regulations, you've come to the right place.
The 2018 New York State budget included new regulations addressing sexual harassment in the workplace that became effective on October 9, 2018 for all New York employers, including agricultural employers. All employers are required to have a sexual harassment prevention policy and to provide annual, interactive sexual harassment prevention training for all employees. Check out the resources developed by Cornell Ag Workforce Development, including step-by-step instructions and farm-friendly training videos.
RMA Announces Additional One-time Changes to Prevented Planting Provisions
June 29, 2019
RMA Announces Additional One-time Changes to Prevented Planting Provisions
for 2019 Crop Year
In response to delayed and prevented planting resulting from above average rainfall and wetness, the USDA Risk Management Agency has made a one-time change to the 2019 crop year prevented planting rules that effectively allows silage corn, if planted as a cover crop following local agricultural expert guidelines, to be acceptable as a post-prevented planting cover crop. Under this one-time rule change, producers are allowed to produce this crop while retaining their prevented planting payment. This change couples with previously announced one-time changes to the prevented planting rules - including expanded acceptable uses for post-prevented planting cover crops and a change in the cover crop haying and grazing start date rule - serve to help those struggling to meet their forage needs due to the weather.
Read the full article
from the New York Crop Insurance Education Program.
The USDA-RMA states that "For crop insurance purposes, a cover crop is a crop generally recognized by agricultural experts as agronomically sound for the area for erosion control or other purposes related to conservation or soil improvement." PRO-DAIRY specialists Joe Lawrence and Karl Czymmek and Dr. Quirine Ketterings, Professor and Director of Cornell Nutrient Management Spear Program have
released a letter
stating "Corn on Prevented Planting acres meets these objectives."