Event Details
Date
February 20, 2019
Time
9:00 a.m. - 3:00 p.m., $59 includes lunch and materials, Prior registration and payment required.
Location
Genesee Community College Campus, Room T102
One College Road
Batavia, NY 14020
Host
Genesee Community College
The BEST Center
585-345-6868
2019 Precision Ag Workshop: Turning that Data into Dollars! Pre-Register by Feb 13th!
February 20, 2019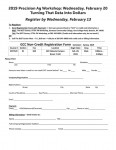 Aaron Breimer, Veritas Farm Business Management "What Makes Sense Doesn't Always Make Dollars"
Josh Johnson, Agri Air Solutions and Agri-Advantage "Remote Sensing and How It Works"
Stephen Redmond, Redmond Agronomic Services, "Does Everybody Get the Vision?"
John Wagner, AgRePlan, LLC, "Water Management - The Key to Record Yields"
Bruce Wright, SUNY Cobleskill Ag Engineering,

"How Will Education Incorporate All This Data?"
Keynote Speaker: Bob Stewart, Stewart Farms

"Our Farm's Precision Ag Experience: What Works for Us and What Still Needs Work"
Bob Stewart is the managing partner of Stewart Farms. Stewart Farms is
a multi-generation family, grain farm headquartered in Yorkville, Illinois. Bob operates the farm with family and a dedicated group of employees. Bob is responsible for the finance, land owner relations, and production sides of the farm business. The farm raises commercial corn, soybeans, and seed corn and utilizes a wide range of technologies, including RTK-based guidance systems on their machinery and controlled traffic patterns for field operations. The farm has collected GPS-based yield data since 1996. Bob holds B.S. and M.S. degrees in Agricultural Economics from the University of Illinois. He worked for Centrec Consulting after college prior to returning to the farm. Bob's work for Centrec included strategy development, economic modeling, educational product development, and agricultural research.
To Register: Open and Print the Flyer! Fill out and send Registration Form with Payment (a check payable to GCC or Credit Card information) and Mail to: The BEST Center, Attn: PA Workshop, Genesee Community College, Batavia, NY 14020 or Call The BEST Center: 585-345-6868, M-F 8:00 a.m. - 4:30 p.m.
Program Registration Flyer (PDF; 357KB)
Upcoming Events
*NEW* Automated Milking System (AMS) Management Discussion Group - Mount Morris, NY
November 14, 2019
5:30pm - 8:00pm
Mount Morris, NY
Milk Quality Management in AMS systems will be our first topic, with future discussion group topics to include: lameness and cow comfort, milk production, AMS daily task efficiency, and AMS maintenance.

New York Labor Roadshow III
November 18 - November 22, 2019
8:30 am - 4:00 pm
Major changes are coming for farm employment laws in New York. The Ag Workforce Development Council is organizing Labor Roadshow III to help farms learn about the changes and adapt their businesses for success.

Cow Comfort Program- Freestall
December 2, 2019
9:30 am - 3:00 pm
Avon, NY
The Cow Comfort Workshops are an educational program for farmers, employees and agriservice professionals who work directly with dairy cows. The workshops will cover economics of improving cow comfort, stall design and management, stocking density, heat abatement and effects on production.


Announcements
Preventing Sexual Harassment on Farms
If you're wondering how to get your farm business in compliance with NYS Sexual Harassment Regulations, you've come to the right place.
The 2018 New York State budget included new regulations addressing sexual harassment in the workplace that became effective on October 9, 2018 for all New York employers, including agricultural employers. All employers are required to have a sexual harassment prevention policy and to provide annual, interactive sexual harassment prevention training for all employees. Check out the resources developed by Cornell Ag Workforce Development, including step-by-step instructions and farm-friendly training videos.
RMA Announces Additional One-time Changes to Prevented Planting Provisions
June 29, 2019
RMA Announces Additional One-time Changes to Prevented Planting Provisions
for 2019 Crop Year
In response to delayed and prevented planting resulting from above average rainfall and wetness, the USDA Risk Management Agency has made a one-time change to the 2019 crop year prevented planting rules that effectively allows silage corn, if planted as a cover crop following local agricultural expert guidelines, to be acceptable as a post-prevented planting cover crop. Under this one-time rule change, producers are allowed to produce this crop while retaining their prevented planting payment. This change couples with previously announced one-time changes to the prevented planting rules - including expanded acceptable uses for post-prevented planting cover crops and a change in the cover crop haying and grazing start date rule - serve to help those struggling to meet their forage needs due to the weather.
Read the full article
from the New York Crop Insurance Education Program.
The USDA-RMA states that "For crop insurance purposes, a cover crop is a crop generally recognized by agricultural experts as agronomically sound for the area for erosion control or other purposes related to conservation or soil improvement." PRO-DAIRY specialists Joe Lawrence and Karl Czymmek and Dr. Quirine Ketterings, Professor and Director of Cornell Nutrient Management Spear Program have
released a letter
stating "Corn on Prevented Planting acres meets these objectives."