Event Details
Date
May 17, 2018
Time
6:30 p.m. - 9:00 p.m.
Location
Garry Wilson Beef
8962 Transit Road
Stafford, NY 14143
Cost
$10.00 per person



Host
Northwest New York Dairy, Livestock & Field Crops
Cathy Wallace
585-343-3040 x138
email Cathy Wallace
Pre-Registration Deadline: May 15, 2018
Pasture & Farm Walk
May 17, 2018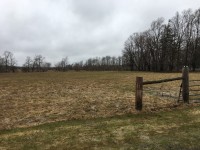 Join us as we walk the rented pastures for his stocker cattle and discuss Garry's goals. He has ideas, but is open to suggestions. We will relocate to his home farm in LeRoy for further discussion and refreshments.
Topics for discussion include:
Pasture improvements

Rotation

Supplemental feed - is it needed?
Upcoming Events
Corn Silage Pre-Harvest Workshops
August 23 - August 24, 2018
Morning and Afternoon sessions
Corn silage harvest is drawing near. The way corn silage is harvested and stored is a single event that affects your operation for the entire next year. Are you prepared to set your operation up for success? Plan to attend one of the following on-farm Corn Silage Pre-Harvest workshops to hear the latest research-backed strategies you can implement on your dairy this corn silage season.
2018 New York Corn & Soybean Yield Contest
August 25, 2018

See attached flyer for Contest Rules and Entry Form.
No-Till & Never-Till Soil Health Workshop

August 28, 2018
12:00 p.m. - 5:30 p.m.
Stafford, NY
The Western New York Soil Health Alliance will be holding a Soil Health Workshop focusing on No-Till practices and benefits. They will be digging underground to look at a section of field that has NEVER had any tillage and compare it to the adjacent area with a history of tillage practices. In addition, there will be information on the problem of slugs and voles in the higher residue farming practices.
Northwest New York Dairy, Livestock & Field Crops - Cornell Cooperative Extension
Your Trusted Source for Research-Based Knowledge