Event Details
Date
June 2, 2018
Time
9:00 a.m. - 12:00 p.m.
Location
Tullyfergus
8974 Lyons Marengo Rd
Lyons, NY 14489
Cost
$5.00 per person (no lunch inc.)


At the Door
$5.00

Host
Nancy Glazier
585-315-7746
email Nancy Glazier
Pre-Registration Deadline: May 30, 2018
Beef Quality Assurance Training
June 2, 2018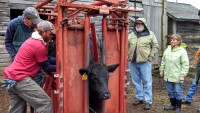 Beef Quality Assurance is a national program that provides training to beef cattle producers in food safety, proper cattle handling techniques, handling of animal health products, injection sites, and record keeping. Participants will become Level 1 certified.
Topics covered include:
Care and husbandry
Feedstuffs
Feed additives and medications
Processing and treatment records
Injectable health products
Youth over 14 may participate and become fully certified.
Upcoming Events
Corn Silage Pre-Harvest Workshops
August 23 - August 24, 2018
Morning and Afternoon sessions
Corn silage harvest is drawing near. The way corn silage is harvested and stored is a single event that affects your operation for the entire next year. Are you prepared to set your operation up for success? Plan to attend one of the following on-farm Corn Silage Pre-Harvest workshops to hear the latest research-backed strategies you can implement on your dairy this corn silage season.
2018 New York Corn & Soybean Yield Contest
August 25, 2018

See attached flyer for Contest Rules and Entry Form.
No-Till & Never-Till Soil Health Workshop

August 28, 2018
12:00 p.m. - 5:30 p.m.
Stafford, NY
The Western New York Soil Health Alliance will be holding a Soil Health Workshop focusing on No-Till practices and benefits. They will be digging underground to look at a section of field that has NEVER had any tillage and compare it to the adjacent area with a history of tillage practices. In addition, there will be information on the problem of slugs and voles in the higher residue farming practices.
Northwest New York Dairy, Livestock & Field Crops - Cornell Cooperative Extension
Your Trusted Source for Research-Based Knowledge