Event Details
Date
December 4 - December 5, 2013
Location
RIT Inn & Conference Center
5257 West Henrietta Road
Henrietta, NY 14467
Host
Northwest New York Dairy, Livestock & Field Crops
Cathy Wallace
(585) 343-3040 x138
email Cathy Wallace


EVENT HAS PASSED
Calf Congress 2013 - "Growing the Next Generation"
December 4 - December 5, 2013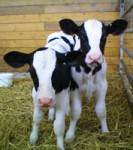 A variety of calf management topics will be presented of interest to dairy producers and agriservice personnel alike. The focus will be on the young dairy replacement heifer. The format includes a pre-conference evening reception and dinner with presentations and a panel discussion followed by a full day of speakers concluding with a moderated panel discussion.
Calf Congress Mail-In Form (PDF; 443KB)
Upcoming Events
Forage Congress
February 28, 2017
9:00 a.m. - 3:30 p.m.
Mount Morris, NY
Forage Congress is a new addition to the team's conferences. Topics were developed with input from our advisory committees.
CCA credits will be available.
Milk Quality: Make it Pay!
March 2, 2017
9:45 a.m. - 3:00 p.m.
Warsaw, NY
Concurrent classes taught for decision makers & key milking staff.
CAFO Roadshow
March 3, 2017
1:00 - 3:30 p.m.
Varysburg, NY
New York Farm Bureau and the Northeast Dairy Producers Association will host a CAFO Roadshow in cooperation with the New York State Department of Environmental Conservation, Department of Agriculture and Markets and Cornell PRO-DAIRY.

This series of four seminars across the state will highlight the changes in the recently released CAFO permits and help producers understand how to prepare for compliance and decide which permit is right for their farm. All farms must be covered by the new permit by July 24, 2017.

All CAFO-permitted farms are recommended to attend one of the informational sessions where you will have the opportunity to both learn about changes and ask questions directly to the people who developed the permit. Farms of all sizes, particularly those who may be seeking coverage under the permits in the near future, are also encouraged to attend.
Northwest New York Dairy, Livestock & Field Crops - Cornell Cooperative Extension
Your Trusted Source for Research-Based Knowledge