Event Details
Date
September 6, 2017
Time
7:00 pm - 9:00 pm
Location
CCE - Genesee County Office
420 East Main Street
Batavia, NY 14020
Cost
This event is free.
Host
Cornell University PRO-DAIRY Program
Rob Lynch
607-882-5378
email Rob Lynch
Pre-Registration Deadline: September 4, 2017
Summer Dairy Research Update: Heifer Reproduction & Hypocalcemia
September 6, 2017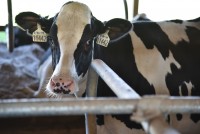 Reducing Replacement Heifers Rearing Cost through Improved Reproductive Management
Replacement cows generated by the heifer rearing enterprise are critical to the future of dairy farms. Nevertheless, raising heifers represents a major cost burden accounting for as much as 15 to 20% of the total cost of production. Thus, minimizing the duration of the non-lactating period by reducing days to pregnancy can help reduce farm operating costs. We will present new research data evaluating different reproductive management programs for dairy heifers in commercial dairy farms. The impact of these strategies on the reproductive performance and economics of heifers during their nonlactating period and their first lactation will be discussed.


Fresh Cow Calcium Supplementation

To Treat or Not to Treat A recent large trial conducted on farms in New York State has provided insight into which cows truly benefit from oral calcium supplementation. We will review the trial results to help you make practical decisions regarding post-calving calcium supplementation in your herds.

Registration is free, but you NEED to register so we have refreshments and dessert for eveyone.
RSVP with:
Name

Farm/Clinic/Business Name

# Attending
Summer Dairy Research Update Flyer (PDF; 1089KB)
Upcoming Events
Soil Health Workshop with Cover Crop Interseeder & Herbicide Demonstration

August 22, 2017
8:30 am - 3:30 pm
Albion, NY
Speakers: Wendy Taheri - a nationally recognized expert in Mycorrhizal Fungi and John Wallace - soon to be a Cornell professor with extensive experince in Drilled Interseeding of corn.
In the afternoon we will have a field demonstration of a test plot with 8 drilled interseedings of cover crops in field corn combined with a test of 4 different pre-emerge herbicides, in addition to Wendy Taheri demonstrating soil health features from a soil pit.
CCE Adirondack Railroad Excursion (Extension Employees & Family ONLY)
August 26, 2017
9:30 am - 7:00 pm
Utica, NY
Back by popular demand the Adirondack Summer Excursion will roll again on the Adirondack Scenic Railroad, The New York State Association of County Agricultural Agents (NYSACAA) is once again hosting this summer adventure. This event is open to all county, regional and campus CCE employees and their families.
You do not have to be a member of NYSACAA to attend.

Last year's trip reviews were very positive. Don't miss this opportunity to enjoy a day full of great scenery, comradery and networking with other CCE folks from around the state.
Summer Dairy Research Update: Heifer Reproduction & Hypocalcemia
September 6, 2017
7:00 pm - 9:00 pm
Batavia, NY
Line-up of speakers:
Julio O. Giordano, DVM, MS, PhD, Cornell University, St. John Family Sesquicentennial, Assistant Professor - Dairy Cattle Biology & Management Department of Animal Science
Magdalena Masello Souza, DVM, Cornell University, PhD Student - Dairy Cattle Biology & Management Lab
Robert A. Lynch, DVM, Cornell Univeristy PRO-DAIRY Program, Herd Health & Management Specialist
Northwest New York Dairy, Livestock & Field Crops - Cornell Cooperative Extension
Your Trusted Source for Research-Based Knowledge