Event Details
Date
August 22, 2017
Time
8:30 am - 3:30 pm
Location
Orleans County 4-H Fairgrounds, Trolley Building
12690 Route 31
Albion, NY 14411
Cost
$40.00 pre-registered participant


$50.00 Walk-ins

Lunch included


Host
Orleans County SWCD
Dennis Kirby
585-589-5959
email Dennis Kirby
Pre-Registration Deadline: August 18, 2017
Soil Health Workshop with Cover Crop Interseeder & Herbicide Demonstration
August 22, 2017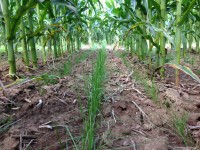 Speaker Bios:
Wendy Taheri, PhD.
- Is a microbial ecologist who is transforming the world of agriculture by developing microbebased, sustainable solutions to replace and reduce the plethora of toxic chemicals and environmentally-damaging practices currently used in conventional agriculture. Her research focuses on harnessing the power of Arbuscular Mycorrhizal Fungi (AMF) and other beneficial microbes; and has broad-ranging, practical applications.
John Wallace
- John's research broadly focuses on integrated weed management strategies in conventional and organic field crop production systems that utilize conserbation tillage practices, with a particular focus on weed management tradeoffs associated with integrating cover crops into annual grain production systems. John is a post-doctoral research associate at Penn State University and will soon join Cornell as an Assistant Professor at Geneva.
Please arrive early if signing up for CE credits.
** DEC Pesticide Credits and CCA credits pending.
WNY Soil Health Allicance Workshop Flyer (PDF; 609KB)
Upcoming Events
Taking a Holistic Approach to Managing Your Land
May 24, 2018
9:00 am - 3:00 pm
Piffard, NY
Have you ever wondered what your woods can do for you? During this session, we will be joined by a forester, who will share information about woodlot management and timber contracts. Attendees will also gain an understanding of soil types and soil health as well as the effect compaction can have on their land. In a final discussion, we will talk about drainage and about how the installation of tile drains can greatly impact the productively of your land. This day will take place 'on the farm' so that attendees can 'discuss' but also 'see' what we will be talking about throughout the day so dress appropriately!

Beef Quality Assurance Training
June 2, 2018
9:00 a.m. - 12:00 p.m.
Lyons, NY
The goal of this national program is to maximize consumer confidence and acceptance of beef by focusing the producer's attention to daily production practices that influence the safety, wholesomeness, and quality of beef and beef products.

Cattle Handling Systems Importance for BQA
June 14, 2018
6:30 p.m. - 8:30 p.m.
Gainesville, NY
Providing facilities that allow safe, humane, and efficient movement and/or restraint of cattle is part of the Code of Cattle Care for Beef Quality Assurance. Facilities provide for disease prevention practices to protect herd health, including access to veterinary medical care. This workshop will cover some key concepts for animal health and handling and provide an opportunity to hear and share personal experiences.

Announcements
1st Cutting Forage Quality Update - May 18, 2018
This is the first week of monitoring 1st cutting for quality this year. Our procedure consists of using alfalfa height to predict Neutral Detergent Fiber (NDF) for alfalfa, alfalfa/grass mixed and grass stands. Alfalfa height has proven to be a reliable indicator of NDF values in the field.
Click here for the rest of the information and chart.
Latest Dairy Market Watch
An educational newsletter to keep producers informed of changing market factors affecting the dairy industry.
How to Read Dairy Market Watch
.
Dairy Market Watch - April 2018
Northwest New York Dairy, Livestock & Field Crops - Cornell Cooperative Extension
Your Trusted Source for Research-Based Knowledge