Event Details
Date
August 22, 2017
Time
8:30 am - 3:30 pm
Location
Orleans County 4-H Fairgrounds, Trolley Building
12690 Route 31
Albion, NY 14411
Cost
$40.00 pre-registered participant


$50.00 Walk-ins

Lunch included


Host
Orleans County SWCD
Dennis Kirby
585-589-5959
email Dennis Kirby
Pre-Registration Deadline: August 18, 2017
Soil Health Workshop with Cover Crop Interseeder & Herbicide Demonstration
August 22, 2017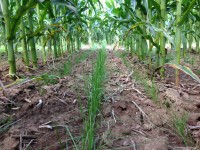 Speaker Bios:
Wendy Taheri, PhD.
- Is a microbial ecologist who is transforming the world of agriculture by developing microbebased, sustainable solutions to replace and reduce the plethora of toxic chemicals and environmentally-damaging practices currently used in conventional agriculture. Her research focuses on harnessing the power of Arbuscular Mycorrhizal Fungi (AMF) and other beneficial microbes; and has broad-ranging, practical applications.
John Wallace
- John's research broadly focuses on integrated weed management strategies in conventional and organic field crop production systems that utilize conserbation tillage practices, with a particular focus on weed management tradeoffs associated with integrating cover crops into annual grain production systems. John is a post-doctoral research associate at Penn State University and will soon join Cornell as an Assistant Professor at Geneva.
Please arrive early if signing up for CE credits.
** DEC Pesticide Credits and CCA credits pending.
WNY Soil Health Allicance Workshop Flyer (PDF; 609KB)
Upcoming Events
Soil Health Workshop with Cover Crop Interseeder & Herbicide Demonstration

August 22, 2017
8:30 am - 3:30 pm
Albion, NY
Speakers: Wendy Taheri - a nationally recognized expert in Mycorrhizal Fungi and John Wallace - soon to be a Cornell professor with extensive experince in Drilled Interseeding of corn.
In the afternoon we will have a field demonstration of a test plot with 8 drilled interseedings of cover crops in field corn combined with a test of 4 different pre-emerge herbicides, in addition to Wendy Taheri demonstrating soil health features from a soil pit.
CCE Adirondack Railroad Excursion (Extension Employees & Family ONLY)
August 26, 2017
9:30 am - 7:00 pm
Utica, NY
Back by popular demand the Adirondack Summer Excursion will roll again on the Adirondack Scenic Railroad, The New York State Association of County Agricultural Agents (NYSACAA) is once again hosting this summer adventure. This event is open to all county, regional and campus CCE employees and their families.
You do not have to be a member of NYSACAA to attend.

Last year's trip reviews were very positive. Don't miss this opportunity to enjoy a day full of great scenery, comradery and networking with other CCE folks from around the state.
Summer Dairy Research Update: Heifer Reproduction & Hypocalcemia
September 6, 2017
7:00 pm - 9:00 pm
Batavia, NY
Line-up of speakers:
Julio O. Giordano, DVM, MS, PhD, Cornell University, St. John Family Sesquicentennial, Assistant Professor - Dairy Cattle Biology & Management Department of Animal Science
Magdalena Masello Souza, DVM, Cornell University, PhD Student - Dairy Cattle Biology & Management Lab
Robert A. Lynch, DVM, Cornell Univeristy PRO-DAIRY Program, Herd Health & Management Specialist
Northwest New York Dairy, Livestock & Field Crops - Cornell Cooperative Extension
Your Trusted Source for Research-Based Knowledge