Fall Update on Highly Pathogenic Avian Influenza Outbreak
---
Event Details
Date
October 12, 2022
Time
7:00pm - 8:00pm
Location
Meeting will be held over Zoom

Host
CCE Livestock Program Work Team
Amy Barkley
716-640-0844
email Amy Barkley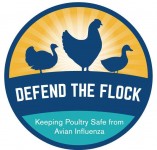 Highly Pathogenic Avian Influenza (HPAI) is still circulating in the US, with the number of cases in both commercial and backyard flocks increasing as we head into fall. To date, we have seen 459 cases in the country, affecting over 45 million poultry across 40 states. Wild bird positives are nearing 2,500 for the country. Now, we are seeing cases increase with the weather cooling and the fall migration beginning.
All poultry famers, hobbyists, and enthusiasts are invited to join Cornell Cooperative Extension's Livestock Program Work Team and NYS Agriculture and Markets to learn more about this disease, what we know so far about the current outbreak, and how we should prepare moving into the heart of the fall migration.
This event is free to the public and will be held over Zoom on Wednesday, October 12, 2022 from 7:00pm - 8:00pm.
The presentation will be recorded for those who are not able to attend the meeting and will be automatically sent to those who have registered. We will have ample time for Q&A following the official program, so please bring your questions to have them answered by our experts! If you are a flock owner or community member with questions about the outbreak or steps that you can take to protect your flock, please reach out to your local Cornell Cooperative Extension office for assistance.


Upcoming Events
Fertilizers and Herbicides

March 31, 2023
Mount Morris, NY
As input costs rise, it is necessary to employ the best management practices, and it can be advantageous to know what you're getting from your purchases. Plan to attend if you want to understand the terminology, calculations, formulations, and chemistry behind your fertility and herbicide recommendations.
Agritourism Workshops Monthly!
February 20, 2023
March 20, 2023
April 17, 2023
May 15, 2023
June 19, 2023
July 17, 2023

Are you thinking of starting an agritourism business or are you currently operating one?
Join our monthly lunch-hour, workshop virtual series and learn how to grow your agritourism business!
The first session will cover the basics of running an agritourism operation. The following sessions will focus on specific topic to help aspiring agritourism entrepreneurs grow their knowledge and profit through this exciting on-farm business.
Dairy Comp 305 for Spanish Speakers
April 19, 2023
This program was rescheduled from March 30th.
This workshop is for employees, supervisors or managers whose first language is Spanish and whose job entails using DC305 on a daily basis. The objective is for attendees to improve their understanding of the "language" of DC305 as well as the whys behind consistent data entry. Since DC305 is specific to each farm, the workshop will focus on general application and deeper understanding of how data is used on dairy farms.
Announcements
Join us on Facebook!
Follow us on Facebook to get up to date posts about events, workshops and everything NWNY!
Add us on LinkedIn!
Connect with us on LinkedIn to get more information about upcoming workshops and programs!
Watch Us on YouTube
Watch instructional videos from specialists in the field!
Subscribe for Emails about Events & Workshops!