Sorry, Pre-Registration for has passed.
2022 Feeder School - November 10
---
Event Details
Date
November 10, 2022
Time
10:00am - 3:00pm, Registration begins @ 9:30am
Location
Old Acres Farm
7863 Route 39
Perry, NY 14530
Cost
Pre-Pay Online, per person : $50.00
(addl attendee $50.00 ea.)
At The Door Price
Pay at the Event, per person : $50.00
Host
Northwest New York Dairy, Livestock & Field Crops
Margaret Quaassdorff
585-405-2567
email Margaret Quaassdorff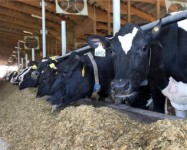 Registration is closing 11/7/22 at 11pm!
Offered in English and Spanish

Who Should Attend:
Those who are currently feeding dairy cows and want to learn more about the how and why of what they're doing.
Those who are interested in becoming a cow feeder and want to increase their knowledge of cow feeding.
Anyone interested in learning more about how to improve the feeding process on their farm.
Topics Covered During Feeder School:
Economics and Importance of the Feeder
Dry Matter and Feeder Math Basics
Feed Consistency
Troubleshooting Mixer Wagons
Bunk Assessment and Management
Feeder Safety
This event is sponsored by Alltech, Lallemand, and Valley Vine Nutrition.



Upcoming Events
NWNY Dairy Day 2022
December 6, 2022
Batavia, NY
REGISTRATION NOW OPEN!
Theme: The Future of Your Dairy's Youngstock

The NWNY Dairy, Livestock and Field Crops team will be holding it's first "Dairy Day" this December! We will be bringing the latest in dairy research to you with this in-person, 1-day conference.

2023 Corn Congress - Batavia, NY

January 5, 2023
Batavia, NY
Registration is now open for the 2023 Corn Congress - January 5 & 6, 2023
2023 Corn Congress - Waterloo, NY

January 6, 2023
Waterloo, NY
Registration is now open for the 2023 Corn Congress - January 5 & 6, 2023
Announcements
The NWNY Team Blog
Our goal for
this blog
is to share with farmers and allied industry professionals, technical and applicable resources regarding all aspects of dairy farming, livestock and small farms, field crops and soils, and topics related to farm business management and precision agriculture.

The blog will feature Crop Alerts, Dairy Alerts, Bilingual (Spanish) Resources, Upcoming Events and more from our team members. This blog is free for everyone to use, explore and enjoy. When new material is published, subscribers will receive an email notification.

We hope you enjoy this new platform, and are looking forward to engaging with you in the future!