2022 Summer Crop Tour
---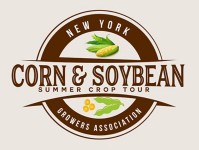 Registration for the 2022 New York Corn & Soybean Growers Association Summer Crop Tour is now open!
The crop tour will be held Thursday August 11, 2022 at Catalpa Farms in Canandaigua NY. For details and tickets visit: https://2022summercroptour.eventbrite.com. Join us as we welcome our keynote speaker Eric Snodgrass of Nutrien Ag Solutions! Eric will present the Wild Side of Weather.
THE WILD SIDE OF WEATHER Successful production agriculture has many sources of risk and changing weather conditions and forecasts drive much of our decision making. This presentation will have two primary objectives. First, history is our best teacher so we will investigate the large-scale weather processes that have influenced yields in the US over the last 40 years. We will learn together how to observe and forecast high-impact weather patterns that cause yields to break away from trend (i.e., floods, drought, heat waves, cool summers, etc). We will discuss the best way to interpret weather forecasts (both short- and long-term) and where to go for the best data and forecast graphics. We will also look at long-term trends in weather conditions to determine if there are systematic shifts in temperature and precipitation patterns that are impacting crop production in the US and abroad. Our second objective will be to forecast the weather in the US and then showcase the dominant weather features to watch for the current growing season. We will finish with a discussion about global weather impacts on agriculture, including long-term trends.
General Admission: $75, NYCSGA Member Ticket: $50, College Student Ticket: $40 - Ticket Sales End on 8/10/22.
2022 Summer Crop Tour Agenda
8:00am Registration
9:00am NYCSGA Welcome
Colleen Klein, Executive Director
9:15am The Wild Side of Weather
Eric Snodgrass, Principal Atmospheric Scientist at Nutrien Ag Solutions
10:30am What a Year! Market Overview and Risk Management Refresh
Mike Meisenzahl, Clover Ag Risk Management
11:00am Is Farming Bigger in Texas?
NYCSGA Vice President Tom Corcoran moderates a panel discussion with members of the Texas Corn Producers who will share their exeperiences farming in the Lone Star state.
12:00pm Lunch & Networking
1:3 pm NY Farm Tour Yield Collection Results
Mike Stanyard, Field Crops Specialist NWNY Dairy, Livestock & Field Crops Team
2:00pm Breakout Sessions
3:30pm Adjourn


Upcoming Events
Webinar-Challenges and Opportunities of Managing Transition Cows on AMS
June 1, 2023
Please join MSU Extension and Cornell Cooperative Extension Regional Teams for our talk with Pete Maslyn of Hemdale Dairy and Todd Ward of Direct Dairy Nutrition Services on managing transition cows on automated milking systems (AMS).
2023 Dairy Nutrition & Management Shortcourse
June 5 - June 9, 2023
Chazy, NY
This course is designed primarily for early career nutritionists and allied industry professionals seeking a more comprehensive foundation in the principles of dairy cattle nutrition and their application within dairy herd management.
Agritourism Workshops Monthly! - Agritourism Pricing Workshop
June 20, 2023
Are you thinking of starting an agritourism business or are you currently operating one?

Join our monthly lunch-hour, workshop virtual series and learn how to grow your agritourism business!
Each session will focus on specific topic to help aspiring agritourism entrepreneurs grow their knowledge and profit through this exciting on-farm business.

Cost: Free to attend, but registration required!

Announcements
Follow us on Instagram
See photos and reels of our most recent events and programs!
Join us on Facebook!
Follow us on Facebook to get up to date posts about events, workshops and everything NWNY!
Add us on LinkedIn!
Connect with us on LinkedIn to get more information about upcoming workshops and programs!
Watch us on YouTube
Watch instructional videos from specialists in the field!
Subscribe for Emails about Events & Workshops!