Sorry, Pre-Registration for has passed.
2-Day Hoof Trimming Workshop
---
Event Details
Date
August 16 - August 17, 2022
Time
9:30am - 3:30pm
Location
Lamb Farms
3962 Batavia-Elba Townline Rd
Oakfield, NY 14125
Cost
Pay Online for Non-enrolled Farms : $250.00
(addl attendee $250.00 ea.)
Farm is Not Enrolled with NWNY Team
Pay Online for Farms Enrolled in NWNY Team : $175.00
(addl attendee $175.00 ea.)
Farm is Enrolled in NWNY Team
At The Door Price
Will pay at the event - Non-enrolled Farm : $250.00
Farm is Not Enrolled with NWNY Team
At The Door Price
Will pay at the event - Enrolled Farm : $175.00
Farm is Enrolled with the NWNY Team
Host
Northwest New York Dairy, Livestock & Field Crops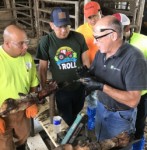 In person 2-Day Hoof Trimming Workshop
Offered in English and Spanish
This workshop is for dairy employees or others interested in bovine hoof care.
This program will cover the basics of foot care and hoof trimming practices.
*Limited to 15 participants* Lunch will be provided both days.
To Register over the phone, contact Brandie Waite at 585-343-3040 x138
Performance Objectives:
Bovine Hoof Anatomy
Hoof Trimming Technique
Hoof Health & Nutrition
Lameness Detection
Knife Sharpening & Safety
Presenters:
Chip Hendrickson Professional Hoof Trimmer
AgroChem USA

Aaron Lavoy Professional Hoof Trimmer
Midwestern Hoof Trimming School Hortonvillie, WI
*Participants are required to be 18 years or older *


Upcoming Events
Beef Quality Assurance (BQA) Training
October 8, 2022
Attica, NY
Beef Quality Assurance (BQA) is a nationwide certification program to help ensure a safe, wholesome, and quality beef product for consumers. Topics covered include herd health management, nutrition, behavior, and handling. Producers attending the training will become Level 2 certified.
Fall Update on Highly Pathogenic Avian Influenza Outbreak
October 12, 2022
All poultry famers, hobbyists, and enthusiasts are invited to join Cornell Cooperative Extension's Livestock Program Work Team and NYS Agriculture and Markets to learn more about this disease, what we know so far about the current outbreak, and how we should prepare moving into the heart of the fall migration.
2022 Feeder School - November 10
November 10, 2022
Join the NWNY Team Dairy Specialists for a one day on-farm training for dairy farm feeders. The training is offered in English and Spanish and will feature stations with hands-on activities and demonstrations.
Announcements
The NWNY Team Blog
Our goal for
this blog
is to share with farmers and allied industry professionals, technical and applicable resources regarding all aspects of dairy farming, livestock and small farms, field crops and soils, and topics related to farm business management and precision agriculture.

The blog will feature Crop Alerts, Dairy Alerts, Bilingual (Spanish) Resources, Upcoming Events and more from our team members. This blog is free for everyone to use, explore and enjoy. When new material is published, subscribers will receive an email notification.

We hope you enjoy this new platform, and are looking forward to engaging with you in the future!