Sorry. Online registration has closed.
Calving Workshop: Ontario County
---
Event Details
Date
July 1, 2022
Time
1:00pm - 3:30pm
Location
J. Minns Farm
3379 Seneca Castle Rd
Stanley, NY 14561
Cost
Registration Fee - per person : $50.00
(addl attendee $50.00 ea.)
Pre-pay Online
At The Door Price
Will pay at the event - per person : $50.00
Host
Northwest New York Dairy, Livestock & Field Crops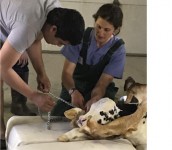 In-Person
Offered in English and Spanish
*Limited to 15 participants
Cost per person: $50
To pull or not to pull? That is (one of) the questions dairy farm personnel have while working in the maternity area on a farm.
This workshop will teach best calving management practices to minimize stillbirth rates and improve calf and cow health during and directly after the calving process.
This in-person workshop includes an oral presentation followed by hands-on demonstration and practice intended to train farm personnel in the learning objectives below. Under the guidance of experienced educators, participants will apply the concepts from the oral presentation using sedated calves and a bovine pelvis.
Performance Objectives:
¨ Understand Anatomy and Physiology of Calving
¨ Monitor Close-Up Cow for Signs of Labor
¨ Assess Normal and Abnormal Calf Position
¨ Properly Assist the Calving Process
¨ Properly Use Chains, Calf Puller/Calf Jack
¨ Assemble a Calving Toolkit
¨ Properly Care for the Newborn Calf
To Register Over the Phone Contact Brandie Waite at 585-343-3040 x138


Upcoming Events
Webinar-Challenges and Opportunities of Managing Transition Cows on AMS
June 1, 2023
Please join MSU Extension and Cornell Cooperative Extension Regional Teams for our talk with Pete Maslyn of Hemdale Dairy and Todd Ward of Direct Dairy Nutrition Services on managing transition cows on automated milking systems (AMS).
2023 Dairy Nutrition & Management Shortcourse
June 5 - June 9, 2023
Chazy, NY
This course is designed primarily for early career nutritionists and allied industry professionals seeking a more comprehensive foundation in the principles of dairy cattle nutrition and their application within dairy herd management.
Agritourism Workshops Monthly! - Agritourism Pricing Workshop
June 20, 2023
Are you thinking of starting an agritourism business or are you currently operating one?

Join our monthly lunch-hour, workshop virtual series and learn how to grow your agritourism business!
Each session will focus on specific topic to help aspiring agritourism entrepreneurs grow their knowledge and profit through this exciting on-farm business.

Cost: Free to attend, but registration required!

Announcements
Follow us on Instagram
See photos and reels of our most recent events and programs!
Join us on Facebook!
Follow us on Facebook to get up to date posts about events, workshops and everything NWNY!
Add us on LinkedIn!
Connect with us on LinkedIn to get more information about upcoming workshops and programs!
Watch us on YouTube
Watch instructional videos from specialists in the field!
Subscribe for Emails about Events & Workshops!