Sorry, Pre-Registration for has passed.
Calving Workshop: Ontario County
---
Event Details
Date
July 1, 2022
Time
1:00pm - 3:30pm
Location
J. Minns Farm
3379 Seneca Castle Rd
Stanley, NY 14561
Cost
Registration Fee - per person : $50.00
(addl attendee $50.00 ea.)
Pre-pay Online
At The Door Price
Will pay at the event - per person : $50.00
Host
Northwest New York Dairy, Livestock & Field Crops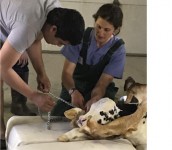 In-Person
Offered in English and Spanish
*Limited to 15 participants
Cost per person: $50
To pull or not to pull? That is (one of) the questions dairy farm personnel have while working in the maternity area on a farm.
This workshop will teach best calving management practices to minimize stillbirth rates and improve calf and cow health during and directly after the calving process.
This in-person workshop includes an oral presentation followed by hands-on demonstration and practice intended to train farm personnel in the learning objectives below. Under the guidance of experienced educators, participants will apply the concepts from the oral presentation using sedated calves and a bovine pelvis.
Performance Objectives:
¨ Understand Anatomy and Physiology of Calving
¨ Monitor Close-Up Cow for Signs of Labor
¨ Assess Normal and Abnormal Calf Position
¨ Properly Assist the Calving Process
¨ Properly Use Chains, Calf Puller/Calf Jack
¨ Assemble a Calving Toolkit
¨ Properly Care for the Newborn Calf
To Register Over the Phone Contact Brandie Waite at 585-343-3040 x138


Upcoming Events
2-Day Hoof Trimming Workshop
August 16 - August 17, 2022
Oakfield, NY
Registration Now Open! - 2-Day Hands-on Hoof Trimming Workshop

2022 Aurora Farm Field Day

August 18, 2022
Aurora, NY
The date for the annual Cornell Field Crop research field day has been set for Thursday, August 18th at Musgrave Research Farm in Aurora, NY. The program will consist of 8 presentations from our researchers on a host of topics.
NY Soil Health Field Day in Pavilion, NY
August 25, 2022
Pavilion, NY
American Farmland Trust invites you to join them in this field day. They will share practical, field-tested results of advanced regenerative practices targeted to dairy, field and specialty crop farmers.
Announcements
State Agriculture Commissioner lifts ban on poultry shows, auctions in NYS
On June 3, New York State Agriculture Commissioner Richard A. Ball announced the end of the bans on live poultry shows, exhibitions, auctions, sales, meets, and swaps in New York State. The decision to lift the bans comes as cases decrease nationwide, including in New York state, which has not had a detection of Highly Pathogenic Avian Influenza in nearly two months.
The NWNY Team Blog
Our goal for
this blog
is to share with farmers and allied industry professionals, technical and applicable resources regarding all aspects of dairy farming, livestock and small farms, field crops and soils, and topics related to farm business management and precision agriculture.

The blog will feature Crop Alerts, Dairy Alerts, Bilingual (Spanish) Resources, Upcoming Events and more from our team members. This blog is free for everyone to use, explore and enjoy. When new material is published, subscribers will receive an email notification.

We hope you enjoy this new platform, and are looking forward to engaging with you in the future!