Tax Management for Beginning and Small Farm Businesses
---
Event Details
Date
January 18, 2022
Time
7:00pm - 9:00pm
Location
Online via Zoom

Host
Northwest New York Dairy, Livestock & Field Crops
Joan Petzen
716-378-5267
email Joan Petzen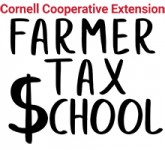 A one-night virtual meeting for beginning and part-time farmers that provides useful tax information enabling participants to be make better tax decisions for their business. Federal and state income taxes will be covered. Tax regulations specific to NYS will be covered as well.
This course is part of Cornell Cooperative Extension's Farmer Tax School: An educational series from Cornell Cooperative Extension Farm Business Management Specialists offering courses designed to inform and empower farm managers to better understand their tax obligations, management strategies, and improve farm profitability. This consists of four courses offered October 2021 - January 2022. For more information, visit tinyurl.com/ccetaxschool.
COST: $10 per farm.
REGISTRATION: Register online by January 13, 2022. Following your registration, you will receive a confirmation email and an invitation to complete a pre-course survey. This survey will help our instructors tailor the topics covered in each course.
CAN'T MAKE IT LIVE?: Sign up any and we'll send you a recording following the workshop.
TECH REQUIREMENTS: Zoom (on phone, tablet, or computer). You may also call in and request paper documents be mailed to you.
IS THIS FOR ME?: This series has options for agricultural producers of all shapes, sizes, and time in business.
SPONSORSHIP: We are currently seeking agribusiness sponsorship for this series. We will be providing all of our participants with a directory of sponsors and their financial support services offered.
Experiencing financial hardship? Attend for free! Select the "scholarship" option at payment. Support for this option is made possible by our generous sponsors.
For more information, or for assistance in finding the course that is right for you, contact your regional Farm Business Management Specialist or any of the following planning team members:
Bonnie Collins, CCE Oneida County, 315-335-4268, bsc33@cornell.edu
Steve Hadcock, Capital Area Agriculture and Horticulture, 518-380-1497, seh11@cornell.edu
Elizabeth Higgins, Eastern New York Commercial Horticulture, 518-949-3722, emh56@cornell.edu
Mary Kate MacKenzie, South Central New York Dairy and Field Crops, 509-294-6073, mkw87@cornell.edu
Dayton Maxwell, Capital Area Agriculture and Horticulture, 518-380-1498, dtm4@cornell.edu
Joan Petzen, Northwest New York Dairy, Livestock, and Field Crops, 716-378-5267, jsp10@cornell.edu
Nicole Tommell, Central New York Dairy, Livestock, and Field Crops, 315-867-6001, nt375@cornell.edu
Katelyn Walley-Stoll, Southwest New York Dairy, Livestock, and Field Crops, 716-640-0522, kaw249@cornell.edu
Cornell Cooperative Extension is an employer and educator recognized for valuing AA/EEO, Protected Veterans, and Individuals with Disabilities and provides equal program and employment opportunities. For accommodations and accessibility concerns, please Katelyn Walley-Stoll by calling 716-640-0522. This information is for educational and reference purposes only and is not a substitute for sound legal counsel and tax preparation. Cornell Cooperative Extension is dedicated to proving research-based information to our agricultural producers. Every effort has been made to provide correct, complete and up-to-date recommendations. Changes occur constantly and human errors are possible.


Upcoming Events
Webinar-Challenges and Opportunities of Managing Transition Cows on AMS
June 1, 2023
Please join MSU Extension and Cornell Cooperative Extension Regional Teams for our talk with Pete Maslyn of Hemdale Dairy and Todd Ward of Direct Dairy Nutrition Services on managing transition cows on automated milking systems (AMS).
2023 Dairy Nutrition & Management Shortcourse
June 5 - June 9, 2023
Chazy, NY
This course is designed primarily for early career nutritionists and allied industry professionals seeking a more comprehensive foundation in the principles of dairy cattle nutrition and their application within dairy herd management.
Agritourism Workshops Monthly! - Agritourism Pricing Workshop
June 20, 2023
Are you thinking of starting an agritourism business or are you currently operating one?

Join our monthly lunch-hour, workshop virtual series and learn how to grow your agritourism business!
Each session will focus on specific topic to help aspiring agritourism entrepreneurs grow their knowledge and profit through this exciting on-farm business.

Cost: Free to attend, but registration required!

Announcements
Follow us on Instagram
See photos and reels of our most recent events and programs!
Join us on Facebook!
Follow us on Facebook to get up to date posts about events, workshops and everything NWNY!
Add us on LinkedIn!
Connect with us on LinkedIn to get more information about upcoming workshops and programs!
Watch us on YouTube
Watch instructional videos from specialists in the field!
Subscribe for Emails about Events & Workshops!