Grains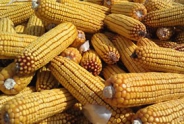 Soybean acreage continues to rise in New York. Farmers harvested a record high 312,000 acres in 2012 (USDA & NASS, New York Field Office). Good soils and favorable August weather have been good for grain yields. NY farmers have averaged 46 bushels over the past 3 seasons. This is very comparable to soybean yields in the Midwest. Maturity groups 0-3 can be grown successfully in NY. The majority of the soybeans are grown in the Finger Lakes and into Western NY but are beginning to expand eastward. Cayuga County is the top soybean producing county followed by Seneca, Ontario, and Wayne.
Winter wheat is an important cash crop in New York not only for the grain but also its straw value. Both soft red and white varieties are grown in NY. Wheat flour is used in pastries, crackers, cookies, and breakfast cereals. Wheat also plays an important role in maintaining crop diversity and rotation. Growers harvest about 100,000 acres of wheat each year in NY and have averaged 63 bushels per acre over the past 5 seasons (USDA & NASS, New York Field Office). The majority of the winter wheat is grown in western NY with Livingston, Monroe, and Genesee as the top 3 producing counties.
Corn for grain and silage is a very important feed source for New York's dairy and livestock industry. In 2012, 680,000 acres of corn for grain and 475,000 acres of corn silage were harvested by NY growers (USDA & NASS, New York Field Office). Cash grain operators rotate corn annually with soybeans and small grains while more continuous and longer rotation corn is grown on the dairies for silage. NY corn producers have averaged 139 bushels of grain and 17 tons of silage over the past three seasons. Cayuga, Livingston, and Wyoming are the top corn producing counties in NY.
Oats are a versatile crop that is the first grain crop planted in the spring. Other than grain for feed, they are also grown for straw, silage, cover crop, emergency forage, and a nurse crop in alfalfa seedings. About 60,000 acres of oats are planted each year and the majority goes to grain. Statewide grain yields are very similar to wheat around 65 bushels per acre. Spring barley can be planted as an alternative for oats. Barley yields less than oats (50 bushels per acre) but has a higher feed energy similar to corn. Only about 10,000 acres of spring barley are planted each year
Most Recent Grains Content
Crop Alert
Mike Stanyard, Team Leader, Field Crops
Northwest New York Dairy, Livestock & Field Crops
Last Modified: June 28, 2017


Timely observations, information, and control strategies for managing pests, fertility, and current conditions on northwestern NY farms.
Benefits and Costs of Entry Level Precision Agriculture Technologies
John Hanchar, Farm Business Management
Northwest New York Dairy, Livestock & Field Crops
Last Modified: February 16, 2017


Auto Section Control (ASC) is a precision agriculture technology designed to reduce double planting and other crop input usage in headlands. See the presentation by Erick Haas and John Hanchar at the 2017 Operations Managers Conference for benefits and costs, including results from partial budgeting and capital investment analysis.
Economics of Malting Barley Production in NYS
John Hanchar, Farm Business Management
Northwest New York Dairy, Livestock & Field Crops
Last Modified: January 31, 2017


Economics of malting barley production in New York State is described using estimates of costs and profit with sensitivity analysis. Variability in returns is a key message.
Upcoming Events
Grazing Strategies for Farm Profitability
June 30, 2017
8:00 am - 3:00 pm
Alfred, NY
Show Me the Money: Grazing Strategies for Farm Profitability.
Soil Health Workshop with Cover Crop Interseeder & Herbicide Demonstration

August 22, 2017
8:30 am - 3:30 pm
Albion, NY
Speakers: Wendy Taheri - a nationally recognized expert in Mycorrhizal Fungi and John Wallace - soon to be a Cornell professor with extensive experince in Drilled Interseeding of corn.
In the afternoon we will have a field demonstration of a test plot with 8 drilled interseedings of cover crops in field corn combined with a test of 4 different pre-emerge herbicides, in addition to Wendy Taheri demonstrating soil health features from a soil pit.
CCE Adirondack Railroad Excursion (Extension Employees & Family ONLY)
August 26, 2017
9:30 am - 7:00 pm
Utica, NY
Back by popular demand the Adirondack Summer Excursion will roll again on the Adirondack Scenic Railroad, The New York State Association of County Agricultural Agents (NYSACAA) is once again hosting this summer adventure. This event is open to all county, regional and campus CCE employees and their families.
You do not have to be a member of NYSACAA to attend.

Last year's trip reviews were very positive. Don't miss this opportunity to enjoy a day full of great scenery, comradery and networking with other CCE folks from around the state.
Northwest New York Dairy, Livestock & Field Crops - Cornell Cooperative Extension
Your Trusted Source for Research-Based Knowledge