Grains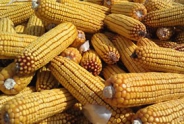 Soybean acreage continues to rise in New York. Farmers harvested a record high 312,000 acres in 2012 (USDA & NASS, New York Field Office). Good soils and favorable August weather have been good for grain yields. NY farmers have averaged 46 bushels over the past 3 seasons. This is very comparable to soybean yields in the Midwest. Maturity groups 0-3 can be grown successfully in NY. The majority of the soybeans are grown in the Finger Lakes and into Western NY but are beginning to expand eastward. Cayuga County is the top soybean producing county followed by Seneca, Ontario, and Wayne.
Winter wheat is an important cash crop in New York not only for the grain but also its straw value. Both soft red and white varieties are grown in NY. Wheat flour is used in pastries, crackers, cookies, and breakfast cereals. Wheat also plays an important role in maintaining crop diversity and rotation. Growers harvest about 100,000 acres of wheat each year in NY and have averaged 63 bushels per acre over the past 5 seasons (USDA & NASS, New York Field Office). The majority of the winter wheat is grown in western NY with Livingston, Monroe, and Genesee as the top 3 producing counties.
Corn for grain and silage is a very important feed source for New York's dairy and livestock industry. In 2012, 680,000 acres of corn for grain and 475,000 acres of corn silage were harvested by NY growers (USDA & NASS, New York Field Office). Cash grain operators rotate corn annually with soybeans and small grains while more continuous and longer rotation corn is grown on the dairies for silage. NY corn producers have averaged 139 bushels of grain and 17 tons of silage over the past three seasons. Cayuga, Livingston, and Wyoming are the top corn producing counties in NY.
Oats are a versatile crop that is the first grain crop planted in the spring. Other than grain for feed, they are also grown for straw, silage, cover crop, emergency forage, and a nurse crop in alfalfa seedings. About 60,000 acres of oats are planted each year and the majority goes to grain. Statewide grain yields are very similar to wheat around 65 bushels per acre. Spring barley can be planted as an alternative for oats. Barley yields less than oats (50 bushels per acre) but has a higher feed energy similar to corn. Only about 10,000 acres of spring barley are planted each year
Relevant Event
Soybean/Small Grains Congress - Batavia Location

February 7, 2018
10:00 a.m. - 3:00 p.m.
Batavia, NY
Most Recent Grains Content
Transitioning from Conventional to Organic Production for the CSW Rotation
John Hanchar, Farm Business Management
Northwest New York Dairy, Livestock & Field Crops
Last Modified: January 10, 2018


Growers transitioning from conventional to organic production for the corn, soybean, wheat (CSW) cropping system can use an analysis of transition period economics to make decisions regarding an optimal crop sequencing.

Crop Alert
Mike Stanyard, Team Leader, Field Crops
Northwest New York Dairy, Livestock & Field Crops
Last Modified: September 7, 2017


Timely observations, information, and control strategies for managing pests, fertility, and current conditions on northwestern NY farms.
Estimated cost of production, conventionally tilled malting barley
John Hanchar, Farm Business Management
Northwest New York Dairy, Livestock & Field Crops
Last Modified: June 29, 2017

Producers can use cost and returns estimates to make decisions regarding malting barley production's place in their cropping systems: understanding variability plays an important role.

Upcoming Events
Succession & Estate Planning Kickoff Seminar
January 24, 2018
9:00 am - 3:00 pm
Batavia, NY
We encourage farm owner managers and potential entrants to the business to participate inthis seminar for an introduction to important concepts in succession and estate planning.
A series of workshops to help participants clarify their goals, identify a planning team to assist in achieving retirement, succession or estate planning oags and learn skills for communicating your ideas to your heirs or successors will be offered following his seminar.
New York Learning Circles - Conservation Values - Your Land is Your Legacy
January 25, 2018
9:00 am - 3:00 pm
Mount Morris, NY
More than one million women now own or manage farmland across America with many of these women inheriting their land from their spouse or parents. Research shows that women landowners can benefit from learning about conservation practices from other women landowners and conservation professionals. To reach the growing number of women landowners interested in conservation, American Farmland Trust, along with Cornell University Cooperative Extension, Northwest New York Dairy, Livestock & Field Crops Team & Ohio's Wood Soil & Water Conservation District, have joined together to offer a number of different opportunities to share information and learn more about preserving their land long into the future.
We hope that you can join us for 1 or more of our Learning Circles! Invite a friend or family member to join you!!!
2018 Cow Comfort Conference, "The Latest Research in Cow Comfort"
February 6 - February 7, 2018

Liverpool, NY
Along with help from partners and sponsors, the Cornell Cooperative Extension North Country Regional Ag Team and the South Central NY Dairy & Field Crops Team are hosing the 2018 Cow Comfort Conference - "The Latest in Cow Comfort". The 2nd annual installment of this conference will highlight the importance of maximizing cow comfort while showcasing the latest research and industry findings. The conference is open to anybody, and last year's attendees included a variety of producers, allied industry, extension, and students.
Northwest New York Dairy, Livestock & Field Crops - Cornell Cooperative Extension
Your Trusted Source for Research-Based Knowledge