Grains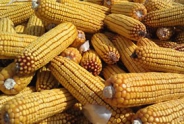 Soybean acreage continues to rise in New York. Farmers harvested a record high 312,000 acres in 2012 (USDA & NASS, New York Field Office). Good soils and favorable August weather have been good for grain yields. NY farmers have averaged 46 bushels over the past 3 seasons. This is very comparable to soybean yields in the Midwest. Maturity groups 0-3 can be grown successfully in NY. The majority of the soybeans are grown in the Finger Lakes and into Western NY but are beginning to expand eastward. Cayuga County is the top soybean producing county followed by Seneca, Ontario, and Wayne.
Winter wheat is an important cash crop in New York not only for the grain but also its straw value. Both soft red and white varieties are grown in NY. Wheat flour is used in pastries, crackers, cookies, and breakfast cereals. Wheat also plays an important role in maintaining crop diversity and rotation. Growers harvest about 100,000 acres of wheat each year in NY and have averaged 63 bushels per acre over the past 5 seasons (USDA & NASS, New York Field Office). The majority of the winter wheat is grown in western NY with Livingston, Monroe, and Genesee as the top 3 producing counties.
Corn for grain and silage is a very important feed source for New York's dairy and livestock industry. In 2012, 680,000 acres of corn for grain and 475,000 acres of corn silage were harvested by NY growers (USDA & NASS, New York Field Office). Cash grain operators rotate corn annually with soybeans and small grains while more continuous and longer rotation corn is grown on the dairies for silage. NY corn producers have averaged 139 bushels of grain and 17 tons of silage over the past three seasons. Cayuga, Livingston, and Wyoming are the top corn producing counties in NY.
Oats are a versatile crop that is the first grain crop planted in the spring. Other than grain for feed, they are also grown for straw, silage, cover crop, emergency forage, and a nurse crop in alfalfa seedings. About 60,000 acres of oats are planted each year and the majority goes to grain. Statewide grain yields are very similar to wheat around 65 bushels per acre. Spring barley can be planted as an alternative for oats. Barley yields less than oats (50 bushels per acre) but has a higher feed energy similar to corn. Only about 10,000 acres of spring barley are planted each year
Most Recent Grains Content
Benefits and Costs of Entry Level Precision Agriculture Technologies
John Hanchar, Farm Business Management
Northwest New York Dairy, Livestock & Field Crops
Last Modified: February 16, 2017


Auto Section Control (ASC) is a precision agriculture technology designed to reduce double planting and other crop input usage in headlands. See the presentation by Erick Haas and John Hanchar at the 2017 Operations Managers Conference for benefits and costs, including results from partial budgeting and capital investment analysis.
Economics of Malting Barley Production in NYS
John Hanchar, Farm Business Management
Northwest New York Dairy, Livestock & Field Crops
Last Modified: January 31, 2017


Economics of malting barley production in New York State is described using estimates of costs and profit with sensitivity analysis. Variability in returns is a key message.
Crop Alert
Mike Stanyard, Team Leader, Field Crops
Northwest New York Dairy, Livestock & Field Crops
Last Modified: September 9, 2016


Timely observations, information, and control strategies for managing pests, fertility, and current conditions on northwestern NY farms.
Upcoming Events
VFD Regulations - What Does It Mean for Livestock Owners & Beekeepers
March 28, 2017
6:00pm - 8:00 pm
Warsaw, NY
If you want to learn more about the VFD, Veterinarian Feed Directive, and how it might affect you and home treatments of your livestock, plan to attend this information session.

Getting Started in Agritourism Workshop, Creating a Destination Farm
March 30, 2017
8:30 am - 3:00 pm
Rochester, NY
Cornell Extensions of Monroe and Tompkins County proudly invites farmers, food entrepreneurs, horse-farm owners, and other Agribusiness operators to attend the Agritourism workshop.

NYS Livestock Summit - Montour Falls Location
March 30, 2017
1:00 pm - 4:00 pm
Montour Falls, NY
Calling experienced livestock producers: We know you face tremendous challenges to grow your business. What are the undeveloped opportunities and how can we collectively address them?

Announcements
Heavy Snow Loads
The recent accumulation of snow in many areas throughout NYS has caused some agricultural buildings to fail. Failure can be the result of several itmes linked to the snow load present on the building. This document talks about snow accumulation and points about understanding pending barn failures.
Click here to read the rest of the article.
Do's and Don'ts for Barn Snow Removal
Removal of significant snow accumulations off of a barn roof is best performed in a systematic way to reduce the risk of injury or death to both barn occupants and those working on the roof. Removing roof snow without a proper approach may actually cause more damage than if left alone in some cases by creating an unbalanced and/or concentrated roof load. This document explains the proper approach to removing accumulated snow from roofs.
Click here to read the rest of the article.
Latest Dairy Market Watch
An educational newsletter to keep producers informed of changing market factors affecting the dairy industry.
How to Read Dairy Market Watch
.
Dairy Market Watch - February 2017
Northwest New York Dairy, Livestock & Field Crops - Cornell Cooperative Extension
Your Trusted Source for Research-Based Knowledge