Forages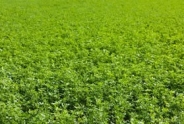 In western New York high yields of high quality forage are vital to the dairy and livestock industries. Feed-costs are often half of a farm's business expenses each year. This page contains resources and information to help farmers better manage silage, hay, and pastures.
Corn silage and "haylage" (alfalfa or alfalfa/grass silage) are the main forages grown on dairy farms. These silages are stored in upright silos, bunker silos, piles, silage bags, and as "balelage" (plastic-wrapped round bales) where they are persevered and then fed to the cows. In recent years winter triticale silage has also become an important feed on dairy farms due to increasing land prices, short feed supplies, and winter triticale's high yields and desirable feed quality. Oats are also grown for silage as a nurse crop during the establishment of a haylage field or, in more recent years, as a fall silage planted in August after another small grain or vegetable crop. Hay is widely grown in the region for horses, beef, alpacas, sheep, goats, and dairy animals. Most of the hay is sold to local farmers and animal owners.
However a number of farmers contract out of the state for specialty hay markets (racing horse, mushroom production, biomass, etc.). Much of the hay grown is a mixture of alfalfa with timothy or orchardgrass, but other grass species like tall fescue, reed canarygrass, bromegrasses, and ryegrasses are also planted on many farms. Pastures are very common in western New York and form the foundation of many productive dairy and livestock farms. Ladino clover, red clover, white clover, and/or birdsfoot trefoil are mixed orchardgrass, tall fescue, meadow fescue, reed canarygrass, timothy, bromegrass, and/or ryegrass on most farms. Many graziers have adopted rotational grazing practices that have increased pasture productivity by grazing small paddocks for a short period of time and then allowing that area to recover for 25-40 days before grazing again.
Most Recent Forages Content
The Meaning and Use of Feed Analysis
Last Modified: February 27, 2018

Beef Specialist Mike Baker explains the nutrient requirements for beef cattle and interpreting the forage analysis.
Know a Better Pasture
Nancy Glazier, Small Farms
Northwest New York Dairy, Livestock & Field Crops
Last Modified: February 20, 2018


Pasture is a great way to feed your livestock during the growing season.
Meet the Specialist, Nancy Glazier
Last Modified: February 20, 2018


Meet Small Farms Specialist Nancy Glazier as she works with Peter Lehning and John Lehning, new beef producers.
Upcoming Events
Beef Quality Assurance Training
May 5, 2018
10:00 am - 2:00 pm
Gainesville, NY
The goal of this national program is to maximize consumer confidence and acceptance of beef by focusing the producer's attention to daily production practices that influence the safety, wholesomeness, and quality of beef and beef products.

Pasture & Farm Walk
May 17, 2018
6:30 p.m. - 9:00 p.m.
Stafford, NY
Join us as we walk the pastures and discuss Garry's goals and suggest improvements. We will relocate to his home farm in LeRoy for further discussion and refreshments.

Beef Quality Assurance Training
June 2, 2018
9:00 a.m. - 12:00 p.m.
Lyons, NY
The goal of this national program is to maximize consumer confidence and acceptance of beef by focusing the producer's attention to daily production practices that influence the safety, wholesomeness, and quality of beef and beef products.

Announcements
Latest Dairy Market Watch
An educational newsletter to keep producers informed of changing market factors affecting the dairy industry.
How to Read Dairy Market Watch
.
Dairy Market Watch - March 2018
NWNY Dairy Management Specialist Position
For those of you in the dairy community that have not heard yet, Dr. Jerry Bertoldo, our dairy specialist, has decided to call it a career and retire this September. Jerry has been a fixture in the dairy industry in WNY since graduating from the Cornell Vet School in 1977 . He will be writing a more detailed celebration of his career in the June "Dairy Month" issue of AgFocus.
The NWNY Dairy Management Specialist position has been posted; the posting will expire on Monday, April 30th or until the position is filled.
The links to the posting are:
• Cornell Careers:
http://tiny.cc/Dairy_WDR_00014141
• Academic Jobs Online (AJO):
https://academicjobsonline.org/ajo/jobs/10981
The applicants should submit their application materials via AJO (Academic Jobs Online). Please share this posting with your networks and potentially interested and qualified applicants.
Summary Statement of Purpose and Responsibilities
The Dairy Management Specialist will provide commercial dairy producers, consultants and industry representatives with the knowledge and educational resources necessary to assess production and management practices that will enhance their profitability and sustain the growth of the dairy industry in Northwest New York. The Regional Dairy Specialist will lead and facilitate the extension of research findings from Cornell University, other land grant universities and agribusinesses, and work with local stakeholders to test alternative dairy management practices at the farm level. Collaborate in development and delivery of educational programs with other CCE educators, PRO Dairy statewide team, and Cornell faculty.

Northwest New York Dairy, Livestock & Field Crops - Cornell Cooperative Extension
Your Trusted Source for Research-Based Knowledge