Forages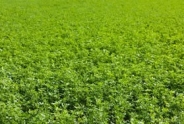 In western New York high yields of high quality forage are vital to the dairy and livestock industries. Feed-costs are often half of a farm's business expenses each year. This page contains resources and information to help farmers better manage silage, hay, and pastures.
Corn silage and "haylage" (alfalfa or alfalfa/grass silage) are the main forages grown on dairy farms. These silages are stored in upright silos, bunker silos, piles, silage bags, and as "balelage" (plastic-wrapped round bales) where they are persevered and then fed to the cows. In recent years winter triticale silage has also become an important feed on dairy farms due to increasing land prices, short feed supplies, and winter triticale's high yields and desirable feed quality. Oats are also grown for silage as a nurse crop during the establishment of a haylage field or, in more recent years, as a fall silage planted in August after another small grain or vegetable crop.
Hay is widely grown in the region for horses, beef, alpacas, sheep, goats, and dairy animals. Most of the hay is sold to local farmers and animal owners. However a number of farmers contract out of the state for specialty hay markets (racing horse, mushroom production, biomass, etc.). Much of the hay grown is a mixture of alfalfa with timothy or orchardgrass, but other grass species like tall fescue, reed canarygrass, bromegrasses, and ryegrasses are also planted on many farms.
Pastures are very common in western New York and form the foundation of many productive dairy and livestock farms. Ladino clover, red clover, white clover, and/or birdsfoot trefoil are mixed orchardgrass, tall fescue, meadow fescue, reed canarygrass, timothy, bromegrass, and/or ryegrass on most farms. Many graziers have adopted rotational grazing practices that have increased pasture productivity by grazing small paddocks for a short period of time and then allowing that area to recover for 25-40 days before grazing again.
Most Recent Forages Content
Forage Congress - Presentations
Nancy Glazier, Small Farms
Northwest New York Dairy, Livestock & Field Crops
Last Modified: March 14, 2017


New to the NWNY Team's lineup this winter was Forage Congress at the Genesee River Restaurant and Reception Center in Mount Morris, NY.

This event covered timely topics recommended by the region's producers. The morning's session began with an overview of the cropping plan from the ground up, economics of high fiber digestibility, and new alfalfa varieties with quality grasses. The afternoon covered double cropping with winter triticale and options for properly storing silages.
Benefits and Costs of Entry Level Precision Agriculture Technologies
John Hanchar, Farm Business Management
Northwest New York Dairy, Livestock & Field Crops
Last Modified: February 16, 2017


Auto Section Control (ASC) is a precision agriculture technology designed to reduce double planting and other crop input usage in headlands. See the presentation by Erick Haas and John Hanchar at the 2017 Operations Managers Conference for benefits and costs, including results from partial budgeting and capital investment analysis.
New York State Corn Silage Hybrid Trials - 2016
Last Modified: January 4, 2017

Joe Lawrence with PRO-DAIRY has revitalized the corn silage variety trials.
Here is the report
.
Upcoming Events
VFD Regulations - What Does It Mean for Livestock Owners & Beekeepers
March 28, 2017
6:00pm - 8:00 pm
Warsaw, NY
If you want to learn more about the VFD, Veterinarian Feed Directive, and how it might affect you and home treatments of your livestock, plan to attend this information session.

Getting Started in Agritourism Workshop, Creating a Destination Farm
March 30, 2017
8:30 am - 3:00 pm
Rochester, NY
Cornell Extensions of Monroe and Tompkins County proudly invites farmers, food entrepreneurs, horse-farm owners, and other Agribusiness operators to attend the Agritourism workshop.

NYS Livestock Summit - Montour Falls Location
March 30, 2017
1:00 pm - 4:00 pm
Montour Falls, NY
Calling experienced livestock producers: We know you face tremendous challenges to grow your business. What are the undeveloped opportunities and how can we collectively address them?

Announcements
Heavy Snow Loads
The recent accumulation of snow in many areas throughout NYS has caused some agricultural buildings to fail. Failure can be the result of several itmes linked to the snow load present on the building. This document talks about snow accumulation and points about understanding pending barn failures.
Click here to read the rest of the article.
Do's and Don'ts for Barn Snow Removal
Removal of significant snow accumulations off of a barn roof is best performed in a systematic way to reduce the risk of injury or death to both barn occupants and those working on the roof. Removing roof snow without a proper approach may actually cause more damage than if left alone in some cases by creating an unbalanced and/or concentrated roof load. This document explains the proper approach to removing accumulated snow from roofs.
Click here to read the rest of the article.
Latest Dairy Market Watch
An educational newsletter to keep producers informed of changing market factors affecting the dairy industry.
How to Read Dairy Market Watch
.
Dairy Market Watch - February 2017
Northwest New York Dairy, Livestock & Field Crops - Cornell Cooperative Extension
Your Trusted Source for Research-Based Knowledge