Forages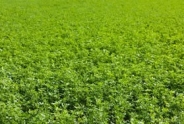 In western New York high yields of high quality forage are vital to the dairy and livestock industries. Feed-costs are often half of a farm's business expenses each year. This page contains resources and information to help farmers better manage silage, hay, and pastures.
Corn silage and "haylage" (alfalfa or alfalfa/grass silage) are the main forages grown on dairy farms. These silages are stored in upright silos, bunker silos, piles, silage bags, and as "balelage" (plastic-wrapped round bales) where they are persevered and then fed to the cows. In recent years winter triticale silage has also become an important feed on dairy farms due to increasing land prices, short feed supplies, and winter triticale's high yields and desirable feed quality. Oats are also grown for silage as a nurse crop during the establishment of a haylage field or, in more recent years, as a fall silage planted in August after another small grain or vegetable crop. Hay is widely grown in the region for horses, beef, alpacas, sheep, goats, and dairy animals. Most of the hay is sold to local farmers and animal owners.
However a number of farmers contract out of the state for specialty hay markets (racing horse, mushroom production, biomass, etc.). Much of the hay grown is a mixture of alfalfa with timothy or orchardgrass, but other grass species like tall fescue, reed canarygrass, bromegrasses, and ryegrasses are also planted on many farms. Pastures are very common in western New York and form the foundation of many productive dairy and livestock farms. Ladino clover, red clover, white clover, and/or birdsfoot trefoil are mixed orchardgrass, tall fescue, meadow fescue, reed canarygrass, timothy, bromegrass, and/or ryegrass on most farms. Many graziers have adopted rotational grazing practices that have increased pasture productivity by grazing small paddocks for a short period of time and then allowing that area to recover for 25-40 days before grazing again.
Relevant Events
Forage Congress
February 27, 2019
10:00 am - 3:30 pm
Mt. Morris, NY
Raising Healthy Livestock: The Basics of Feeding, Health, and Quality Care
March 2, 2019
10 am - 1 pm
Lockport, NY
Most Recent Forages Content
Winter Feeding Beef Cows
Nancy Glazier, Small Farms
Northwest New York Dairy, Livestock & Field Crops
Last Modified: February 14, 2019

Winter is a challenging time to feed the beef herd. Mud, cold and snow or rain can stress your cows and increase their nutritional needs. How do you know if you are meeting the needs of your herd?
Financial Balancing Act Means Managing Risk is Essential
Joan Sinclair Petzen, Farm Business Management
Northwest New York Dairy, Livestock & Field Crops
Last Modified: September 19, 2018
The present long-term downturn in commodity prices brings with it increased financial pressure on farm operations. Alternatives for managing risk are continually evolving. For many in agriculture, and particularly dairy, self-insurance has been the go-to method of risk management. Two new tools, the USDA Market Facilitation Program (MFP) and Dairy Revenue Protection Insurance (DRP) are coming on line and a third, Rainfall Index - Pasture, Rangeland, and Forage (RI-PRF) merits serious consideration.
Pricing Corn Silage -- Fall 2018
John Hanchar, Farm Business Management
Northwest New York Dairy, Livestock & Field Crops
Last Modified: September 10, 2018

Summary
Analysis suggests corn silage price depends on corn silage quantities, alfalfa hay price, the price received by farmers for milk, and corn grain price.
Analysis for NY suggests that estimated corn silage price is most sensitive to corn silage quantities, alfalfa hay price and corn grain price.
Price estimates combined with understanding of relevant supply and demand factors from an individual farm business owner's perspective can aid decision making regarding corn silage price. Given recently available alfalfa hay and corn grain prices (May through July, 2018, and August 14, 2018, respectively), price analysis for NY suggests an estimated corn silage price of about $41 per ton. The Fall 2017 estimate was about $54 per ton.
Upcoming Events
Forage Congress
February 27, 2019
10:00 am - 3:30 pm
Mt. Morris, NY
Climate Smart Farming Decision Tools
Forage Quality to Reduce Purchase Concentrate Cost. N Management, Guidelines for Grass, Low Lignin Alfalfa, Harvest Schedule
Fiber Digestibility & Corn Silage Hybrid Evaluation Using Fiber & Starch Yields
Silage Fermentation
Inventory & Shrink
Producer Panel
MANURE APPLICATOR TRAINING - DEC Approved Training for CAFO Farms, register by 2/22/2019!
February 28, 2019
9 a.m. - 11 a.m. - Wyo Co Ag Bus Center, Warsaw and 1 p.m. - 3 p. m. Civil Def Bldg., Bath NY
This informational meeting is for all farm owners, family members, and employees who manage their farm's manure. All farms, regardless of size are encouraged to attend. This is a DEC approved Manure Applicator Training that is required for CAFO farms. A certificate will be provided to each farm that participates in the meeting.
Raising Healthy Livestock: The Basics of Feeding, Health, and Quality Care
March 2, 2019
10 am - 1 pm
Lockport, NY
Raising livestock can be a rewarding enterprise. There are many things to consider, including what to feed, how to keep them healthy and how to handle them. Cornell Cooperative Extension NWNY Dairy, Livestock & Field Crops Team is holding a workshop for livestock farmers to help address these topics.
Announcements
CDL Training Program For Agricultural Producers and their Employees ONLY
Cornell Cooperative Extension of Wyoming County, in collaboration with Genesee Valley BOCES, will be offering a CDL Training Program for both Class A and Class B licenses. This course is offered to Farm Owners, Operators, and their Employees ONLY.
Thursday, February 28, 2019, 7:00 PM - 9:00 PM (Informational Meeting)
Wednesday, March 6, 2019, 7:00 PM - 9:00 PM (Classroom)
Thursday, March 7, 2019, 7:00 PM - 9:00 PM (Classroom)
Cost:
Class A CDL=$ 750.00 (Enrolled in Ag Program)
Class A CDL =$ 800.00 (not enrolled in Ag Program).
Class B CDL=$ 600.00 (Enrolled in Ag Program)
Class B CDL =$ 650.00 (Not enrolled in Ag Program)
Checks payable to Cornell Cooperative Extension of Wyoming County
Held at CCE-Wyoming County., 36 Center Street, Warsaw, NY 14569
The informational meeting will be held the week before the CDL training session begins, to answer any questions you may have regarding this program and to pick up the required training materials and medical forms. To register, please contact Debra Welch at 585-786-2251 or email djw275@cornell.edu
Wyoming County Pride of Ag Dinner - N Java Fire hall, March 2nd
For more information about the event or to purchase tickets, please contact the Wyoming County Chamber of Commerce, 585.786.0307.
USDA to Host 2018 Farm Bill Implementation Listening Session
The listening session will be held Feb. 26, 2019 at 9:00 a.m. in the Jefferson Auditorium in the South Building located at 14th Street and Independence Ave. S.W. in Washington, D.C.
The listening session is open to the public. Participants must register at farmers.gov/farmbill by February 22, 2019, to attend the listening session and are encouraged to provide written comments prior to the listening session. For those orally presenting comments at the listening session, written comments are encouraged to be submitted to regulations.gov by February 22, 2019. Additional written comments will be accepted through March 1, 2019. Comments received will be publicly available on www.regulations.gov.
Three Free Digester Workshops offered through CCE St. Lawrence Co.
CCE of St. Lawrence County is offering three FREE workshops showcasing the research results from our feasibility study of anaerobic digester technology on small farms. The research was conducted by our partners at Clarkson University using the anaerobic digester at the Extension Learning Farm, which is fed both manure from a dairy operation and vegetable waste from our commercial kitchen. The digester heats a small green house that starts our seedling plants. We have a small scale vegetable-only digester as well. The research and program targets small dairies under 200 head, livestock producers, horticulture producers and anyone interested in alternative energy.
Program will be held on December 5, January 7, and March 6. A catered meal is provided at each program. Participants within the North Country Region will be given a $25 stipend to help cover travel costs, those from outside the region will be given $50. To receive the stipend, participants will need to complete a pre/post-test survey.
More information and registration information can be found here:
http://stlawrence.cce.cornell.edu/events/2018/12/05/exploring-digester-technology
New Guidance for Mortality Disposal Issued
NYS Department of Ag and Markets has posted guidelines on disposal of livestock carcasses, in response to reports that some rendering companies have halted pickups from farms.
https://nwnyteam.cce.cornell.edu/submission.php?id=761&crumb=dairy|1