Forages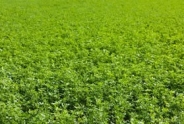 In western New York high yields of high quality forage are vital to the dairy and livestock industries. Feed-costs are often half of a farm's business expenses each year. This page contains resources and information to help farmers better manage silage, hay, and pastures.
Corn silage and "haylage" (alfalfa or alfalfa/grass silage) are the main forages grown on dairy farms. These silages are stored in upright silos, bunker silos, piles, silage bags, and as "balelage" (plastic-wrapped round bales) where they are persevered and then fed to the cows. In recent years winter triticale silage has also become an important feed on dairy farms due to increasing land prices, short feed supplies, and winter triticale's high yields and desirable feed quality. Oats are also grown for silage as a nurse crop during the establishment of a haylage field or, in more recent years, as a fall silage planted in August after another small grain or vegetable crop. Hay is widely grown in the region for horses, beef, alpacas, sheep, goats, and dairy animals. Most of the hay is sold to local farmers and animal owners.
However a number of farmers contract out of the state for specialty hay markets (racing horse, mushroom production, biomass, etc.). Much of the hay grown is a mixture of alfalfa with timothy or orchardgrass, but other grass species like tall fescue, reed canarygrass, bromegrasses, and ryegrasses are also planted on many farms. Pastures are very common in western New York and form the foundation of many productive dairy and livestock farms. Ladino clover, red clover, white clover, and/or birdsfoot trefoil are mixed orchardgrass, tall fescue, meadow fescue, reed canarygrass, timothy, bromegrass, and/or ryegrass on most farms. Many graziers have adopted rotational grazing practices that have increased pasture productivity by grazing small paddocks for a short period of time and then allowing that area to recover for 25-40 days before grazing again.
Most Recent Forages Content
Crop Alert
Mike Stanyard, Team Leader, Field Crops
Northwest New York Dairy, Livestock & Field Crops
Last Modified: September 7, 2017


Timely observations, information, and control strategies for managing pests, fertility, and current conditions on northwestern NY farms.
1st Cutting Forage Quality Update
Jodi Letham, Field Crops
Northwest New York Dairy, Livestock & Field Crops
Last Modified: May 17, 2017

We are into the third week of monitoring 1st cutting for quality this year. Our procedure consists of using alfalfa height to predict Neutral Detergent Fiber (NDF) for alfalfa, alfalfa/grass mixed and grass stands. Alfalfa height has proven to be a reliable indicator of NDF values in the field.
Managing Spring Grass Growth and Selective Grazing
Last Modified: May 4, 2017

For most beef cattle farmers who are managing their pastures in a rotational grazing system two of the biggest spring challenges are the flush of rapid growth that will occur and selective grazing. OSU Wayne Co. extension educator Rory Lewandowski reviews some basic plant growth biology and grazing principles that may suggest some management strategies. Click
here
for the full article.
Upcoming Events
Succession & Estate Planning Kickoff Seminar
January 24, 2018
9:00 am - 3:00 pm
Batavia, NY
We encourage farm owner managers and potential entrants to the business to participate inthis seminar for an introduction to important concepts in succession and estate planning.
A series of workshops to help participants clarify their goals, identify a planning team to assist in achieving retirement, succession or estate planning oags and learn skills for communicating your ideas to your heirs or successors will be offered following his seminar.
New York Learning Circles - Conservation Values - Your Land is Your Legacy
January 25, 2018
9:00 am - 3:00 pm
Mount Morris, NY
More than one million women now own or manage farmland across America with many of these women inheriting their land from their spouse or parents. Research shows that women landowners can benefit from learning about conservation practices from other women landowners and conservation professionals. To reach the growing number of women landowners interested in conservation, American Farmland Trust, along with Cornell University Cooperative Extension, Northwest New York Dairy, Livestock & Field Crops Team & Ohio's Wood Soil & Water Conservation District, have joined together to offer a number of different opportunities to share information and learn more about preserving their land long into the future.
We hope that you can join us for 1 or more of our Learning Circles! Invite a friend or family member to join you!!!
2018 Cow Comfort Conference, "The Latest Research in Cow Comfort"
February 6 - February 7, 2018

Liverpool, NY
Along with help from partners and sponsors, the Cornell Cooperative Extension North Country Regional Ag Team and the South Central NY Dairy & Field Crops Team are hosing the 2018 Cow Comfort Conference - "The Latest in Cow Comfort". The 2nd annual installment of this conference will highlight the importance of maximizing cow comfort while showcasing the latest research and industry findings. The conference is open to anybody, and last year's attendees included a variety of producers, allied industry, extension, and students.
Northwest New York Dairy, Livestock & Field Crops - Cornell Cooperative Extension
Your Trusted Source for Research-Based Knowledge