Forages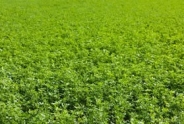 In western New York high yields of high quality forage are vital to the dairy and livestock industries. Feed-costs are often half of a farm's business expenses each year. This page contains resources and information to help farmers better manage silage, hay, and pastures.
Corn silage and "haylage" (alfalfa or alfalfa/grass silage) are the main forages grown on dairy farms. These silages are stored in upright silos, bunker silos, piles, silage bags, and as "balelage" (plastic-wrapped round bales) where they are persevered and then fed to the cows. In recent years winter triticale silage has also become an important feed on dairy farms due to increasing land prices, short feed supplies, and winter triticale's high yields and desirable feed quality. Oats are also grown for silage as a nurse crop during the establishment of a haylage field or, in more recent years, as a fall silage planted in August after another small grain or vegetable crop. Hay is widely grown in the region for horses, beef, alpacas, sheep, goats, and dairy animals. Most of the hay is sold to local farmers and animal owners.
However a number of farmers contract out of the state for specialty hay markets (racing horse, mushroom production, biomass, etc.). Much of the hay grown is a mixture of alfalfa with timothy or orchardgrass, but other grass species like tall fescue, reed canarygrass, bromegrasses, and ryegrasses are also planted on many farms. Pastures are very common in western New York and form the foundation of many productive dairy and livestock farms. Ladino clover, red clover, white clover, and/or birdsfoot trefoil are mixed orchardgrass, tall fescue, meadow fescue, reed canarygrass, timothy, bromegrass, and/or ryegrass on most farms. Many graziers have adopted rotational grazing practices that have increased pasture productivity by grazing small paddocks for a short period of time and then allowing that area to recover for 25-40 days before grazing again.
Most Recent Forages Content
Crop Alert
Mike Stanyard, Team Leader, Field Crops
Northwest New York Dairy, Livestock & Field Crops
Last Modified: July 27, 2018

Timely observations, information, and control strategies for managing pests, fertility, and current conditions on northwestern NY farms.
Stockpiling Pastures
Nancy Glazier, Small Farms
Northwest New York Dairy, Livestock & Field Crops
Last Modified: July 10, 2018

Begin to stockpile your pastures in August to extend the grazing season.
1st Cutting Forage Quality Update - May 18, 2018
Jodi Letham, Field Crops
Northwest New York Dairy, Livestock & Field Crops
Last Modified: May 18, 2018

This is the first week of monitoring 1st cutting for quality this year. Our procedure consists of using alfalfa height to predict Neutral Detergent Fiber (NDF) for alfalfa, alfalfa/grass mixed and grass stands. Alfalfa height has proven to be a reliable indicator of NDF values in the field.
Upcoming Events
Corn Silage Pre-Harvest Workshops
August 23 - August 24, 2018
Morning and Afternoon sessions
Corn silage harvest is drawing near. The way corn silage is harvested and stored is a single event that affects your operation for the entire next year. Are you prepared to set your operation up for success? Plan to attend one of the following on-farm Corn Silage Pre-Harvest workshops to hear the latest research-backed strategies you can implement on your dairy this corn silage season.
2018 New York Corn & Soybean Yield Contest
August 25, 2018

See attached flyer for Contest Rules and Entry Form.
No-Till & Never-Till Soil Health Workshop

August 28, 2018
12:00 p.m. - 5:30 p.m.
Stafford, NY
The Western New York Soil Health Alliance will be holding a Soil Health Workshop focusing on No-Till practices and benefits. They will be digging underground to look at a section of field that has NEVER had any tillage and compare it to the adjacent area with a history of tillage practices. In addition, there will be information on the problem of slugs and voles in the higher residue farming practices.
Northwest New York Dairy, Livestock & Field Crops - Cornell Cooperative Extension
Your Trusted Source for Research-Based Knowledge