Forages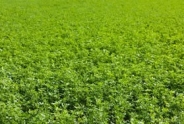 In western New York high yields of high quality forage are vital to the dairy and livestock industries. Feed-costs are often half of a farm's business expenses each year. This page contains resources and information to help farmers better manage silage, hay, and pastures.
Corn silage and "haylage" (alfalfa or alfalfa/grass silage) are the main forages grown on dairy farms. These silages are stored in upright silos, bunker silos, piles, silage bags, and as "balelage" (plastic-wrapped round bales) where they are persevered and then fed to the cows. In recent years winter triticale silage has also become an important feed on dairy farms due to increasing land prices, short feed supplies, and winter triticale's high yields and desirable feed quality. Oats are also grown for silage as a nurse crop during the establishment of a haylage field or, in more recent years, as a fall silage planted in August after another small grain or vegetable crop. Hay is widely grown in the region for horses, beef, alpacas, sheep, goats, and dairy animals. Most of the hay is sold to local farmers and animal owners.
However a number of farmers contract out of the state for specialty hay markets (racing horse, mushroom production, biomass, etc.). Much of the hay grown is a mixture of alfalfa with timothy or orchardgrass, but other grass species like tall fescue, reed canarygrass, bromegrasses, and ryegrasses are also planted on many farms. Pastures are very common in western New York and form the foundation of many productive dairy and livestock farms. Ladino clover, red clover, white clover, and/or birdsfoot trefoil are mixed orchardgrass, tall fescue, meadow fescue, reed canarygrass, timothy, bromegrass, and/or ryegrass on most farms. Many graziers have adopted rotational grazing practices that have increased pasture productivity by grazing small paddocks for a short period of time and then allowing that area to recover for 25-40 days before grazing again.
Relevant Event
2019 Feed Dealers' Seminar
December 13, 2019
11:00 am - 2:00 pm
Batavia, NY
Most Recent Forages Content
Reducing the Risk of Compaction When Grazing Cover Crops
Nancy Glazier, Small Farms & Livestock
Northwest New York Dairy, Livestock & Field Crops
Last Modified: October 31, 2019

The benefits of cover crops have been known for many
years; one is remediating compaction.
Dairy Culture Coach September 2019
Libby Eiholzer, Bilingual Dairy
Northwest New York Dairy, Livestock & Field Crops
Last Modified: September 30, 2019

The latest issue of the Dairy Culture Coach includes the following topics:
Improving Human Resource Management
Silage Harvest Vocabulary
The Importance of Corn
La Importancia del Maíz
Consulate Updates
Please feel free to contact Libby with questions, to subscribe to the newsletter, or to make suggestions for future content. geg24@cornell.edu or 607-793-4847.
Dairy Alert 9.24.19
Libby Eiholzer, Bilingual Dairy
Northwest New York Dairy, Livestock & Field Crops
Last Modified: September 24, 2019
Welcome to the new Dairy Alert!
While many of you receive our monthly newsletter, Ag Focus, we wanted a way to stay in touch during those in-between weeks when there is important news to share. In this issue:
Corn Silage Pre-Harvest Meetings
Pricing Corn Silage
Sexual Harassment Prevention: Comply by 10/9
Upcoming Events
Cow Comfort Program- Tiestall
December 10, 2019
9:30 am - 3:00 pm
Penn Yan, NY
The Tie Stall Cow Comfort Workshop is an educational program for farmers, employees and agriservice professionals who work directly with dairy cows. Each session will include an on-farm portion where attendees walk through the farm and complete an assessment.

2019 Feed Dealers' Seminar
December 13, 2019
11:00 am - 2:00 pm
Batavia, NY
The Feed Dealer Seminars are specifically targeted for nutritionists, veterinarians, crop and management consultants, extension educators, and dairy producers with specific interest in nutrition-oriented topics.

Info Session on the Farm Laborers Fair Labor Practices Act- Newark
December 17, 2019
10:00- 11:30 am
Newark, NY
Come join the NWNY Dairy team and Agriculture Labor Specialists from NYS Department of Labor to get the answers you need.

Announcements
Preventing Sexual Harassment on Farms
If you're wondering how to get your farm business in compliance with NYS Sexual Harassment Regulations, you've come to the right place.
The 2018 New York State budget included new regulations addressing sexual harassment in the workplace that became effective on October 9, 2018 for all New York employers, including agricultural employers. All employers are required to have a sexual harassment prevention policy and to provide annual, interactive sexual harassment prevention training for all employees. Check out the resources developed by Cornell Ag Workforce Development, including step-by-step instructions and farm-friendly training videos.
RMA Announces Additional One-time Changes to Prevented Planting Provisions
June 29, 2019
RMA Announces Additional One-time Changes to Prevented Planting Provisions
for 2019 Crop Year
In response to delayed and prevented planting resulting from above average rainfall and wetness, the USDA Risk Management Agency has made a one-time change to the 2019 crop year prevented planting rules that effectively allows silage corn, if planted as a cover crop following local agricultural expert guidelines, to be acceptable as a post-prevented planting cover crop. Under this one-time rule change, producers are allowed to produce this crop while retaining their prevented planting payment. This change couples with previously announced one-time changes to the prevented planting rules - including expanded acceptable uses for post-prevented planting cover crops and a change in the cover crop haying and grazing start date rule - serve to help those struggling to meet their forage needs due to the weather.
Read the full article
from the New York Crop Insurance Education Program.
The USDA-RMA states that "For crop insurance purposes, a cover crop is a crop generally recognized by agricultural experts as agronomically sound for the area for erosion control or other purposes related to conservation or soil improvement." PRO-DAIRY specialists Joe Lawrence and Karl Czymmek and Dr. Quirine Ketterings, Professor and Director of Cornell Nutrient Management Spear Program have
released a letter
stating "Corn on Prevented Planting acres meets these objectives."