Dairy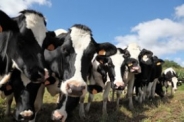 Dairy is the leading agricultural industry in New York State, and the state ranks third in the country for milk production. Our ten counties in western New York form an especially vibrant dairy region, with 943 dairy farms of many different sizes and production systems. Wyoming county is the top milk producing county in the state, producing 1.1 billion pounds annually.
Most Recent Dairy Content
Dairy Training Resources
Libby Eiholzer, Bilingual Dairy
Northwest New York Dairy, Livestock & Field Crops
Last Modified: July 11, 2018
This document will guide you to many of the resources available for training dairy farm employees. Topics include:

Safety
Animal Handling
Calf Care
Milk Quality
Calving Assitance
Reproduction
Herd Health
Lameness/Hoof Trimming
Forages/Feeding
Creating Human Resource Management Documents
Employee Housing
Learning Spanish/English
Dairy Market Watch - 2018
Jerry Bertoldo, Dairy
Northwest New York Dairy, Livestock & Field Crops
Last Modified: June 26, 2018

An educational newsletter to keep producers informed of changing market factors affecting the dairy industry.
Dairy Culture Coach June 2018
Libby Eiholzer, Bilingual Dairy
Northwest New York Dairy, Livestock & Field Crops
Last Modified: June 7, 2018

The latest issue of the Dairy Culture Coach is now available. Read on to learn more about:
Understanding the Current Dairy Economy
Cómo Entender la Situación Económica Actual de Granjas Lecheras
Vocabulary: Feelings
Time to Check Your W-4's
Wednesday Webinars in Spanish
Seminarios Web en Español
The Most Costly Journey
Upcoming Events
2018 CCE Adirondack Summer Excursion
July 21, 2018
9:30 am - 6:30 pm
Utica, NY
The New York State Association of Agricultural County Agents (NYSACAA) is dedicated to providing members of Cornell Cooperative Extension community with continuing education, a voice on campus and ways to keep connected with each other. Regional, statewide and national meetings bring members together for professional improvement and social interaction.
The board of directors has once again endorsed a summer social event to bring extension folks from across the state together this summer on the Adirondack Scenic Railroad
(
http://www.adirondackrr.com/adkrr
/).
You do not have to be a NYSACAA member to join us!
This excursion is open to all county, regional and campus employees and their families. It is unfortunate that there are county fairs in progress on that day, however this was the best choice for railroad operation purposes.
Pastured Pork Workshop
August 15, 2018
6:00 pm - 8:00 pm
Naples, NY
Come and hear how heritage pigs are raised on pasture.
No-Till & Never-Till Soil Health Workshop

August 28, 2018
12:00 p.m. - 5:30 p.m.
Stafford, NY
The Western New York Soil Health Alliance will be holding a Soil Health Workshop focusing on No-Till practices and benefits. They will be digging underground to look at a section of field that has NEVER had any tillage and compare it to the adjacent area with a history of tillage practices. In addition, there will be information on the problem of slugs and voles in the higher residue farming practices.
Northwest New York Dairy, Livestock & Field Crops - Cornell Cooperative Extension
Your Trusted Source for Research-Based Knowledge