Dairy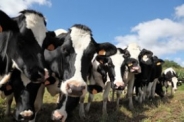 Dairy is the leading agricultural industry in New York State, and the state ranks third in the country for milk production. Our ten counties in western New York form an especially vibrant dairy region, with 943 dairy farms of many different sizes and production systems. Wyoming county is the top milk producing county in the state, producing 1.1 billion pounds annually.
Relevant Events
Summer Dairy Research Update: Heifer Reproduction & Hypocalcemia
September 6, 2017
7:00 pm - 9:00 pm
Batavia, NY
Southern Tier Stocker Initiative "Short Course"
September 30, 2017
10:00 am - 2:00 pm
Calf & Heifer Congress - 2017 "Rising Above the Challenges"
December 6 - December 7, 2017

East Syracuse, NY
Most Recent Dairy Content
Dairy Market Watch - 2017
Jerry Bertoldo, Dairy
Northwest New York Dairy, Livestock & Field Crops
Last Modified: July 31, 2017


An educational newsletter to keep producers informed of changing market factors affecting the dairy industry.
The Dairy Culture Coach June 2017
Libby Eiholzer, Bilingual Dairy
Northwest New York Dairy, Livestock & Field Crops
Last Modified: June 7, 2017


The latest issue of the Dairy Culture Coach is now available. In this issue you will find the following articles:

- Focus Group Report Executive Summary
- June Dairy Month- Dairy in Guatemala
- Washing Milk Containers
- Lavando los Contenedores de Leche
- Refrigeration
- Refrigeración
Workforce Issues and the New York Dairy Industry
Libby Eiholzer, Bilingual Dairy
Northwest New York Dairy, Livestock & Field Crops
Last Modified: June 5, 2017
Upcoming Events
Soil Health Workshop with Cover Crop Interseeder & Herbicide Demonstration

August 22, 2017
8:30 am - 3:30 pm
Albion, NY
Speakers: Wendy Taheri - a nationally recognized expert in Mycorrhizal Fungi and John Wallace - soon to be a Cornell professor with extensive experince in Drilled Interseeding of corn.
In the afternoon we will have a field demonstration of a test plot with 8 drilled interseedings of cover crops in field corn combined with a test of 4 different pre-emerge herbicides, in addition to Wendy Taheri demonstrating soil health features from a soil pit.
CCE Adirondack Railroad Excursion (Extension Employees & Family ONLY)
August 26, 2017
9:30 am - 7:00 pm
Utica, NY
Back by popular demand the Adirondack Summer Excursion will roll again on the Adirondack Scenic Railroad, The New York State Association of County Agricultural Agents (NYSACAA) is once again hosting this summer adventure. This event is open to all county, regional and campus CCE employees and their families.
You do not have to be a member of NYSACAA to attend.

Last year's trip reviews were very positive. Don't miss this opportunity to enjoy a day full of great scenery, comradery and networking with other CCE folks from around the state.
Summer Dairy Research Update: Heifer Reproduction & Hypocalcemia
September 6, 2017
7:00 pm - 9:00 pm
Batavia, NY
Line-up of speakers:
Julio O. Giordano, DVM, MS, PhD, Cornell University, St. John Family Sesquicentennial, Assistant Professor - Dairy Cattle Biology & Management Department of Animal Science
Magdalena Masello Souza, DVM, Cornell University, PhD Student - Dairy Cattle Biology & Management Lab
Robert A. Lynch, DVM, Cornell Univeristy PRO-DAIRY Program, Herd Health & Management Specialist
Northwest New York Dairy, Livestock & Field Crops - Cornell Cooperative Extension
Your Trusted Source for Research-Based Knowledge