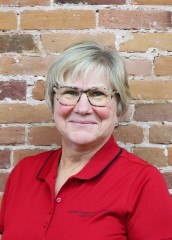 Nancy Glazier
Small Farms & Livestock Specialist
CCE Genesee County
420 East Main Street
Batavia, NY 14020
phone 585-343-3040
cell 585-315-7746
fax 585-343-1275
email Nancy
Areas of Interest
Grazing, Production, Management, and Marketing to Enhance the Viability of Family Farms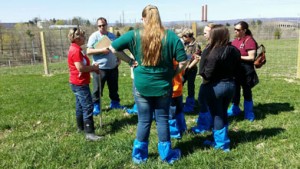 I started with the team as team assistant in 1999. In 2005, I was promoted to my current position as Small Farms Specialist. My responsibilities include conducting educational programs in grazing, livestock production, and marketing for commercial dairies and livestock farms in the 9-county region. I also conduct trainings for Beef Quality Assurance certification as a certified trainer. An important responsibility is working with beginning farmers.
Design and deliver educational programs that meet the needs of producers related issues pertaining to livestock production.


Provide technical assistance on questions from the private and public sector through phone calls, monthly team newsletters, web site updates, farm visits, discussion groups, research projects, and meetings.


Organize seasonal pasture walks.


Collaborate with Cornell faculty, staff and producers on research projects and grants that address the needs of the NY producer.



Target programs to grow, encourage and support beginning farmers.


Upcoming Events
Fertilizers and Herbicides

March 31, 2023
Mount Morris, NY
As input costs rise, it is necessary to employ the best management practices, and it can be advantageous to know what you're getting from your purchases. Plan to attend if you want to understand the terminology, calculations, formulations, and chemistry behind your fertility and herbicide recommendations.
Agritourism Workshops Monthly!
February 20, 2023
March 20, 2023
April 17, 2023
May 15, 2023
June 19, 2023
July 17, 2023

Are you thinking of starting an agritourism business or are you currently operating one?
Join our monthly lunch-hour, workshop virtual series and learn how to grow your agritourism business!
The first session will cover the basics of running an agritourism operation. The following sessions will focus on specific topic to help aspiring agritourism entrepreneurs grow their knowledge and profit through this exciting on-farm business.
Dairy Comp 305 for Spanish Speakers
April 19, 2023
This program was rescheduled from March 30th.
This workshop is for employees, supervisors or managers whose first language is Spanish and whose job entails using DC305 on a daily basis. The objective is for attendees to improve their understanding of the "language" of DC305 as well as the whys behind consistent data entry. Since DC305 is specific to each farm, the workshop will focus on general application and deeper understanding of how data is used on dairy farms.
Announcements
Join us on Facebook!
Follow us on Facebook to get up to date posts about events, workshops and everything NWNY!
Add us on LinkedIn!
Connect with us on LinkedIn to get more information about upcoming workshops and programs!
Watch Us on YouTube
Watch instructional videos from specialists in the field!
Subscribe for Emails about Events & Workshops!