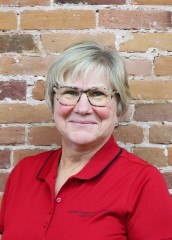 Nancy Glazier
Small Farms & Livestock
CCE Genesee County
420 East Main Street
Batavia, NY 14020
phone 585-343-3040
cell 585-315-7746
fax 585-343-1275
email Nancy
Areas of Interest
Grazing, Production, Management, and Marketing to Enhance the Viability of Family Farms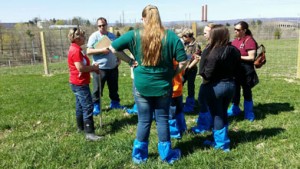 I started with the team as team assistant in 1999. In 2005, I was promoted to my current position as Small Farms Specialist. My responsibilities include conducting educational programs in grazing, livestock production, and marketing for commercial dairies and livestock farms in the 10-county region. I also conduct trainings for Beef Quality Assurance certification as a certified trainer. An important responsibility is working with beginning farmers.
Design and deliver educational programs that meet the needs of producers related issues pertaining to livestock production.


Provide technical assistance on questions from the private and public sector through phone calls, monthly team newsletters, web site updates, farm visits, discussion groups, research projects, and meetings.


Organize seasonal pasture walks.


Collaborate with Cornell faculty, staff and producers on research projects and grants that address the needs of the NY producer.



Target programs to grow, encourage and support beginning farmers.
Upcoming Events
Interseeded Cover Crops in Corn Virtual Field Day

October 28, 2020
Join us for a one hour virtual field day that focuses on interseeded cover crops in corn, herbicide resistant weed management and other weed control updates.
Price Risk Management for Dairy Farmers
November 3, 2020 : MANAGE YOUR MILK PRICE - Part 1
Dairy Margin Coverage presented by David Holck, Farm Service Agency
Forward Contracting and Such, Part 1 presented by Dr. Chris Wolf, Cornell University
Determining if Risk Management is Right for My Farm presented by Dayton Maxwell, CCE CAAHP
November 10, 2020 : MANAGE YOUR MILK PRICE - Part 2
Dairy Revenue Protection presented by Tristan Peterson, Crop Growers Insurance
Forward Contracting and Such, Part 2 presented by Dr. Chris Wolf, Cornell University
Forward Contracting Dairy Farmer Experience presented by Dan Sheldon, Woody Hill Farms. Salem, New York

Feeder Online School/Escuela en Linea para Alimentadores
November 3, 2020
November 5, 2020
November 10, 2020
November 12, 2020

The Feeder Online School is a 2 part program offered in Spanish and English. The same presentations will be offered in both the English and Spanish sessions. Each day of Feeder Online School will be held from 1:00 pm to 2:30 pm ET. The session in English will take place on November 3rd and 5th, 2020. The session in Spanish will take place on November 10th and 12th, 2020.
La Escuela en Línea para Alimentadores es un programa de 2 partes que se ofrece en español e inglés. Las mismas presentaciones se ofrecerán en las sesiones en inglés y en español. Cada día de Escuela en Línea para Alimentadores se llevará a cabo de 1:00 pm a 2:30 pm ET. La sesión en inglés tendrá lugar los días 3 y 5 de noviembre de 2020. La sesión en español tendrá lugar los días 10 y 12 de noviembre de 2020.
Announcements
*NEW* The NWNY Team Blog!
Our goal for
this blog
is to share with farmers and allied industry professionals, technical and applicable resources regarding all aspects of dairy farming, livestock and small farms, field crops and soils, and topics related to farm business management and precision agriculture.

The blog will feature Crop Alerts, Dairy Alerts, Bilingual (Spanish) Resources, Upcoming Events and more from our team members. This blog is free for everyone to use, explore and enjoy. When new material is published, subscribers will receive an email notification.

We hope you enjoy this new platform, and are looking forward to engaging with you in the future!