Pasture Walk - Wild Geese Farm - Franklinville, NY
August 21, 2019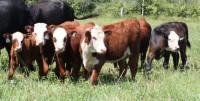 CCE Allegany County, together with the SWNY Dairy, Livestock and Field Crops Team are hosting an evening Livestock Pasture Walk on Wednesday, August 21, 2019 at Wild Geese Farm 8499 Agett Rd. Franklinville, NY 14737.
Topics include Tools for Managing Rotational Grazed Pasture with Lynn Bliven, CCE Allegany County; Weed ID and Management by Joshua Putman, SWNY Field Crops Specialist and Calculating Cost of Production presented by Katelyn Walley-Stoll, SWNY Business Management Specialist.
Evening event begins at 5:30 PM and will wrap-up at 8:30 PM. A nominal fee of $5 per person will be collected at the farm to help offset costs. So we can best prepare for the meal and materials, please RSVP by August 19th by calling Lynn Bliven (585) 268-7644 ext. 18 or emailing lao3@cornell.edu
This event will be held rain or shine, dress accordingly and bring your lawn chair. Participants will be encouraged to share their experiences and questions throughout the pasture walk. To maintain biosecurity, please wear footwear that can be easily disinfected at the farm or wear the plastic boots that fit over your boots/shoes that will be provided.
Photo by Lynn Bliven
Upcoming Events
Modern On-Farm Preparedness (All 6 Sessions)
January 23 - February 27, 2020
1-2 pm Webinars, 1-4 pm On farm
Six sessions created to help farms prepare for modern situations
- Jan 23: Urgent Situations (on-farm)
- Jan 30: F.A.R.M 4.0 Update (live webinar)
- Feb 6: Activists (live webinar)
- Feb 13: Social Media (on-farm)
- Feb 20: Disease Outbreaks & Biosecurity (live webinar)
- Feb 27: On Farm Safety - Prevention, Prevention, Prevention (on-farm)
CANCELLED - Automated Milking System (AMS) Management Discussion Group - Mt. Morris, NY
February 26, 2020
5:30pm - 8:00pm
Mount Morris, NY
EVENT CANCELLED - Will be Rescheduled at a Later Date.
Milk Quality Management in AMS systems will be our first topic, with future discussion group topics to include: lameness and cow comfort, milk production, AMS daily task efficiency, and AMS maintenance.
Modern On Farm Preparedness - On-Farm Safety
February 27, 2020
1-4 pm
Strykersville, NY
Accidents happen, but this session will focus on prevention and also address accident response.
1-4 pm at Breezyhill Dairy, 2705 N Sheldon Rd, Strykersville, NY.
Announcements
Resources for Managing Overtime
Beginning January 1, 2020, farm employers in New York will be required to pay overtime to certain employees for all hours worked over 60 in a week. We've developed some
tools to help farm employers consider management strategies
to respond to this change. Tools include an excel calculator to estimate the cost of overtime and an extension bulletin to help you consider and evaluate changes on your farm.