Event Details
Date
July 24, 2019
Time
9:00 am - 3:00 pm
Location
Letchworth Pines
6985 State Route 19A
Portageville, NY 14536
Cost
$10.00 per person, includes lunch & educational materials



Host
Northwest New York Dairy, Livestock & Field Crops
Joan Sinclair Petzen
585-786-2251 x122
email Joan Sinclair Petzen
Income and Real Property Tax Primer-A Learning Circle for Women Non-Operating Land Owners of Ag Land
July 24, 2019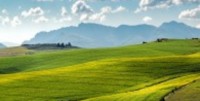 Brought to you by the Great Lakes Conservation Connect Partnership with generous support from the Great Lakes Protection Fund.
Learn about how:
Rental income affects your income tax and what expenses you can deduct to reduce the impact.
Share rental income is treated differently than cash rent for income tax purposes.
To take advantage of agricultural assessment to reduce real property taxes on rented lands.
The farm operator, who rents your land, may be able to take advantage of NYS Farmers' School Tax Credit on your land.
What to expect:
Lots of conversation about the tax considerations landowners need to think about. Be sure to bring your tax questions with you to get answers from the pros.
Discussion Leaders:
Sue Herman, CPA, with 23 years experience in agricultural taxes, and James Kirsch, Director of Real Property Services for Wyoming County.
Please pre-register by July 18, 2019 and invite a friend or family member to join you!COST: $10 per person (includes lunch and educational materials)Register online at:
https://reg.cce.cornell.edu/IncomeRealPropertyTax_072419_10508
Accommodations for person with disabilities may be requested by contacting the CCE of Wyoming County office at (585) 786-2251 ten days prior to the event. Requests received after this date will be met when possible.
The cost of the learning circle is $10.00 per person including lunch and educational materials. Register today, either on-line at:
https://reg.cce.cornell.edu/IncomeRealPropertyTax_072419_10508
or contact Lisa by phone at 585-786-2251 x 123. Space is limited. Reserve your spot today.
This learning circle is part of the "Landowners and Farmers Working Together for Clean Water in the Great Lakes Project", a collaboration between American Farmland Trust, Cornell Cooperative Extension Northwest New York Dairy Livestock and Field Crops Team, Wood County Soil and Water Conservation District, IPM Institute and Utah State University funded by the Great Lakes Protection Fund.
Upcoming Events
Weed Resistance Management Demonstration and Plot Tour

July 23, 2019
1:00 - 3:00 p.m.
Waterloo, NY
Come join us on July 23 in Seneca County at Quinten Good's farm for a demonstration and walking tour of 16 different pre- and post-emergence treatments in soybean and 12 different treatments and combinations in corn.
Tall waterhemp and marestail are two weeds that are resistant to glyphosate and ALS herbicide modes of action in the WNY and Finger Lakes regions.
Each year the number of acres with resistant weed populations expands.
For herbicides to be an effective tool in weed management, we have to know what chemistries & application timings are most effective against these resistant weeds.
Income and Real Property Tax Primer-A Learning Circle for Women Non-Operating Land Owners of Ag Land
July 24, 2019
9:00 am - 3:00 pm
Portageville, NY
For many of us taxes can be a mystery, let's have a conversation with the experts about the tax considerations agricultural landowners need to think about.
Pasture Walk with the Finger Lakes Graziers-Cancelled!
July 29, 2019
12:45 - 4 pm
The Finger Lakes Graziers pasture walk has been cancelled due to some scheduling conflicts.
Announcements
RMA Announces Additional One-time Changes to Prevented Planting Provisions
June 29, 2019
RMA Announces Additional One-time Changes to Prevented Planting Provisions
for 2019 Crop Year
In response to delayed and prevented planting resulting from above average rainfall and wetness, the USDA Risk Management Agency has made a one-time change to the 2019 crop year prevented planting rules that effectively allows silage corn, if planted as a cover crop following local agricultural expert guidelines, to be acceptable as a post-prevented planting cover crop. Under this one-time rule change, producers are allowed to produce this crop while retaining their prevented planting payment. This change couples with previously announced one-time changes to the prevented planting rules - including expanded acceptable uses for post-prevented planting cover crops and a change in the cover crop haying and grazing start date rule - serve to help those struggling to meet their forage needs due to the weather.
Read the full article
from the New York Crop Insurance Education Program.
The USDA-RMA states that "For crop insurance purposes, a cover crop is a crop generally recognized by agricultural experts as agronomically sound for the area for erosion control or other purposes related to conservation or soil improvement." PRO-DAIRY specialists Joe Lawrence and Karl Czymmek and Dr. Quirine Ketterings, Professor and Director of Cornell Nutrient Management Spear Program have
released a letter
stating "Corn on Prevented Planting acres meets these objectives."
New Guidance for Mortality Disposal Issued
NYS Department of Ag and Markets has posted guidelines on disposal of livestock carcasses, in response to reports that some rendering companies have halted pickups from farms.
https://nwnyteam.cce.cornell.edu/submission.php?id=761&crumb=dairy|1