Event Details
Date
March 21, 2019
Time
8:30 am- 4:00 pm
Location
CCE Wyoming County
36 Center St.
Warsaw, NY 14569
Cost
At the Door
$55.00 Payment accepted at door, registration appreciated

Host
Ag Workforce Development Council
Rich Stup
agworkforce.cals.cornell.edu/
Labor Road Show II- New Date & Location for WNY!
March 21, 2019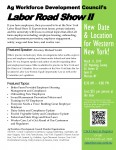 New Date & Location for Western
New York!
March 21, 2019
CCE Wyoming County
36 Center St Suite B
Warsaw, NY
8:30 AM - 4:00 PM
If you have employees, then you need to be at the New York Labor Road Show II. Experts from farms, private industry and the university will focus on critical topics that affect all farm employers including: employee housing, onboarding, sexual harassment prevention, employee engagement ,
safety, wage and hour laws, and worker care.

Featured Topics:

 Onboarding New Employees
 Sexual Harassment Prevention Policies and Training for NY Employers
 Everyone Needs a Voice: Building Great Employee Relations
 Dairy Safety and Compliance Update
 Fruit & Vegetable Safety and Compliance Update
 Federal and State Wage and Hour Laws
 Worker Care: Let's Get Ahead of Our Customers and Regulators
Cost: $55 per person at the door
**For those that were registered for the 1/31 date, please help us plan accurately by registering again. **
Or call: 315-433-0100, ext. 5595


Ag Workforce Development Council Member Organizations
NEDPA, Cornell Cooperative Extension, Cayuga Marketing, AgriMark, Up-state Niagara, New York Farm Bureau, New York Vegetable Growers Associa-tion, New York Animal Ag Coalition, Agri-Placement Services, New York Horticultural Society, Dairy Farmers of America, Farm Credit East
Labor Road Show II Flyer (PDF; 279KB)
Upcoming Events
2019 Corn Silage Pre-Harvest Workshop - Penn Yan
September 17, 2019
10:00am to Noon
Penn Yan, NY
Corn silage harvest is drawing near. The way corn silage is harvested and stored is a single event that affects your operation for the entire next year. Are you prepared to set your operation up for success?
Ontario County Fun on the Farm
September 21, 2019
11:00 am- 4:00 pm
Seneca Castle, NY
Fun on the Farm works to educate non-farm public and our neighbors about agriculture around them. It is fun and educational.
Fun on the Farm attracts thousands of people and gives us the opportunity to communicate to the community the benefits of the agricultural production in Ontario County, the state, and the nation.
The event is free! There are many agricultural products that are available to be sampled. It is the perfect place to try that product you have seen in the store but didn't want to commit to purchasing.
Food is available to purchase for lunch. It is provided by a local service group.
Bovine Reproduction and AI Training Course
September 24 - September 25, 2019
9:30am - 3:30pm
Shortsville, NY
**CLASS IS FULL**
This two-day AI workshop will be held on September 24 and 25.
Topics covered will include:

• Reproductive Physiology
• Synchronization Protocols
• Heat Detection
• Artificial Insemination
• Proper Thawing of Semen
• Loading A.I. guns
• Practice Breeding Cows
Announcements
Preventing Sexual Harassment on Farms
If you're wondering how to get your farm business in compliance with NYS Sexual Harassment Regulations, you've come to the right place.
The 2018 New York State budget included new regulations addressing sexual harassment in the workplace that became effective on October 9, 2018 for all New York employers, including agricultural employers. All employers are required to have a sexual harassment prevention policy and to provide annual, interactive sexual harassment prevention training for all employees. Check out the resources developed by Cornell Ag Workforce Development, including step-by-step instructions and farm-friendly training videos.
RMA Announces Additional One-time Changes to Prevented Planting Provisions
June 29, 2019
RMA Announces Additional One-time Changes to Prevented Planting Provisions
for 2019 Crop Year
In response to delayed and prevented planting resulting from above average rainfall and wetness, the USDA Risk Management Agency has made a one-time change to the 2019 crop year prevented planting rules that effectively allows silage corn, if planted as a cover crop following local agricultural expert guidelines, to be acceptable as a post-prevented planting cover crop. Under this one-time rule change, producers are allowed to produce this crop while retaining their prevented planting payment. This change couples with previously announced one-time changes to the prevented planting rules - including expanded acceptable uses for post-prevented planting cover crops and a change in the cover crop haying and grazing start date rule - serve to help those struggling to meet their forage needs due to the weather.
Read the full article
from the New York Crop Insurance Education Program.
The USDA-RMA states that "For crop insurance purposes, a cover crop is a crop generally recognized by agricultural experts as agronomically sound for the area for erosion control or other purposes related to conservation or soil improvement." PRO-DAIRY specialists Joe Lawrence and Karl Czymmek and Dr. Quirine Ketterings, Professor and Director of Cornell Nutrient Management Spear Program have
released a letter
stating "Corn on Prevented Planting acres meets these objectives."