Event Details
Date
March 9, 2019
Time
3 pm - 6:30 pm
Location
MyKitchen and Common Room in the Scandling Center, Hobart & William Colleges
300 Pulteney St.
Geneva, NY 14456
Host
Finger Lakes Institute at HWS
Sarah Meyer
315-781-4382
email Sarah Meyer
2019 Farmer and Chef Fair: Cut, Prep, Pair
March 9, 2019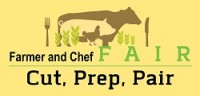 Finger Lakes livestock farmers are invited to participate in this year's "Meat & Great: Cut, Prep, Pair" event to showcase their farm's story and products. Participating farms are will be provided event space to share your farm's story with the public. Attendees will include individual consumers, food trucks, local chefs, and food buyers. Finger Lakes chefs will also be on hand offering cooking demonstrations and food samples from local meat sourced from participating farms. New this year will be a wine, beer or spirits pairing with the food samples.
This year's event will take place Saturday, March 9 from 3pm-6:30pm at Hobart William Smith College in Geneva, NY in the new location, ?MyKitchen' and Common Room in the Scandling Center. Farms are able to arrive between 2-2:30 pm to set up. Each farm will be provided with a table to set up as they see fit. Table locations are available on a first come first served basis. We ask vendors to remain for the duration of the event.
Also new this year, non-perishable products may be sold, and USDA-inspected meat may be sold, if handled properly. A certificate of insurance is required for all sales and needs to be received by the registration deadline. Electrical outlets are limited in the new space, but farms wishing to use them are required to bring extension cords. Event space is located on the first floor; there is a ramp entrance into the front of Scandling Center. Farms will also be invited to enjoy demo samples and water will be available.
Registration is $10 per farm; deadline to register is February 23, 2019. Visit the
registration page
. Check may be mailed payable to: Finger Lakes Institute at HWS and mail your check to: Finger Lakes Institute at HWS, Attn: Food Systems Program, S. Meyer; 300 Pulteney Street, Geneva, NY 14456 and must be received by February 23 to hold your spot. For facilities or registration questions, contact Sarah at 315-781-4382 or
smeyer@hws.edu
. The event is listed here, please share:
https://www.facebook.com/events/219446235676841/
. The registration link can be found there as well.
For farms wishing to sell product for the cooking demonstrations, please indicate so in your registration. Only product processed at a USDA inspected facility will be able to be sold to chefs. Once you have registered you will be contacted in a separate email about the procurement process for this year's event.
Please do not hesitate to contact us with any questions you have regarding this event.
Finger Lakes Institute at Hobart and William Smith Colleges, Sarah A. Meyer
Cornell Cooperative Extension Northwest New York Dairy, Livestock & Field Crops, Nancy Glazier
Cornell Cooperative Extension of Ontario County, Russ Welser
Cornell Cooperative Extension of Seneca, Judy Wright
Cornell Cooperative Extension of Yates County, Caroline Boutard- Hunt
(PDF; 180KB)
Upcoming Events
Cow Comfort Program- Tiestall
December 10, 2019
9:30 am - 3:00 pm
Penn Yan, NY
The Tie Stall Cow Comfort Workshop is an educational program for farmers, employees and agriservice professionals who work directly with dairy cows. Each session will include an on-farm portion where attendees walk through the farm and complete an assessment.

2019 Feed Dealers' Seminar
December 13, 2019
11:00 am - 2:00 pm
Batavia, NY
The Feed Dealer Seminars are specifically targeted for nutritionists, veterinarians, crop and management consultants, extension educators, and dairy producers with specific interest in nutrition-oriented topics.

Info Session on the Farm Laborers Fair Labor Practices Act- Newark
December 17, 2019
10:00- 11:30 am
Newark, NY
Come join the NWNY Dairy team and Agriculture Labor Specialists from NYS Department of Labor to get the answers you need.

Announcements
Preventing Sexual Harassment on Farms
If you're wondering how to get your farm business in compliance with NYS Sexual Harassment Regulations, you've come to the right place.
The 2018 New York State budget included new regulations addressing sexual harassment in the workplace that became effective on October 9, 2018 for all New York employers, including agricultural employers. All employers are required to have a sexual harassment prevention policy and to provide annual, interactive sexual harassment prevention training for all employees. Check out the resources developed by Cornell Ag Workforce Development, including step-by-step instructions and farm-friendly training videos.
RMA Announces Additional One-time Changes to Prevented Planting Provisions
June 29, 2019
RMA Announces Additional One-time Changes to Prevented Planting Provisions
for 2019 Crop Year
In response to delayed and prevented planting resulting from above average rainfall and wetness, the USDA Risk Management Agency has made a one-time change to the 2019 crop year prevented planting rules that effectively allows silage corn, if planted as a cover crop following local agricultural expert guidelines, to be acceptable as a post-prevented planting cover crop. Under this one-time rule change, producers are allowed to produce this crop while retaining their prevented planting payment. This change couples with previously announced one-time changes to the prevented planting rules - including expanded acceptable uses for post-prevented planting cover crops and a change in the cover crop haying and grazing start date rule - serve to help those struggling to meet their forage needs due to the weather.
Read the full article
from the New York Crop Insurance Education Program.
The USDA-RMA states that "For crop insurance purposes, a cover crop is a crop generally recognized by agricultural experts as agronomically sound for the area for erosion control or other purposes related to conservation or soil improvement." PRO-DAIRY specialists Joe Lawrence and Karl Czymmek and Dr. Quirine Ketterings, Professor and Director of Cornell Nutrient Management Spear Program have
released a letter
stating "Corn on Prevented Planting acres meets these objectives."