Event Details
Date
October 26 - November 9, 2018
Time
Two-day program, held two weeks apart: Oct 26th and Nov 9th, each meet at 9:30 a.m - 3:00 p.m.
Location
Day 1: 10/26 Host Farm El-Vi Farms (meet at Wayne Co CCE). Day 2: 11/9 Host Farm Reyncrest Farm
Cost
$75.00 per person for both classes
(additional attendee $75.00 ea.)

$40.00 per person for one day only
(additional attendee $40.00 ea.)


Host
Northwest New York Dairy, Livestock & Field Crops
Calving and Neonatal Calf Care Training
October 26 - November 9, 2018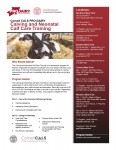 The Calving and Neonatal Calf Care Training is an educational program for farmers, employees and agri-service people who work directly with dairy cows and calves. It will cover the physiology of calving, best practices for calving interventions, and calf care immediately after delivery and in the crucial days afterward. It is a two-day program held two weeks apart and will be held on-farm with a combination of presentations, demonstrations, farm walk-through's and discussion. Each day runs from 9:30 AM to 3:00 PM. Participants can sign up for both or just one day. Registration is $75 for both days, or $40 for one day.
This program is eligible for FSA Borrower Credits.
Day 1:
Meet at Wayne County CCE, 1581 Route 88N, Newark 14513
Host Farm - El-Vi Farms, 11 Pelis Rd, Newark 14513
Calving program - calving assistance, assessment of calving situation, delivery and immediate calf care.
Day 2:
Meet at Host Farm Reyncrest Farm, 9666 Alleghany Rd. Corfu 14036
Initial calf care considerations, medication and supplementation, key points in sanitation, communication and employee training, physical examination on the calf.
Registration deadline is October 19th.
To register online with a credit card, use the registration link above.
To register with cash or check, call Linda Risewick, (585)343-3040 ext. 138. Checks should be sent to:
CCE Genesee County
NWNY Team
Attn: Linda Risewick
420 East Main St.
Batavia, NY 14020
For more information, contact Libby Eiholzer at 607.793.4847 or geg24@cornell.edu
Event Flyer (PDF; 150KB)
Upcoming Events
Mortality Disposal: Looking for Solutions Roundtable Event
September 28, 2018
9:00 a.m. - 12:00 p.m.
Warsaw, NY
Please join Cornell Waste Management Institute (CWMI), Cornell Cooperative Extension, NYS Department of Agriculture and Markets (NYSDAM) and NYS Department of Environmental Conservation (NYSDEC) for a round-table to discuss composting and burial rules and guidance, as well as problems and solutions that will encourage new and existing facilities to compost mortalities, explore incineration, digestion and any other disposal ideas that protect human, livestock and environmental health.
September 28, 2018 9 a.m. - 12 p.m. Wyoming County Ag and Business Center, 36 Center Street, Suite B, Warsaw, NY 14569. The meeting will be held in Learning Center Room #1.
Calving and Neonatal Calf Care Training
October 26 - November 9, 2018
Two-day program, held two weeks apart: Oct 26th and Nov 9th, each meet at 9:30 a.m - 3:00 p.m.
Cornell Cooperative Extension and Cornell CALS PRO-DAIRY are holding a two-day Calving and Neonatal Calf Care Training at several locations in October and November.
2018 Feed Dealer Seminar
December 14, 2018
10:00 a.m. - 2:00 p.m. with lunch provided
Batavia, NY
The Feed Dealer Seminars are specifically targeted for nutritionists, veterinarians, crop and management consultants, extension educators, and dairy producers with specific interest in nutrition-oriented topics. They are designed to blend the latest concepts in feeding and other management aspects of dairies with field level application. They have been conducted annually as a road show with multiple sites in New York for many years with an additional Vermont location held during the past several years in collaboration with the Northeast Agribusiness and Feed Alliance.
More info to come regarding the 2018 Seminar...check back soon!
Announcements
Harvest Strategies and Forage Quality Monitoring for Corn Silage
A great deal of time is spent on the basics of an optimum corn silage harvest. This time is justified as these steps are critical to a successful harvest, where the decisions made during a very short time period impact the farm's production performance and economics for the upcoming year. These important decisions include harvesting at the proper dry matter, adequate kernel processing, proper length of cut, and proper packing and covering of bunk silos. The following will cover additional considerations for understanding and managing the forage quality of the crop. For more information, please visit:
https://prodairy.cals.cornell.edu/sites/prodairy.cals.cornell.edu/files/shared/documents/Corn%20Silage%20Harvest.pdf
Webinar: Composting - Animal Mortality - Wed., September 26, 2018 2:00 pm EST
This webinar will provide viewers with an understanding of the principles of successful composting of animal mortality in routine and emergency situations. Mortality composting is a known strategy of the agricultural waste management system. The principles of proper mortality composting will be discussed. Discussions will also include the composting process, trouble shooting techniques, what is considered compost, how properly composting animal mortality impacts bio-security.
Latest Dairy Market Watch
An educational newsletter to keep producers informed of changing market factors affecting the dairy industry.
Dairy Market Watch - July 2018
New Guidance for Mortality Disposal Issued
NYS Department of Ag and Markets has posted guidelines on disposal of livestock carcasses, in response to reports that some rendering companies have halted pickups from farms.
https://nwnyteam.cce.cornell.edu/submission.php?id=761&crumb=dairy|1
Northwest New York Dairy, Livestock & Field Crops - Cornell Cooperative Extension
Your Trusted Source for Research-Based Knowledge