Event Details
Date
March 13, 2018
Time
6:00 pm - 9:00 pm
Location
NYS Experiment Station, Jordan Hall
630 W. North St.
Geneva, NY 14456
Cost
$15.00 per person



Host
Northwest New York Dairy, Livestock & Field Crops
Nancy Glazier
585-315-7746
email Nancy Glazier
Profitable Meat Marketing
March 13, 2018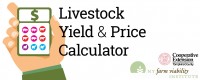 In the workshop, you will learn how to develop your farm's marketing strategy and how to set specific marketing objectives to make your job easier. In addition to marketing tips, you'll learn about Cornell Cooperative Extension's NEW Meat Price Calculator. The cost is $15 per person. A light supper will be provided. RSVP by March 9 to Nancy Glazier or online at:
https://reg.cce.cornell.edu/meatmarketing_10508
Upcoming Events
*** CLASS FULL *** Herd Manager Training - 2 Day Program, Day 2
March 23, 2018
9:30 am - 3:00 pm
Oakfield, NY
The Herd Manager Training is a 2 day program held one week apart from each other. The program will be held on farm with a combination of presentations, demonstrations, farm walk through and discussion.

Who should attend: Those who work directly with cows or train people that do.

This program is eligible for FSA Borrower Credits.

Northwest New York Dairy, Livestock & Field Crops - Cornell Cooperative Extension
Your Trusted Source for Research-Based Knowledge