Event Details
Date
January 24, 2018
Time
9:00 am - 3:00 pm
Location
Quality Inn & Suites
8250 Park Road
Batavia, NY 14020
Cost
$40.00 enrolled with the NWNY Team
(additional attendee $30.00 ea.)

$50.00 non-enrolled with the NWNY Team
(additional attendee $40.00 ea.)


Host
Lisa Aures
585-786-2251 x123
email Lisa Aures
Succession & Estate Planning Kickoff Seminar
January 24, 2018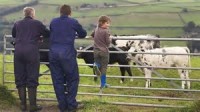 You will learn:
Why planning is critical to succeeding when a new generation joins the management team or take control of the farm business

About the legal issue surrounding asset preservation in estate and transfer planning

Communication tactics to use for building strong working relationships across the generations

Meet people who can help you develop an estate and/or succession plan that fits your farm
Topics:
Preserving Farm Assets for Future Generations

Legal Issues to Address in Estate and Farm Business Succession Planning

Communicating to Build and Strengthen Working Relationships
Speakers:
Timothy Moag - Freed, Maxick & Battaglia, CPAs PC
Steven Walker - Scolaro, Fetter, Grizanti, McGough & King, PC, Attorneys & Counselors at Law
Erica Leubner, MSW - NY FarmNet Farm Family Consultant
Succession & Estate Planning Flyer (PDF; 1095KB)
Upcoming Events
Succession & Estate Planning Kickoff Seminar
January 24, 2018
9:00 am - 3:00 pm
Batavia, NY
We encourage farm owner managers and potential entrants to the business to participate inthis seminar for an introduction to important concepts in succession and estate planning.
A series of workshops to help participants clarify their goals, identify a planning team to assist in achieving retirement, succession or estate planning oags and learn skills for communicating your ideas to your heirs or successors will be offered following his seminar.
New York Learning Circles - Conservation Values - Your Land is Your Legacy
January 25, 2018
9:00 am - 3:00 pm
Mount Morris, NY
More than one million women now own or manage farmland across America with many of these women inheriting their land from their spouse or parents. Research shows that women landowners can benefit from learning about conservation practices from other women landowners and conservation professionals. To reach the growing number of women landowners interested in conservation, American Farmland Trust, along with Cornell University Cooperative Extension, Northwest New York Dairy, Livestock & Field Crops Team & Ohio's Wood Soil & Water Conservation District, have joined together to offer a number of different opportunities to share information and learn more about preserving their land long into the future.
We hope that you can join us for 1 or more of our Learning Circles! Invite a friend or family member to join you!!!
2018 Cow Comfort Conference, "The Latest Research in Cow Comfort"
February 6 - February 7, 2018

Liverpool, NY
Along with help from partners and sponsors, the Cornell Cooperative Extension North Country Regional Ag Team and the South Central NY Dairy & Field Crops Team are hosing the 2018 Cow Comfort Conference - "The Latest in Cow Comfort". The 2nd annual installment of this conference will highlight the importance of maximizing cow comfort while showcasing the latest research and industry findings. The conference is open to anybody, and last year's attendees included a variety of producers, allied industry, extension, and students.
Northwest New York Dairy, Livestock & Field Crops - Cornell Cooperative Extension
Your Trusted Source for Research-Based Knowledge