Event Details
Date
January 24, 2018
Time
9:00 am - 3:00 pm
Location
Quality Inn & Suites
8250 Park Road
Batavia, NY 14020
Cost
$40.00 enrolled with the NWNY Team
(additional attendee $30.00 ea.)

$50.00 non-enrolled with the NWNY Team
(additional attendee $40.00 ea.)


Host
Lisa Aures
585-786-2251 x123
email Lisa Aures
Succession & Estate Planning Kickoff Seminar
January 24, 2018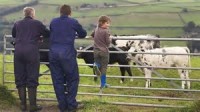 You will learn:
Why planning is critical to succeeding when a new generation joins the management team or take control of the farm business

About the legal issue surrounding asset preservation in estate and transfer planning

Communication tactics to use for building strong working relationships across the generations

Meet people who can help you develop an estate and/or succession plan that fits your farm
Topics:
Preserving Farm Assets for Future Generations

Legal Issues to Address in Estate and Farm Business Succession Planning

Communicating to Build and Strengthen Working Relationships
Speakers:
Timothy Moag - Freed, Maxick & Battaglia, CPAs PC
Steven Walker - Scolaro, Fetter, Grizanti, McGough & King, PC, Attorneys & Counselors at Law
Erica Leubner, MSW - NY FarmNet Farm Family Consultant
Succession & Estate Planning Flyer (PDF; 1095KB)
Upcoming Events
2018 CCE Adirondack Summer Excursion
July 21, 2018
9:30 am - 6:30 pm
Utica, NY
The New York State Association of Agricultural County Agents (NYSACAA) is dedicated to providing members of Cornell Cooperative Extension community with continuing education, a voice on campus and ways to keep connected with each other. Regional, statewide and national meetings bring members together for professional improvement and social interaction.
The board of directors has once again endorsed a summer social event to bring extension folks from across the state together this summer on the Adirondack Scenic Railroad
(
http://www.adirondackrr.com/adkrr
/).
You do not have to be a NYSACAA member to join us!
This excursion is open to all county, regional and campus employees and their families. It is unfortunate that there are county fairs in progress on that day, however this was the best choice for railroad operation purposes.
Pastured Pork Workshop
August 15, 2018
6:00 pm - 8:00 pm
Naples, NY
Come and hear how heritage pigs are raised on pasture.
No-Till & Never-Till Soil Health Workshop

August 28, 2018
12:00 p.m. - 5:30 p.m.
Stafford, NY
The Western New York Soil Health Alliance will be holding a Soil Health Workshop focusing on No-Till practices and benefits. They will be digging underground to look at a section of field that has NEVER had any tillage and compare it to the adjacent area with a history of tillage practices. In addition, there will be information on the problem of slugs and voles in the higher residue farming practices.
Northwest New York Dairy, Livestock & Field Crops - Cornell Cooperative Extension
Your Trusted Source for Research-Based Knowledge