Event Details
Date
February 7, 2018
Time
10:00 a.m. - 3:00 p.m.
Location
Quality Inn & Suites
8250 Park Road
Batavia, NY 14020
Cost
$35.00 enrolled with NWNY Team
(additional attendee $30.00 ea.)

$50.00 Not enrolled with NWNY Team


At the Door
$50.00

Host
Northwest New York Dairy, Livestock & Field Crops
Cathy Wallace
585-343-3040 x138
email Cathy Wallace
Pre-Registration Deadline: February 4, 2018

EVENT HAS PASSED
Soybean/Small Grains Congress - Batavia Location
February 7, 2018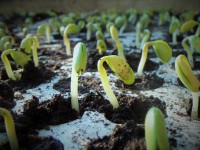 Topics to be covered:
Marestail & Waterhemp Herbicide Resistance
Disease Management Issues in Wheat & Soybeans
2017 Soybean Yield Contest Winners: How'd They Do It!
Dicamba Tolerant Beans: Learning from the Past, Looking Forward to the Future - * Fulfils Dicamba Training Certification
Intersection of Soybean Physiology & Management with Tight Margins & Greater Environmental Variability
Industrial Hemp for Small Grain Production
Small Grains Updates: Wheat & Malting Barely
Speaker Bio:

Dustin F. Lewis (PhD)

Dr. Lewis is currently the District Manager for the East Coast for BASF. Dustin grew up on a small beef cattle farm in rural East Tennessee. He received his BS and MS in Plant Sciences from the University of Tennessee and followed with a PhD in Agronomy/Crop Science/Weed Science from North Carolina State University. He has worked for BASF since 2013 and has worked his way up the ranks as Field Biologist, Tech Service Manager and Technical Marketing Manager.

Adam P. Gaspar (PhD)

Dr. Gaspar is currently the agronomist for DuPont Pioneer in northern Illinois. He grew up on the family farm in East Central South Dakota. Adam went to the University of Wisconsin for his MS and PhD and his research and extension activities in soybean and wheat have covered many aspects of modern, Midwest row crop production. His research is very applied in nature and the resulting outreach is targeted at the farm level where they can be immediately adopted by producers.

Soybean/Small Grains Brochure (PDF; 1398KB)
Upcoming Events
2018 CCE Adirondack Summer Excursion
July 21, 2018
9:30 am - 6:30 pm
Utica, NY
The New York State Association of Agricultural County Agents (NYSACAA) is dedicated to providing members of Cornell Cooperative Extension community with continuing education, a voice on campus and ways to keep connected with each other. Regional, statewide and national meetings bring members together for professional improvement and social interaction.
The board of directors has once again endorsed a summer social event to bring extension folks from across the state together this summer on the Adirondack Scenic Railroad
(
http://www.adirondackrr.com/adkrr
/).
You do not have to be a NYSACAA member to join us!
This excursion is open to all county, regional and campus employees and their families. It is unfortunate that there are county fairs in progress on that day, however this was the best choice for railroad operation purposes.
Pastured Pork Workshop
August 15, 2018
6:00 pm - 8:00 pm
Naples, NY
Come and hear how heritage pigs are raised on pasture.
No-Till & Never-Till Soil Health Workshop

August 28, 2018
12:00 p.m. - 5:30 p.m.
Stafford, NY
The Western New York Soil Health Alliance will be holding a Soil Health Workshop focusing on No-Till practices and benefits. They will be digging underground to look at a section of field that has NEVER had any tillage and compare it to the adjacent area with a history of tillage practices. In addition, there will be information on the problem of slugs and voles in the higher residue farming practices.
Northwest New York Dairy, Livestock & Field Crops - Cornell Cooperative Extension
Your Trusted Source for Research-Based Knowledge