Event Details
Date
February 7, 2018
Time
10:00 a.m. - 3:00 p.m.
Location
Quality Inn & Suites
8250 Park Road
Batavia, NY 14020
Cost
$35.00 enrolled with NWNY Team
(additional attendee $30.00 ea.)

$50.00 Not enrolled with NWNY Team


At the Door
$50.00

Host
Northwest New York Dairy, Livestock & Field Crops
Cathy Wallace
585-343-3040 x138
email Cathy Wallace
Pre-Registration Deadline: February 4, 2018

EVENT HAS PASSED
Soybean/Small Grains Congress - Batavia Location
February 7, 2018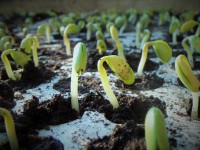 Topics to be covered:
Marestail & Waterhemp Herbicide Resistance
Disease Management Issues in Wheat & Soybeans
2017 Soybean Yield Contest Winners: How'd They Do It!
Dicamba Tolerant Beans: Learning from the Past, Looking Forward to the Future - * Fulfils Dicamba Training Certification
Intersection of Soybean Physiology & Management with Tight Margins & Greater Environmental Variability
Industrial Hemp for Small Grain Production
Small Grains Updates: Wheat & Malting Barely
Speaker Bio:

Dustin F. Lewis (PhD)

Dr. Lewis is currently the District Manager for the East Coast for BASF. Dustin grew up on a small beef cattle farm in rural East Tennessee. He received his BS and MS in Plant Sciences from the University of Tennessee and followed with a PhD in Agronomy/Crop Science/Weed Science from North Carolina State University. He has worked for BASF since 2013 and has worked his way up the ranks as Field Biologist, Tech Service Manager and Technical Marketing Manager.

Adam P. Gaspar (PhD)

Dr. Gaspar is currently the agronomist for DuPont Pioneer in northern Illinois. He grew up on the family farm in East Central South Dakota. Adam went to the University of Wisconsin for his MS and PhD and his research and extension activities in soybean and wheat have covered many aspects of modern, Midwest row crop production. His research is very applied in nature and the resulting outreach is targeted at the farm level where they can be immediately adopted by producers.

Soybean/Small Grains Brochure (PDF; 1398KB)
Upcoming Events
Calving and Neonatal Calf Care Training **CLASS FULL**
October 26 - November 9, 2018
Two-day program, held two weeks apart: Oct 26th and Nov 9th, each meet at 9:30 a.m - 3:00 p.m.
Cornell Cooperative Extension and Cornell CALS PRO-DAIRY are holding a two-day Calving and Neonatal Calf Care Training at several locations in October and November.
2018 Feed Dealer Seminar with guest speakers Dr. Tom Overton and Dr. Kristen Reed, Ph.D.
December 14, 2018
11:00 a.m. - 2:00 p.m. with lunch provided
Batavia, NY
The Feed Dealer Seminars are specifically targeted for nutritionists, veterinarians, crop and management consultants, extension educators, and dairy producers with specific interest in nutrition-oriented topics. They are designed to blend the latest concepts in feeding and other management aspects of dairies with field level application. They have been conducted annually as a road show with multiple sites in New York for many years with an additional Vermont location held during the past several years in collaboration with the Northeast Agribusiness and Feed Alliance.
Corn Congress - Batavia Location

January 9, 2019
10:00 a.m. - 3:00 p.m.
Batavia, NY
Check back periodically for more updates.
Announcements
WNY SOIL HEALTH ALLIANCE WORKSHOP & ANNUAL MEETING 12/19
Dec 19, 2018, 8:30 a.m. - 3:00 p.m. Quality Inn & Suites, 8250 Park Rd. Batavia, NY.
Kris Nichols
will be presenting information on
Regenerative Farming Practices and Hands-On Tools for Assessing Soil Health
.
John Wallace
will be presenting Penn State research on
Weed Management and Soil Health practices
. For more information contact: Dennis Kirby at 585-589-5959. DEC & CCA credits pending.
NYS Ag & Markets is interested in hearing from NY dairy farmers
NYS Commissioner of Agriculture and Markets is interested in hearing from NY dairy farmers regarding the status of the dairy industry and their ideas as to improvements that could be made to various programs and institutions that impact the financial environment of dairy markets. The survey will remain open until December 3, 2018 The results of the survey will be collected and summarized by staff of the NYSDAM. The survey does not take long to complete.
Cornell Small Farms Online Courses are now open for registration!
There are more than 20 courses to help farmers of all experience levels improve their technical and business skills.
The full list of courses can be found here:
http://smallfarms.cornell.edu/online-courses/
Harvest Strategies and Forage Quality Monitoring for Corn Silage
A great deal of time is spent on the basics of an optimum corn silage harvest. This time is justified as these steps are critical to a successful harvest, where the decisions made during a very short time period impact the farm's production performance and economics for the upcoming year. These important decisions include harvesting at the proper dry matter, adequate kernel processing, proper length of cut, and proper packing and covering of bunk silos. The following will cover additional considerations for understanding and managing the forage quality of the crop. For more information, please visit
Pro-DAIRY's website
.
Latest Dairy Market Watch
An educational newsletter to keep producers informed of changing market factors affecting the dairy industry.
Dairy Market Watch - Sept 2018
New Guidance for Mortality Disposal Issued
NYS Department of Ag and Markets has posted guidelines on disposal of livestock carcasses, in response to reports that some rendering companies have halted pickups from farms.
https://nwnyteam.cce.cornell.edu/submission.php?id=761&crumb=dairy|1
Northwest New York Dairy, Livestock & Field Crops - Cornell Cooperative Extension
Your Trusted Source for Research-Based Knowledge