Event Details
Date
February 7, 2018
Time
10:00 a.m. - 3:00 p.m.
Location
Quality Inn & Suites
8250 Park Road
Batavia, NY 14020
Cost
$35.00 enrolled with NWNY Team
(additional attendee $30.00 ea.)

$50.00 Not enrolled with NWNY Team


At the Door
$50.00

Host
Northwest New York Dairy, Livestock & Field Crops
Cathy Wallace
585-343-3040 x138
email Cathy Wallace
Soybean/Small Grains Congress - Batavia Location
February 7, 2018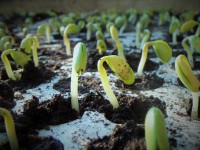 Topics to be covered:
Marestail & Waterhemp Herbicide Resistance
Disease Management Issues in Wheat & Soybeans
2017 Soybean Yield Contest Winners: How'd They Do It!
Dicamba Tolerant Beans: Learning from the Past, Looking Forward to the Future - * Fulfils Dicamba Training Certification
Intersection of Soybean Physiology & Management with Tight Margins & Greater Environmental Variability
Industrial Hemp for Small Grain Production
Small Grains Updates: Wheat & Malting Barely
Speaker Bio:

Dustin F. Lewis (PhD)

Dr. Lewis is currently the District Manager for the East Coast for BASF. Dustin grew up on a small beef cattle farm in rural East Tennessee. He received his BS and MS in Plant Sciences from the University of Tennessee and followed with a PhD in Agronomy/Crop Science/Weed Science from North Carolina State University. He has worked for BASF since 2013 and has worked his way up the ranks as Field Biologist, Tech Service Manager and Technical Marketing Manager.

Adam P. Gaspar (PhD)

Dr. Gaspar is currently the agronomist for DuPont Pioneer in northern Illinois. He grew up on the family farm in East Central South Dakota. Adam went to the University of Wisconsin for his MS and PhD and his research and extension activities in soybean and wheat have covered many aspects of modern, Midwest row crop production. His research is very applied in nature and the resulting outreach is targeted at the farm level where they can be immediately adopted by producers.

Soybean/Small Grains Brochure (PDF; 1398KB)
Upcoming Events
Succession & Estate Planning Kickoff Seminar
January 24, 2018
9:00 am - 3:00 pm
Batavia, NY
We encourage farm owner managers and potential entrants to the business to participate inthis seminar for an introduction to important concepts in succession and estate planning.
A series of workshops to help participants clarify their goals, identify a planning team to assist in achieving retirement, succession or estate planning oags and learn skills for communicating your ideas to your heirs or successors will be offered following his seminar.
New York Learning Circles - Conservation Values - Your Land is Your Legacy
January 25, 2018
9:00 am - 3:00 pm
Mount Morris, NY
More than one million women now own or manage farmland across America with many of these women inheriting their land from their spouse or parents. Research shows that women landowners can benefit from learning about conservation practices from other women landowners and conservation professionals. To reach the growing number of women landowners interested in conservation, American Farmland Trust, along with Cornell University Cooperative Extension, Northwest New York Dairy, Livestock & Field Crops Team & Ohio's Wood Soil & Water Conservation District, have joined together to offer a number of different opportunities to share information and learn more about preserving their land long into the future.
We hope that you can join us for 1 or more of our Learning Circles! Invite a friend or family member to join you!!!
2018 Cow Comfort Conference, "The Latest Research in Cow Comfort"
February 6 - February 7, 2018

Liverpool, NY
Along with help from partners and sponsors, the Cornell Cooperative Extension North Country Regional Ag Team and the South Central NY Dairy & Field Crops Team are hosing the 2018 Cow Comfort Conference - "The Latest in Cow Comfort". The 2nd annual installment of this conference will highlight the importance of maximizing cow comfort while showcasing the latest research and industry findings. The conference is open to anybody, and last year's attendees included a variety of producers, allied industry, extension, and students.
Northwest New York Dairy, Livestock & Field Crops - Cornell Cooperative Extension
Your Trusted Source for Research-Based Knowledge