Event Details
Date
August 7, 2017
Time
11:00 am - 3:00 pm
Cost
This event is free.
Host
Northwest New York Dairy, Livestock & Field Crops
Cathy Wallace
585-343-3040 x138
email Cathy Wallace
Pre-Registration Deadline: August 3, 2017

EVENT HAS PASSED
Pre-EFD Dairy Calf Intensively Managed Housing/Feeding System - "Drive Yourself Tour" and Program
August 7, 2017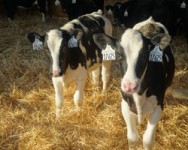 What you will see:
Synergy Genetics LLC (Synergy Farm)
- features two brand new side by side state of the art mechanically ventilated individual pen calf barns using pre-engineered fabric covered stell arch construction, an innovative automated calf bottle and nipple washing system, batch and whole milk pasteurization, and attention to details to raise high genetick calves. Each barn is 36' x 150' x 12' and houses 66 pre-weaned calves.
True Farm
- features a 3-year old group housed/group fed calve barn constructed using post-frame building technology. The barn is 54' x 210' x 14', has a flat ceiling and uses mechanical-assisted natural ventilation. Three DeLaval CT 1000+ autofeeders supply a 26:18 milk replacer to six feeding stations, with one feeding station per 20-calf pen.
Cost:
No cost but
PRE-REGISTRATION
is required so we can plan lunch and refreshments accordingly that are covered by tour sponsors.
Registration Information:
Registration will be limited to the first 100 people; there will be two tours, Tour A (starting at True Farm) and Tour B (starting at Synergy Farm), and registratnts will be assigned to a tour group at the time of registration.
NOTE:
When registering, please
INCLUDE
your email address so we can notify you on what Tour Group you are assigned to, farm address and other details.
Sponsors:
We sincerely thank the sponsors of this event, including: Agri-Plastics, Cidec, LLC., Craigs Station Creamery, DeLaval Castile, Farm Credit East and Fred's Tent.
This year's Empire Farm Days is slated for August 8 through 10 at the Rodman Lott & Son Farms near Seneca Falls, NY. The
2017 Dairy Profit Seminars
will include:
Robotics and Maximizing Milk Per Box: Grouping and Feeding;
Transitioning to Automatic Milking Systems: What Have We Learned?; and
Is your farm a Member of the 7 Pound Club? Leading dairy producers into the next frontier of maximizing pounds of components produced, while maintaining profitability.
Each seminar has been approved for up to 1.50 Dairy AdvanCE continuing education (CE) credits. Dairy AdvanCE is a continuing education accreditation provider for dairy producers and other dairy industry professionals. The seminars are a collaboration between Cornell PRO-DAIRY, Northeast Dairy Producers Association (NEDPA) and DairyBusiness & HolsteinWorld magazine. Each session will be held at the Dairy Seminar Center, located on the show grounds. They are free and open to the public. Sponsors include: ASAP Interiors, Dairy Farmers of America, Farm Credit East, Farm Family Casualty Insurance, PikeSide Enterprises and Purina Animal Health.


Schedule Tour A
Starts at True Farm
11:00 a.m. Welcome - Jeff True
11:10 a.m. Why group housed/group fed calves? - Jeff and Corwin Holtz, Holtz Nelson Consulting
11:25 a.m. Tour calf barn and facilitated discussion
11:45 a.m. Closing remarks
11:50 a.m. Depart for Synergy Farm
12:15 p.m. Lunch and visit sponsors at Synergy Farm
1:00 p.m. Guest Speaker - Dr. Fernando Soberon, Shur Gain "Bringing it all together for calf success"
1:45 p.m. Welcome - John Rudgers
1:55 p.m. Why individual housed/individual fed calves in a controlled environment barn?
2:05 p.m. Overview of the Cornell neutral ventilation system/results - Curt Gooch, Cornell PRO-DAIRY
2:15 p.m. Tour neutral ventilated calf barn and facilitated discussion
3:00 p.m. Closing remarks


Schedule Tour B

Starts at Synergy Farm
11:00 a.m. Welcome - John Rudgers
11:10 a.m. Why individual housed/individual fed calves in a controlled environment barn?
11:25 a.m. Overview of the Cornell neutral ventilation system/results - Curt Gooch, Cornell PRO-DAIRY
11:40 a.m. Tour neutral ventilated calf barn and facilitated discussion
12:15 p.m. Lunch
1:00 p.m. Guest Speaker - Dr. Fernando Soberon, Shur Gain "Bringing it all together for calf success"
1:45 p.m. Depart for True Farm
2:05 p.m. Welcome - Jeff True
2:15 p.m. Why group housed/group fed calves? - Jeff and Corwin Holtz, Holtz Nelson Consulting
2:30 p.m. Tour calf barn and facilitated discussion
3:00 p.m. Closing remarks