Event Details
Date
May 20, 2017
Time
7:00 p.m. - 9:00 p.m.
Location
CCE - Wyoming County
36 Center Street, Suite B
Warsaw, NY 14569
Host
Parnell
Dave Keller
913-242-0549
email Dave Keller
Pre-Registration Deadline: May 15, 2017
Successful Reproductive Management Forum - Wyoming Location
May 20, 2017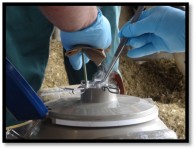 Wesley Smith - Herd Manager (both sites)
Fairvue Farms, Woodstock, CT
Running over 30% preg rate for the year. Four of the last 5 are over 40%. Fairvue is now branching out to include providing ET recips as part of the repro plan.
Joey Kwilos - Reproduction Manager (both sites)
Phillips Family Farm., North Collins, NY
Average 21 day preg rate of 35% with a high of 43% and a low of 29%. Consistently one of the premier Repro herds in the area.
Scott Yetter - Reproduction Manager (Canandaigua only)
Cornell University Dairy Research Center, Harford, NY
Scott is a former AI technician and has a unique story as the herd is running a very high preg rate despite cows being used for research.
Lyman Rudgers - owner (Warsaw only)
Rudgers Registered Jerseys, Attica, NY
High Production and High Repro Herd. A finalist in last year's DCRC Awards Program.
Reproductive Flyer (PDF; 441KB)
Upcoming Events
Malting Barley, Wheat & Rye Twilight Tour
June 21, 2018
5:30 p.m
Geneva, NY
Come walk through the Cornell winter malting barley, wheat and hybrid rye variety trial and take a tour of all the varieties being tested in 2018.
See which varieties will look good on your farm next year!
2018 CCE Adirondack Summer Excursion
July 21, 2018
9:30 am - 6:30 pm
Utica, NY
The New York State Association of Agricultural County Agents (NYSACAA) is dedicated to providing members of Cornell Cooperative Extension community with continuing education, a voice on campus and ways to keep connected with each other. Regional, statewide and national meetings bring members together for professional improvement and social interaction.
The board of directors has once again endorsed a summer social event to bring extension folks from across the state together this summer on the Adirondack Scenic Railroad
(
http://www.adirondackrr.com/adkrr
/).
You do not have to be a NYSACAA member to join us!
This excursion is open to all county, regional and campus employees and their families. It is unfortunate that there are county fairs in progress on that day, however this was the best choice for railroad operation purposes.
Corn Congress - Batavia Location

January 9, 2019
10:00 a.m. - 3:00 p.m.
Batavia, NY
Check back periodically for more updates.
Announcements
Latest Dairy Market Watch
An educational newsletter to keep producers informed of changing market factors affecting the dairy industry.
How to Read Dairy Market Watch
.
Dairy Market Watch - May 2018
1st Cutting Forage Quality Update - May 18, 2018
This is the first week of monitoring 1st cutting for quality this year. Our procedure consists of using alfalfa height to predict Neutral Detergent Fiber (NDF) for alfalfa, alfalfa/grass mixed and grass stands. Alfalfa height has proven to be a reliable indicator of NDF values in the field.
Click here for the rest of the information and chart.
Northwest New York Dairy, Livestock & Field Crops - Cornell Cooperative Extension
Your Trusted Source for Research-Based Knowledge