Event Details
Date
May 20, 2017
Time
7:00 p.m. - 9:00 p.m.
Location
CCE - Wyoming County
36 Center Street, Suite B
Warsaw, NY 14569
Host
Parnell
Dave Keller
913-242-0549
email Dave Keller
Pre-Registration Deadline: May 15, 2017
Successful Reproductive Management Forum - Wyoming Location
May 20, 2017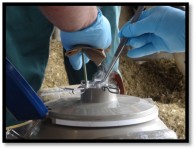 Wesley Smith - Herd Manager (both sites)
Fairvue Farms, Woodstock, CT
Running over 30% preg rate for the year. Four of the last 5 are over 40%. Fairvue is now branching out to include providing ET recips as part of the repro plan.
Joey Kwilos - Reproduction Manager (both sites)
Phillips Family Farm., North Collins, NY
Average 21 day preg rate of 35% with a high of 43% and a low of 29%. Consistently one of the premier Repro herds in the area.
Scott Yetter - Reproduction Manager (Canandaigua only)
Cornell University Dairy Research Center, Harford, NY
Scott is a former AI technician and has a unique story as the herd is running a very high preg rate despite cows being used for research.
Lyman Rudgers - owner (Warsaw only)
Rudgers Registered Jerseys, Attica, NY
High Production and High Repro Herd. A finalist in last year's DCRC Awards Program.
Reproductive Flyer (PDF; 441KB)
Upcoming Events
Pre-EFD Dairy Calf Intensively Managed Housing/Feeding System - "Drive Yourself Tour" and Program
August 7, 2017
11:00 am - 3:00 pm
This is a "drive yourself tour" of two farms in Wyoming County in conjuction with PRO-DAIRY.
Soil Health Workshop with Cover Crop Interseeder & Herbicide Demonstration

August 22, 2017
8:30 am - 3:30 pm
Albion, NY
Speakers: Wendy Taheri - a nationally recognized expert in Mycorrhizal Fungi and John Wallace - soon to be a Cornell professor with extensive experince in Drilled Interseeding of corn.
In the afternoon we will have a field demonstration of a test plot with 8 drilled interseedings of cover crops in field corn combined with a test of 4 different pre-emerge herbicides, in addition to Wendy Taheri demonstrating soil health features from a soil pit.
CCE Adirondack Railroad Excursion (Extension Employees & Family ONLY)
August 26, 2017
9:30 am - 7:00 pm
Utica, NY
Back by popular demand the Adirondack Summer Excursion will roll again on the Adirondack Scenic Railroad, The New York State Association of County Agricultural Agents (NYSACAA) is once again hosting this summer adventure. This event is open to all county, regional and campus CCE employees and their families.
You do not have to be a member of NYSACAA to attend.

Last year's trip reviews were very positive. Don't miss this opportunity to enjoy a day full of great scenery, comradery and networking with other CCE folks from around the state.
Announcements
Hail Damage: Resources for Replanting Decisions
Reports of hail have come in from various areas of the state, worse in some areas than others. If hail was significant in your area it will be important to get out and look at fields to assess damage. Corn is quite tolerant of defoliation at the growth stages being reported around the state, as long as the growing point was not injured. See
tables
with estimated yield reductions based on percent defoliation and stage of growth.
In the event that the field does need to be replanted there are still some options. A recent newsletter from Tom Kilcer at Advanced Ag Systems provides timely information on remaining options for forage needs.
Crop Soil News - Spring Planting in July
With any emergency forage the first questions are when can we get it in the ground and what will it yield; however, it is very important to think ahead on how this extra forage will fit into your system.
Who will you feed it to?
How will you store it so it is accessible for feeding the to the intended group of animals?
How much of it will you have, will there be enough tons (acres planted x yield) to incorporate into your feeding programs without drastic disruptions in the animals diet that could lead to other issues?
It is good to involve your nutritionist in conversations about what crop options exist and how they could best be utilized.

Please contact us or your local CCE specialist with any additional questions.

Latest Dairy Market Watch
An educational newsletter to keep producers informed of changing market factors affecting the dairy industry.
How to Read Dairy Market Watch
.
Dairy Market Watch - June 2017
Northwest New York Dairy, Livestock & Field Crops - Cornell Cooperative Extension
Your Trusted Source for Research-Based Knowledge