Event Details
Date
May 19, 2017
Time
7:00 p.m. - 9:00 p.m.
Location
CCE - Ontario County
480 North Main Street
Canandaigua, NY 14424
Host
Parnell
Dave Keller
913-242-0549
email Dave Keller
Pre-Registration Deadline: May 15, 2017
Successful Reproductive Management Forum - Ontario Location
May 19, 2017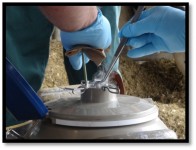 Wesley Smith - Herd Manager (both sites)
Fairvue Farms, Woodstock, CT
Running over 30% preg rate for the year. Four of the last 5 are over 40%. Fairvue is now branching out to include providing ET recips as part of the repro plan.
Joey Kwilos - Reproduction Manager (both sites)
Phillips Family Farm., North Collins, NY
Average 21 day preg rate of 35% with a high of 43% and a low of 29%. Consistently one of the premier Repro herds in the area.
Scott Yetter - Reproduction Manager (Canandaigua only)
Cornell University Dairy Research Center, Harford, NY
Scott is a former AI technician and has a unique story as the herd is running a very high preg rate despite cows being used for research.
Lyman Rudgers - owner (Warsaw only)
Rudgers Registered Jerseys, Attica, NY
High Production and High Repro Herd. A finalist in last year's DCRC Awards Program.
Reproductive Flyer (PDF; 441KB)
Upcoming Events
Succession & Estate Planning Kickoff Seminar
January 24, 2018
9:00 am - 3:00 pm
Batavia, NY
We encourage farm owner managers and potential entrants to the business to participate inthis seminar for an introduction to important concepts in succession and estate planning.
A series of workshops to help participants clarify their goals, identify a planning team to assist in achieving retirement, succession or estate planning oags and learn skills for communicating your ideas to your heirs or successors will be offered following his seminar.
New York Learning Circles - Conservation Values - Your Land is Your Legacy
January 25, 2018
9:00 am - 3:00 pm
Mount Morris, NY
More than one million women now own or manage farmland across America with many of these women inheriting their land from their spouse or parents. Research shows that women landowners can benefit from learning about conservation practices from other women landowners and conservation professionals. To reach the growing number of women landowners interested in conservation, American Farmland Trust, along with Cornell University Cooperative Extension, Northwest New York Dairy, Livestock & Field Crops Team & Ohio's Wood Soil & Water Conservation District, have joined together to offer a number of different opportunities to share information and learn more about preserving their land long into the future.
We hope that you can join us for 1 or more of our Learning Circles! Invite a friend or family member to join you!!!
2018 Cow Comfort Conference, "The Latest Research in Cow Comfort"
February 6 - February 7, 2018

Liverpool, NY
Along with help from partners and sponsors, the Cornell Cooperative Extension North Country Regional Ag Team and the South Central NY Dairy & Field Crops Team are hosing the 2018 Cow Comfort Conference - "The Latest in Cow Comfort". The 2nd annual installment of this conference will highlight the importance of maximizing cow comfort while showcasing the latest research and industry findings. The conference is open to anybody, and last year's attendees included a variety of producers, allied industry, extension, and students.
Northwest New York Dairy, Livestock & Field Crops - Cornell Cooperative Extension
Your Trusted Source for Research-Based Knowledge