Event Details
Date
March 20 - March 21, 2017
Location
Holiday Inn
441 Electronics Parkway
Liverpool, NY 13088
Cost
$175.00 Pre-registration before 02/20/2017


$275.00 Registration after 02/20/2017



Host
Northern NY Regional Ag Team
Tatum Langworthy
315-788-8450
email Tatum Langworthy
Pre-Registration Deadline: February 19, 2017
Cow Comfort Conference
March 20 - March 21, 2017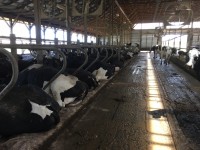 The Keynote Speaker is
: Dr. Gordie Jones, a partner in Central Sands Dairy, LLC in Wisconsin, and an internationally known consultant on dairy herd performance, nutrition, dairy housing and facilities, expansion, dairy management, SOP's, and cow comfort.
Other speakers include:
Dan McFarland, Agricultural Engineering Educator, Penn State Extension
Dr. Heather Dann, Research Scientist, Miner Institute
Emily Yeiser Stepp, Director, National FARM Animal Care Program, National Milk Producers Federation
Dr. Albert De Vries, Associate Professor, Department of Animal Sciences, University of Florida
Dr. Rob Lynch, Dairy Herd Health & Management Specialist, PRO-DAIRY
Topics include:
Understanding the importance of cow comfort
Maximizing cow comfort through facility design
Understanding when to retrofit and when to rebuild
The economics of cow comfort
Using on-farm automation to improve cow comfort
Update on National F.A.R.M. Program
Producer panel discussing on-farm automation, manure solids bedding, and retrofitting barns
Upcoming Events
2018 CCE Adirondack Summer Excursion
July 21, 2018
9:30 am - 6:30 pm
Utica, NY
The New York State Association of Agricultural County Agents (NYSACAA) is dedicated to providing members of Cornell Cooperative Extension community with continuing education, a voice on campus and ways to keep connected with each other. Regional, statewide and national meetings bring members together for professional improvement and social interaction.
The board of directors has once again endorsed a summer social event to bring extension folks from across the state together this summer on the Adirondack Scenic Railroad
(
http://www.adirondackrr.com/adkrr
/).
You do not have to be a NYSACAA member to join us!
This excursion is open to all county, regional and campus employees and their families. It is unfortunate that there are county fairs in progress on that day, however this was the best choice for railroad operation purposes.
Pastured Pork Workshop
August 15, 2018
6:00 pm - 8:00 pm
Naples, NY
Come and hear how heritage pigs are raised on pasture.
No-Till & Never-Till Soil Health Workshop

August 28, 2018
12:00 p.m. - 5:30 p.m.
Stafford, NY
The Western New York Soil Health Alliance will be holding a Soil Health Workshop focusing on No-Till practices and benefits. They will be digging underground to look at a section of field that has NEVER had any tillage and compare it to the adjacent area with a history of tillage practices. In addition, there will be information on the problem of slugs and voles in the higher residue farming practices.
Northwest New York Dairy, Livestock & Field Crops - Cornell Cooperative Extension
Your Trusted Source for Research-Based Knowledge