Event Details
Date
March 20 - March 21, 2017
Location
Holiday Inn
441 Electronics Parkway
Liverpool, NY 13088
Cost
$175.00 Pre-registration before 02/20/2017


$275.00 Registration after 02/20/2017



Host
Northern NY Regional Ag Team
Tatum Langworthy
315-788-8450
email Tatum Langworthy
Pre-Registration Deadline: February 19, 2017
Cow Comfort Conference
March 20 - March 21, 2017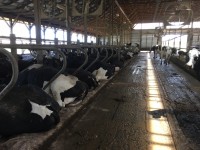 The Keynote Speaker is
: Dr. Gordie Jones, a partner in Central Sands Dairy, LLC in Wisconsin, and an internationally known consultant on dairy herd performance, nutrition, dairy housing and facilities, expansion, dairy management, SOP's, and cow comfort.
Other speakers include:
Dan McFarland, Agricultural Engineering Educator, Penn State Extension
Dr. Heather Dann, Research Scientist, Miner Institute
Emily Yeiser Stepp, Director, National FARM Animal Care Program, National Milk Producers Federation
Dr. Albert De Vries, Associate Professor, Department of Animal Sciences, University of Florida
Dr. Rob Lynch, Dairy Herd Health & Management Specialist, PRO-DAIRY
Topics include:
Understanding the importance of cow comfort
Maximizing cow comfort through facility design
Understanding when to retrofit and when to rebuild
The economics of cow comfort
Using on-farm automation to improve cow comfort
Update on National F.A.R.M. Program
Producer panel discussing on-farm automation, manure solids bedding, and retrofitting barns
Upcoming Events
VFD Regulations - What Does It Mean for Livestock Owners & Beekeepers
March 28, 2017
6:00pm - 8:00 pm
Warsaw, NY
If you want to learn more about the VFD, Veterinarian Feed Directive, and how it might affect you and home treatments of your livestock, plan to attend this information session.

Getting Started in Agritourism Workshop, Creating a Destination Farm
March 30, 2017
8:30 am - 3:00 pm
Rochester, NY
Cornell Extensions of Monroe and Tompkins County proudly invites farmers, food entrepreneurs, horse-farm owners, and other Agribusiness operators to attend the Agritourism workshop.

NYS Livestock Summit - Montour Falls Location
March 30, 2017
1:00 pm - 4:00 pm
Montour Falls, NY
Calling experienced livestock producers: We know you face tremendous challenges to grow your business. What are the undeveloped opportunities and how can we collectively address them?

Announcements
Heavy Snow Loads
The recent accumulation of snow in many areas throughout NYS has caused some agricultural buildings to fail. Failure can be the result of several itmes linked to the snow load present on the building. This document talks about snow accumulation and points about understanding pending barn failures.
Click here to read the rest of the article.
Do's and Don'ts for Barn Snow Removal
Removal of significant snow accumulations off of a barn roof is best performed in a systematic way to reduce the risk of injury or death to both barn occupants and those working on the roof. Removing roof snow without a proper approach may actually cause more damage than if left alone in some cases by creating an unbalanced and/or concentrated roof load. This document explains the proper approach to removing accumulated snow from roofs.
Click here to read the rest of the article.
Latest Dairy Market Watch
An educational newsletter to keep producers informed of changing market factors affecting the dairy industry.
How to Read Dairy Market Watch
.
Dairy Market Watch - February 2017
Northwest New York Dairy, Livestock & Field Crops - Cornell Cooperative Extension
Your Trusted Source for Research-Based Knowledge