Pasture Walk - Niagara County
---
Event Details
Date
September 8, 2022
Time
6:00pm - 8:00pm
Location
Al-Noor Farm
2027 Langdon Rd
Ransomville, NY 14131
Host
Northwest New York Dairy, Livestock & Field Crops
Nancy Glazier
585-315-7746
email Nancy Glazier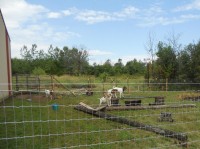 Join us for a pasture walk and talk Thursday, September 8th from 6:00 - 8:00pm at Al-Noor Farm in Ransomville, NY. They are new to farming and would like to share their progress so far. They are building fences, setting up paddocks, and renovating a barn for their goat herd. They will be targeting their meat to ethnic customers through on-farm Halal and Kosher slaughter. This will be a great opportunity to learn about goats and grazing as well as share your expertise with others.
Cornell Cooperative Extension, Niagara Soil & Water Conservation District, and Natural Resources Conservation Service have been providing early guidance to the farm and are organizing the event.
The pasture walk is free, but preregistration is required by calling Cornell Cooperative Extension at 716-433-8839 or emailing djf18@cornell.edu by September 6th.
A meal will be provided by the farm.


Upcoming Events
Webinar-Challenges and Opportunities of Managing Transition Cows on AMS
June 1, 2023
Please join MSU Extension and Cornell Cooperative Extension Regional Teams for our talk with Pete Maslyn of Hemdale Dairy and Todd Ward of Direct Dairy Nutrition Services on managing transition cows on automated milking systems (AMS).
2023 Dairy Nutrition & Management Shortcourse
June 5 - June 9, 2023
Chazy, NY
This course is designed primarily for early career nutritionists and allied industry professionals seeking a more comprehensive foundation in the principles of dairy cattle nutrition and their application within dairy herd management.
Agritourism Workshops Monthly! - Agritourism Pricing Workshop
June 20, 2023
Are you thinking of starting an agritourism business or are you currently operating one?

Join our monthly lunch-hour, workshop virtual series and learn how to grow your agritourism business!
Each session will focus on specific topic to help aspiring agritourism entrepreneurs grow their knowledge and profit through this exciting on-farm business.

Cost: Free to attend, but registration required!

Announcements
Follow us on Instagram
See photos and reels of our most recent events and programs!
Join us on Facebook!
Follow us on Facebook to get up to date posts about events, workshops and everything NWNY!
Add us on LinkedIn!
Connect with us on LinkedIn to get more information about upcoming workshops and programs!
Watch us on YouTube
Watch instructional videos from specialists in the field!
Subscribe for Emails about Events & Workshops!