Regional Dry Down Day- Seneca County
---
Event Details
Date
September 9, 2022
Time
10am - 2pm
Location
Keystone Mills
1975 State Route 336
Romulus, NY 14541
Host
Northwest New York Dairy, Livestock & Field Crops
Margaret Quaassdorff
585-405-2567
email Margaret Quaassdorff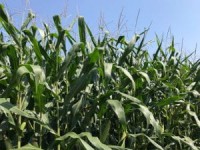 The CCE NWNY Dairy, Livestock, and Field Crops Team will be working with Keystone Mills in Romulus, NY to put on a Dry-Down Day on September 9th, 2022 from 10:00am to 2:00pm.

Farmers in the local area are encouraged to cut a bundle of 3 stalks from each corn field that they would like to be tested for dry matter, and bring them to the mill between 10:00am and 2:00pm on that day.
CCE NWNY team members will be there with a wood chipper to chip down the stalks and several drying options to determine current dry matter of whole corn plants. Based on the dry matter percentage of your corn stalks, we will be able to provide you with an estimate of your optimal harvest date. There will not be a formal presentation, though information on best management practices for 2022 Corn Silage Harvest will be provided. You do not have to wait around to get your results, but feel to take advantage of the opportunity to ask your questions and have some refreshments. There is no cost for this program, and all are welcome to attend.
Sampling details: Sample corn stalks should be from a representative area in the field, and should be cut the morning of September 3rd at the height you plan to set your chopper. If you are unable to bring your stalks to the mill during the dry down timeframe, please reach out to Margaret Quaassdorff (585-405-2567) to make a plan before the 9th to get your samples picked up.
Thank you to Keystone Mills for hosting this event.

What: Seneca County Regional Dry-Down Day
When: September 9, 2022
Time: 10:00am-2:00pm
Location: Keystone Mills; 1975 State Route 336, Romulus, NY 14541


Upcoming Events
Beef Quality Assurance (BQA) Training
October 8, 2022
Attica, NY
Beef Quality Assurance (BQA) is a nationwide certification program to help ensure a safe, wholesome, and quality beef product for consumers. Topics covered include herd health management, nutrition, behavior, and handling. Producers attending the training will become Level 2 certified.
Fall Update on Highly Pathogenic Avian Influenza Outbreak
October 12, 2022
All poultry famers, hobbyists, and enthusiasts are invited to join Cornell Cooperative Extension's Livestock Program Work Team and NYS Agriculture and Markets to learn more about this disease, what we know so far about the current outbreak, and how we should prepare moving into the heart of the fall migration.
2022 Feeder School - November 10
November 10, 2022
Join the NWNY Team Dairy Specialists for a one day on-farm training for dairy farm feeders. The training is offered in English and Spanish and will feature stations with hands-on activities and demonstrations.
Announcements
The NWNY Team Blog
Our goal for
this blog
is to share with farmers and allied industry professionals, technical and applicable resources regarding all aspects of dairy farming, livestock and small farms, field crops and soils, and topics related to farm business management and precision agriculture.

The blog will feature Crop Alerts, Dairy Alerts, Bilingual (Spanish) Resources, Upcoming Events and more from our team members. This blog is free for everyone to use, explore and enjoy. When new material is published, subscribers will receive an email notification.

We hope you enjoy this new platform, and are looking forward to engaging with you in the future!