Regional Dry Down Day- Seneca County
---
Event Details
Date
September 9, 2022
Time
10am - 2pm
Location
Keystone Mills
1975 State Route 336
Romulus, NY 14541
Host
Northwest New York Dairy, Livestock & Field Crops
Margaret Quaassdorff
585-405-2567
email Margaret Quaassdorff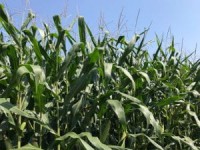 The CCE NWNY Dairy, Livestock, and Field Crops Team will be working with Keystone Mills in Romulus, NY to put on a Dry-Down Day on September 9th, 2022 from 10:00am to 2:00pm.

Farmers in the local area are encouraged to cut a bundle of 3 stalks from each corn field that they would like to be tested for dry matter, and bring them to the mill between 10:00am and 2:00pm on that day.
CCE NWNY team members will be there with a wood chipper to chip down the stalks and several drying options to determine current dry matter of whole corn plants. Based on the dry matter percentage of your corn stalks, we will be able to provide you with an estimate of your optimal harvest date. There will not be a formal presentation, though information on best management practices for 2022 Corn Silage Harvest will be provided. You do not have to wait around to get your results, but feel to take advantage of the opportunity to ask your questions and have some refreshments. There is no cost for this program, and all are welcome to attend.
Sampling details: Sample corn stalks should be from a representative area in the field, and should be cut the morning of September 3rd at the height you plan to set your chopper. If you are unable to bring your stalks to the mill during the dry down timeframe, please reach out to Margaret Quaassdorff (585-405-2567) to make a plan before the 9th to get your samples picked up.
Thank you to Keystone Mills for hosting this event.

What: Seneca County Regional Dry-Down Day
When: September 9, 2022
Time: 10:00am-2:00pm
Location: Keystone Mills; 1975 State Route 336, Romulus, NY 14541


Upcoming Events
Webinar-Challenges and Opportunities of Managing Transition Cows on AMS
June 1, 2023
Please join MSU Extension and Cornell Cooperative Extension Regional Teams for our talk with Pete Maslyn of Hemdale Dairy and Todd Ward of Direct Dairy Nutrition Services on managing transition cows on automated milking systems (AMS).
2023 Dairy Nutrition & Management Shortcourse
June 5 - June 9, 2023
Chazy, NY
This course is designed primarily for early career nutritionists and allied industry professionals seeking a more comprehensive foundation in the principles of dairy cattle nutrition and their application within dairy herd management.
Agritourism Workshops Monthly! - Agritourism Pricing Workshop
June 20, 2023
Are you thinking of starting an agritourism business or are you currently operating one?

Join our monthly lunch-hour, workshop virtual series and learn how to grow your agritourism business!
Each session will focus on specific topic to help aspiring agritourism entrepreneurs grow their knowledge and profit through this exciting on-farm business.

Cost: Free to attend, but registration required!

Announcements
Follow us on Instagram
See photos and reels of our most recent events and programs!
Join us on Facebook!
Follow us on Facebook to get up to date posts about events, workshops and everything NWNY!
Add us on LinkedIn!
Connect with us on LinkedIn to get more information about upcoming workshops and programs!
Watch us on YouTube
Watch instructional videos from specialists in the field!
Subscribe for Emails about Events & Workshops!