NY Soil Health Field Day in Pavilion, NY
---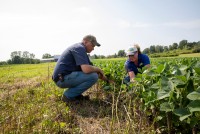 American Farmland Trust invites you to join them in this field day. They will share practical, field-tested results of advanced regenerative practices targeted to dairy, field and specialty crop farmers. Come learn from producer Jay Swede about his evaluation of planting green to minimize herbicide and fertilizer use, improve soil health, and maintain productivity. A panel of Genesee River farmers will discuss how soil regenerative practices have impacted their farm's profitability. This year we highlight a presentation from Kristen Loria from Cornell University who will speak about Organic Methods for Cover Cropping Success. A complimentary lunch will be served. There is no cost to attend, refreshments, and education materials will be provided. Link to register.
This field day is part of the Genesee River Demonstration Farm Network project, a collaboration between American Farmland Trust, Western New York Crop Management Association, Cornell Cooperative Extension Northwest New York Dairy Livestock and Field Crops team and the Genesee River Watershed Coalition of Soil and Water Conservation Districts. This project is funded by the Natural Resources Conservation Service (NRCS), EPA's Great Lakes Restoration Initiative, New York Farm Viability Institute, and the New York Corn and Soybeans Association.
Agenda
9:00 - 9:45: Welcome and Introductions
9:45 - 10:15: Dave DeGolyer, WNY Crop Management Association, On-Farm Demo Plots Evaluating the Benefits and Challenges of Planting Green in Western New York
10:15 - 10:45: Debbie Aller, Cornell University, Healthy Soil for Climate Adaptation
10:45 - 11:15: Kristen Loria, Cornell University, Organic Methods for Cover Cropping Success
11:15 - 12:00 : Farmer Panel - Jay Swede, Pete Zeliff, Matt Toussaint
12:00 - 1:00: Buffet Lunch (provided)
1:00 - 3:00: Cover Crop Field Tour and Soil Pit, Rod Porter, Kings AgriSeeds and NRCS Soil Scientist Nicole Kubiczki


Upcoming Events
Webinar-Challenges and Opportunities of Managing Transition Cows on AMS
June 1, 2023
Please join MSU Extension and Cornell Cooperative Extension Regional Teams for our talk with Pete Maslyn of Hemdale Dairy and Todd Ward of Direct Dairy Nutrition Services on managing transition cows on automated milking systems (AMS).
2023 Dairy Nutrition & Management Shortcourse
June 5 - June 9, 2023
Chazy, NY
This course is designed primarily for early career nutritionists and allied industry professionals seeking a more comprehensive foundation in the principles of dairy cattle nutrition and their application within dairy herd management.
Agritourism Workshops Monthly! - Agritourism Pricing Workshop
June 20, 2023
Are you thinking of starting an agritourism business or are you currently operating one?

Join our monthly lunch-hour, workshop virtual series and learn how to grow your agritourism business!
Each session will focus on specific topic to help aspiring agritourism entrepreneurs grow their knowledge and profit through this exciting on-farm business.

Cost: Free to attend, but registration required!

Announcements
Follow us on Instagram
See photos and reels of our most recent events and programs!
Join us on Facebook!
Follow us on Facebook to get up to date posts about events, workshops and everything NWNY!
Add us on LinkedIn!
Connect with us on LinkedIn to get more information about upcoming workshops and programs!
Watch us on YouTube
Watch instructional videos from specialists in the field!
Subscribe for Emails about Events & Workshops!