NY Soil Health Field Day in Pavilion, NY
---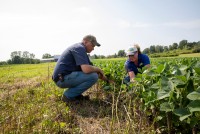 American Farmland Trust invites you to join them in this field day. They will share practical, field-tested results of advanced regenerative practices targeted to dairy, field and specialty crop farmers. Come learn from producer Jay Swede about his evaluation of planting green to minimize herbicide and fertilizer use, improve soil health, and maintain productivity. A panel of Genesee River farmers will discuss how soil regenerative practices have impacted their farm's profitability. This year we highlight a presentation from Kristen Loria from Cornell University who will speak about Organic Methods for Cover Cropping Success. A complimentary lunch will be served. There is no cost to attend, refreshments, and education materials will be provided. Link to register.
This field day is part of the Genesee River Demonstration Farm Network project, a collaboration between American Farmland Trust, Western New York Crop Management Association, Cornell Cooperative Extension Northwest New York Dairy Livestock and Field Crops team and the Genesee River Watershed Coalition of Soil and Water Conservation Districts. This project is funded by the Natural Resources Conservation Service (NRCS), EPA's Great Lakes Restoration Initiative, New York Farm Viability Institute, and the New York Corn and Soybeans Association.
Agenda
9:00 - 9:45: Welcome and Introductions
9:45 - 10:15: Dave DeGolyer, WNY Crop Management Association, On-Farm Demo Plots Evaluating the Benefits and Challenges of Planting Green in Western New York
10:15 - 10:45: Debbie Aller, Cornell University, Healthy Soil for Climate Adaptation
10:45 - 11:15: Kristen Loria, Cornell University, Organic Methods for Cover Cropping Success
11:15 - 12:00 : Farmer Panel - Jay Swede, Pete Zeliff, Matt Toussaint
12:00 - 1:00: Buffet Lunch (provided)
1:00 - 3:00: Cover Crop Field Tour and Soil Pit, Rod Porter, Kings AgriSeeds and NRCS Soil Scientist Nicole Kubiczki


Upcoming Events
Beef Quality Assurance (BQA) Training
October 8, 2022
Attica, NY
Beef Quality Assurance (BQA) is a nationwide certification program to help ensure a safe, wholesome, and quality beef product for consumers. Topics covered include herd health management, nutrition, behavior, and handling. Producers attending the training will become Level 2 certified.
Fall Update on Highly Pathogenic Avian Influenza Outbreak
October 12, 2022
All poultry famers, hobbyists, and enthusiasts are invited to join Cornell Cooperative Extension's Livestock Program Work Team and NYS Agriculture and Markets to learn more about this disease, what we know so far about the current outbreak, and how we should prepare moving into the heart of the fall migration.
2022 Feeder School - November 10
November 10, 2022
Join the NWNY Team Dairy Specialists for a one day on-farm training for dairy farm feeders. The training is offered in English and Spanish and will feature stations with hands-on activities and demonstrations.
Announcements
The NWNY Team Blog
Our goal for
this blog
is to share with farmers and allied industry professionals, technical and applicable resources regarding all aspects of dairy farming, livestock and small farms, field crops and soils, and topics related to farm business management and precision agriculture.

The blog will feature Crop Alerts, Dairy Alerts, Bilingual (Spanish) Resources, Upcoming Events and more from our team members. This blog is free for everyone to use, explore and enjoy. When new material is published, subscribers will receive an email notification.

We hope you enjoy this new platform, and are looking forward to engaging with you in the future!