2022 Pre-Harvest Workshop
---
Event Details
Date
August 26, 2022
Time
10:00am - Noon or 1:00pm - 3:00pm
Location
Noblehurst Farms - 2795 Stewart Rd (CR-58), Linwood, NY 14525
OR
Lamb Farms - 6880 Albion Rd, Oakfield, NY 14125, NY
Host
Northwest New York Dairy, Livestock & Field Crops
Jodi Letham
585-689-3423
email Jodi Letham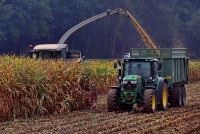 2022 Corn Silage Pre-Harvest Workshops
Corn silage harvest is approaching. The way corn silage is harvested and stored is a single event that affects your operation for the entire next year. Are you prepared to set your operation up for success? Plan to attend one of the following on-farm Corn Silage Pre-Harvest workshops to hear the latest research-backed strategies you can implement on your dairy this corn silage season.
Speakers and topics include:
Joe Lawrence Dairy Forage Systems Specialist; PRO-DAIRY: Success of harvesting quality forage out of the field; best practices for monitoring corn dry down and kernel processing.
Kirsten Workman Nutrient Management and Environmental Sustainability Specialist; PRO-DAIRY: Why collect field (or more precisely) yield data?
Manuel P. Marcaida III Crop and Soil Data Specialist; Nutrient Management Spear Program (NMSP); How to collect accurate yield data?
Jodi Letham Field Crops, Forages, Nutrient Management and Soils Specialist; NWNY CCE Team: What can we do with accurate yield data?
| | | | |
| --- | --- | --- | --- |
| Date | Time | Location | Address |
| Friday, August 26th | 10am - 12pm | Noblehurst Farms | 2795 Stewart Rd (CR-58), Linwood, NY 14525 |
| Friday, August 26th | 1pm- 3pm | Lamb Farms | 6880 Albion Road, Oakfield, NY 14125 |


Upcoming Events
Webinar-Challenges and Opportunities of Managing Transition Cows on AMS
June 1, 2023
Please join MSU Extension and Cornell Cooperative Extension Regional Teams for our talk with Pete Maslyn of Hemdale Dairy and Todd Ward of Direct Dairy Nutrition Services on managing transition cows on automated milking systems (AMS).
2023 Dairy Nutrition & Management Shortcourse
June 5 - June 9, 2023
Chazy, NY
This course is designed primarily for early career nutritionists and allied industry professionals seeking a more comprehensive foundation in the principles of dairy cattle nutrition and their application within dairy herd management.
Agritourism Workshops Monthly! - Agritourism Pricing Workshop
June 20, 2023
Are you thinking of starting an agritourism business or are you currently operating one?

Join our monthly lunch-hour, workshop virtual series and learn how to grow your agritourism business!
Each session will focus on specific topic to help aspiring agritourism entrepreneurs grow their knowledge and profit through this exciting on-farm business.

Cost: Free to attend, but registration required!

Announcements
Follow us on Instagram
See photos and reels of our most recent events and programs!
Join us on Facebook!
Follow us on Facebook to get up to date posts about events, workshops and everything NWNY!
Add us on LinkedIn!
Connect with us on LinkedIn to get more information about upcoming workshops and programs!
Watch us on YouTube
Watch instructional videos from specialists in the field!
Subscribe for Emails about Events & Workshops!