2022 Silvopasture Showcase Tour
---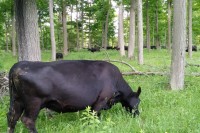 2022 Silvopasture Showcase Tour - September 15 & 16, 2022
To help us plan for this unique tour, we strongly encourage you to take advantage of the early registration discount ($69) by August 8, 2022. After that the registration price is $89.
Host Farms and schedule ( subject to changes)
Thursday, September 15th (bus tour only due to limited parking space at farms - no exceptions)
8:00am - Board buses at Seneca Lodge (3600 State Route 419; Watkins Glen)
9:00am - Burns Family Farm
12:00pm - Kurtz Family Farm and lunch (provided)
2:30pm - Fieldstone Acres
5:30pm - Return to Seneca Lodge and Angus Glen Farms.Dinner on your own, suggested options below.
Friday, September 16th (drive personal vehicles to the farm )
8:30am - Angus Glen Farms
11:30am - lunch on your own in nearby Watkins Glen, or bring a bag lunch
1:00pm - optional technical session at Angus Glen Farms: "silvopasture silviculture"
3:30pm - optional tour of Good Life Farm and Finger Lakes Cider House.Brick-over pizza and live music following tour for those not in a hurry to depart!
Host Farms
Burns Family Farm is a multi-species grazing farm operated by John Burns and family for over 25 years.After initial successes with some small-scale silvopasture projects, John worked with consulting forester Jim Shuler and Zooks Logging in the spring of 2020 to develop an additional 70 acres of the farm's mature woods into silvopasture.Highlights include: the pros and cons of multi-species grazing in silvopastures; the economics of creating silvopasture in mature farm woodlands; and the early results of liming and seeding experiments after three growing seasons.
Kurtz Family Farm is a multi-species grazing farm operated by Emanuel Kurtz and family.Emanuel has used his forestry knowledge and logging skills to gradually develop productive silvopastures in the farm's mature woodlot. Highlights include: the pros and cons of "do it yourself" silvopasture creation; the impacts of site quality on forage production; and coping with unexpected tree pest and disease issues. Lunch will be provided at the farm by the Addison Amish Community.
Fieldstone Acres has developed extensive portions of the farm's wooded acreage into silvopastures to support their large certified grass-fed herd.Highlights include: the "learning curve" of a 150-acre silvopasture harvest in 2018; adaptive grazing management of livestock in silvopastures for constantly changing conditions; and the layout of a new silvopasture harvest that may be in progress by September.
Angus Glen Farms, LLC utilizes extensive silvopastures to support their large cow-calf herd.Highlights include: 30+ year old plantation silvopastures and "living barns"; progress to date in a 2015 silvopasture harvest in mature portions of the farm's woods; and on-going experiments to use bale grazing and other innovative strategies to grow better forages in silvopasture settings.An optional post-lunch session will be offered at no additional cost to talk through the technical details of "planting silvopastures from scratch" and creating quality silvopastures where the trees (and usually lots of understory brush) already exist.
Good Life Farm and Finger Lakes Cider House (www.fingerlakesciderhouse.com) is an organic, multi-faceted farm and farm cidery that has experimented for years with integrated livestock, crop and tree systems.For those looking to extend the learning experience, the farm team will lead a special tour of past, present and in the planning stages examples of mostly orchard-based silvopastures.Following the tour, brick-over pizza, cider and other refreshing apple-based beverages like "switchel" are available for purchase.Live music starts at 6:30.
Lodging, Dining and Other Details
Rooms are available for the "Cornell Silvopasture Tour" at the historic Seneca Lodge in Watkins Glen ( senecalodge.com) Reservations are best made by calling: 607-535-2014.Rooms are about $110/night, depending on room type.Seneca Lodge has excellent on-site dining and a unique bar featuring their own craft beers.An informal social will take place there on Thursday evening following the first day of the tour. Room reservations by August 15 th are appreciated and the "sooner the better", especially if looking to stay beyond Friday to take in some of world-famous Watkins Glen while in town ( www.explorewatkinsglen.com)
For those on a tight budget and not afraid of something a bit more rustic, camping is available at the adjacent Watkins Glen State Park campground or at other nearby campgrounds including KOA.
Lastly, thanks for the generous support of the partners listed below, we have been able to keep registration costs at a very modest level.Nonetheless, we want the tour to be financially accessible to all.Therefore, we have budgeted to offer a limited number of discounted registrations "while supplies last".To request a discount, please send an email with the following information to Brett Chedzoy at: bjc226@cornell.edu
Name & location
A short paragraph on your interest is attending the tour
Requested discount on registration fee
Requests will be considered on a first-come, first-serve basis until allocated funds are exhausted.
This event is organized by the Cornell Cooperative Extension SCNY Ag Team, with generous support from the following partners:
National Grazing Lands Coalition
Society of American Foresters Kurt Gottschalk Science Fund
National Agroforestry Center
National Institute of Food and Agriculture
Edwards Mother Earth Foundation
Propagate Ventures
Register
https://reg.cce.cornell.edu/Silvopasturetour_244


Upcoming Events
Dairy "Technology Tuesdays" Webinar Series
January 10, 2023
January 17, 2023
January 24, 2023
January 31, 2023
February 7, 2023
February 14, 2023
February 21, 2023

: Dairy "Technology Tuesdays" Webinar Series
Dairy "Technology Tuesdays" Webinar Series

January 10 to February 21, 2023
12:30pm to 1:30pm EST
Registration free, but required: https://cornell.zoom.us/webina...
2023 Soybean & Small Grains Congress - Batavia, NY

February 15, 2023
Batavia, NY
Registration is now open for the 2023 Soybean & Small Grains Congress, February 15 & 16, 2023.

2023 Soybean & Small Grains Congress - Waterloo, NY

February 16, 2023
Waterloo, NY
Registration is now open for the 2023 Soybean & Small Grains Congress February 15 & 16, 2023.
Announcements
No announcements at this time.