Event Details
Date
December 4 - December 5, 2013
Location
RIT Inn & Conference Center
5257 West Henrietta Road
Henrietta, NY 14467
Host
Northwest New York Dairy, Livestock & Field Crops
Cathy Wallace
(585) 343-3040 x138
email Cathy Wallace


EVENT HAS PASSED
Calf Congress 2013 - "Growing the Next Generation"
December 4 - December 5, 2013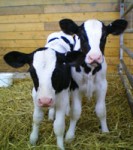 A variety of calf management topics will be presented of interest to dairy producers and agriservice personnel alike. The focus will be on the young dairy replacement heifer. The format includes a pre-conference evening reception and dinner with presentations and a panel discussion followed by a full day of speakers concluding with a moderated panel discussion.
Calf Congress Mail-In Form (PDF; 443KB)
Upcoming Events
Livestock Discussion Meeting
May 3, 2016
6:30 p.m. - 8:00 p.m.
Canandaigua, NY
This will be an informal meeting where Leith MacKenzie of Sweet Grass Meats will join us to speak about his 11 years of experience marketing locally raised livestock. This will be a great opportunity to hear directly from a producer about building their operation over time. There will be no charge for this group, but if you plan on attending, please register in advance.
Webinar: Strategies for Nonpregnancy Diagnosis in Dairy Cows
May 9, 2016
12:30 p.m. - 2:00 p.m.
Warsaw, NY
Early identification of nonpregnant cows is key to any reproductive program. Presented by Paul Fricke from the University of Wisconsin-Madison. Paul will discuss the latest data on traditional and emerging methods of nonpregnancy diagnosis and the best ways to incorporate these technologies to improve reproductive performance on your farm This webinar is sponsored by Hoard's Dairyman and Parnell.
Please RSVP by May 6 to: Zach Amey at 585-786-2251 x123 or zta3@cornell.edu
Management of Internal Parasites in Sheep & Goats Workshop
July 16, 2016
9:00 a.m. - 3:30 p.m.
Canandaigua, NY
Internal parasites are the number one health problem affecting sheep and goats in the Northeast U.S. Because worms have become resistant to many of the anthelmintics (dewormers) producers use, a more integrated approach to internal parasite control is necessary.
This workshop is designed to help producers develop integrated parasite management (IPM) programs for their farms and flocks. It will also help familiarize you with IPM techniques. The primary instructor is Dr tatiana Stanton, Cornell Small Ruminant Extension Specialist.
Announcements
Latest Dairy Market Watch
An educational newsletter to keep producers informed of changing market factors affecting the dairy industry.
How to Read Dairy Market Watch
.
Dairy Market Watch - April 2016
2016 Cornell Field Crop Guidelines Available in Mid-December
The 2016 edition of the Cornell Integrated Field Crop Management Guidelines will be available in mid-December. For the 2016 there will be three different product options for the Cornell Guidelines. Users can obtain a print copy, online-only access or a package that combines print and online access. The print edition of the 2016
Field Crops Guide
is $26 plus shipping. Online-only access is $26. A combination of print and online access costs $36.50 plus shipping costs for the printed book.
Cornell Guidelines can be obtained through your local Cornell Cooperative Extension office or from the Cornell Store at Cornell University. To order from the Cornell Store, call (800) 624-4080 or order online at:
Cornell Store
Northwest New York Dairy, Livestock & Field Crops - Cornell Cooperative Extension
Your Trusted Source for Research-Based Knowledge