Event Details
Date
December 4 - December 5, 2013
Location
RIT Inn & Conference Center
5257 West Henrietta Road
Henrietta, NY 14467
Host
Northwest New York Dairy, Livestock & Field Crops
Cathy Wallace
(585) 343-3040 x138
email Cathy Wallace


EVENT HAS PASSED
Calf Congress 2013 - "Growing the Next Generation"
December 4 - December 5, 2013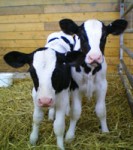 A variety of calf management topics will be presented of interest to dairy producers and agriservice personnel alike. The focus will be on the young dairy replacement heifer. The format includes a pre-conference evening reception and dinner with presentations and a panel discussion followed by a full day of speakers concluding with a moderated panel discussion.
Calf Congress Mail-In Form (PDF; 443KB)
Upcoming Events
Cornell Small Farms Program: BF 122: Berry Production
November 8 - December 16, 2016
6:30 p.m. - 8:00 p.m.
If you're exploring the idea of adding berries and bramble fruits to your farm, this course will help you consider all the aspects of this decision, from varieties and site selection all the way through profit potential and marketing.
Cornell Small Farms Program: BF 151: Woodland Mushroom Cultivation
November 8 - December 13, 2016
6:00 p.m. - 7:30 p.m.
Mushrooms are an emerging niche crop with many benefits, including improving farmer stewardship of forested lands and the ability to offer a unique and highly desired product. With a bit of practice, mushrooms can be easily grown in the woods on many products that can be the surplus of healthy forest management.
This course trains new and experienced farmers in the background, techniques, and economics of farm scale woodland mushroom production. Students will learn the basic biology of mushrooms, cultivation techniques for shiitake, oyster, lions mane, and stropharia mushrooms, proper conditions for fruiting, management needs, and harvesting and marketing mushrooms.
Dairy Skills Training: Calf Management 2 Day Workshop
November 8 - November 15, 2016
10:00 a.m. - 3:00 p.m.
This workshop is a 2 day event at 2 different locations.
First Class:
November 8 at: Mulligan Farms, 5403 Barber Road, Avon

Second Class: November 15 at: Lamb Farms, 6880 Albion Road, Oakfield
Announcements
Latest Dairy Market Watch
An educational newsletter to keep producers informed of changing market factors affecting the dairy industry.
How to Read Dairy Market Watch
.
Dairy Market Watch - October 2016
Working Through the Drought of 2016
UPDATED INFORMATION:

Given the severe drought across much of NYS this year and the potential need for additional forage on dairy farms across the state, we are restarting the online
CCE Forage Exchange
. Producers or growers with surplus forage or corn may use this site for free to list what they have for sale. Interested buyers may use this site to find what they need and make arrangements directly with sellers. The site URL is below along with a "how to post an ad video" so please feel free to share this opportunity in your newsletters, networks and farmers who may have surplus forage or corn.
Forage exchange:
http://forage-exchange.cce.cornell.edu
How to post an ad video:
https://youtu.be/Olrwm9drrgU
Special thanks to Paul Treadwell for bringing this site back to "life" for this emergency situation.
The September issue of our newsletter focused on dealing with what Mother Nature has dealt us this growing season. We are posting it to provide the information in a timely manner.
Click
here
to view the September issue of Ag Focus.
Northwest New York Dairy, Livestock & Field Crops - Cornell Cooperative Extension
Your Trusted Source for Research-Based Knowledge