Event Details
Date
December 4 - December 5, 2013
Location
RIT Inn & Conference Center
5257 West Henrietta Road
Henrietta, NY 14467
Host
Northwest New York Dairy, Livestock & Field Crops
Cathy Wallace
(585) 343-3040 x138
email Cathy Wallace


EVENT HAS PASSED
Calf Congress 2013 - "Growing the Next Generation"
December 4 - December 5, 2013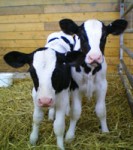 A variety of calf management topics will be presented of interest to dairy producers and agriservice personnel alike. The focus will be on the young dairy replacement heifer. The format includes a pre-conference evening reception and dinner with presentations and a panel discussion followed by a full day of speakers concluding with a moderated panel discussion.
Calf Congress Mail-In Form (PDF; 443KB)
Upcoming Events
Calf Management - Dairy Skills Training
October 28 - November 8, 2014

Worried about respiratory issues or colostrum quality may be affecting your calf program? It's not to late to sign up for the Calf Management Course! Sessions to be held in Warsaw and Canandaigua.
NY Veterans in Agriculture Summit
November 6, 2014
9:00 am - 3:00 pm
Syracuse, NY
Are you a veteran farming in New York State, or an organization serving farmer veterans? The Cornell Small Farms Program is pleased to announce an interactive meeting just for you!
Space is Limited: Register Early!
2014 Field Crop Dealer Meeting

November 12, 2014
1:00 - 5:00 p.m.
Liverpool, NY
This program presents research activities at Cornell University and associated farms. Topics relate to the future potential of agricultural products, environmental sustainability, and updates on pest related issues. The course objective is to educate and disseminate research findings to the farming community as well as extension faculty, staff, educators, and industry representatives.
Announcements
October is BQA Month!
Attention: Beef Producers
Get BQA Certified & Qualify for a Chance to Win $250 of BI Animal Health Products!
Producers who certify or recertify during the BQA Month promotion will be entered in a drawing for a
Grand Prize $250 gift certificate for Boehringer Ingelheim animal health products
and additional prizes of $10 gift certificates for two 50lb bags of FrameWork Mineral courtesy of Kent Feeds. In addition, every producer attending BQA training during the BQA month promotion will receive a coupon toward Merial animal health products. Check out our Upcoming Events to the right for trainings in the region, or go to
http://nybeef.org/bqatrainings.aspx
to find them around the state.
2014 Cornell Field Crop Guidelines Available
The 2014 edition of the Cornell Integrated Field Crop Management Guidelines is available.
The Cornell Guide for Integrated Field Crop Management provides up-to-date field crop production and pest management information for New York State. It has been designed as a practical guide for field crop producers, crop consultants, pesticide dealers, and others who advise field crop producers. Crops included in this Guide include field corn, forages, small grains, and soybeans. The cost of this guide is $25 plus shipping. You can order this publication, or other Cornell Guidelines, through Cornell Copperative Extension offices or from the Cornell Store at Cornell University at 800-624-4080.
Northwest New York Dairy, Livestock & Field Crops - Cornell Cooperative Extension
Your Trusted Source for Research-Based Knowledge