Event Details
Date
December 4 - December 5, 2013
Location
RIT Inn & Conference Center
5257 West Henrietta Road
Henrietta, NY 14467
Host
Northwest New York Dairy, Livestock & Field Crops
Cathy Wallace
(585) 343-3040 x138
email Cathy Wallace


EVENT HAS PASSED
Calf Congress 2013 - "Growing the Next Generation"
December 4 - December 5, 2013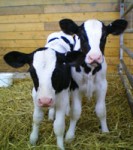 A variety of calf management topics will be presented of interest to dairy producers and agriservice personnel alike. The focus will be on the young dairy replacement heifer. The format includes a pre-conference evening reception and dinner with presentations and a panel discussion followed by a full day of speakers concluding with a moderated panel discussion.
Calf Congress Mail-In Form (PDF; 443KB)
Upcoming Events
WNY Young Dairy Manager Discussion Group Meeting
September 8, 2016
6:30pm- 9:00pm
Warsaw, NY
The focus for this meeting is Quality Milk. The discussion will be centered around pathogen-based treatments, aerobic culturing and the QMPS milking time audit program.

Pasture Walk
September 14, 2016
5:30-7:30pm
Hemlock, NY
Join us for a pasture walk! Dr. Michael Baker, Cornell University Beef Specialist, and Nancy Glazier, CCE Small Farms and Livestock Specialist, will lead participants on an educational tour of pasture in use for beef production. This pasture walk will be informative for livestock producers of all kinds. Light refreshments served.

Bovine Reproduction and A.I. Training Course in English
September 26 - September 27, 2016
9:30am- 3:30pm
Shortsville, NY
During the last week of September we will be offering a Bovine Reproduction & Artificial Insemination Training Course in collaboration of Genex Cooperative, Inc. This two-day class will be offered once in Spanish and once in English. Registration is limited to 15 participants per two-day class.

Announcements
Latest Dairy Market Watch
An educational newsletter to keep producers informed of changing market factors affecting the dairy industry.
How to Read Dairy Market Watch
.
Dairy Market Watch - July 2016
Fall Feeding Decision Tools
Many farms in the Lake Plains and Finger Lakes Regions in New York have diminished forage supply for the feeding season we are about to enter. Drought conditions have challenged our production systems in 2016. Here are some tools to help with decision making. Click on link for
Fall Feeding Decision Tools
.
Northwest New York Dairy, Livestock & Field Crops - Cornell Cooperative Extension
Your Trusted Source for Research-Based Knowledge