Event Details
Date
December 4 - December 5, 2013
Location
RIT Inn & Conference Center
5257 West Henrietta Road
Henrietta, NY 14467
Host
Northwest New York Dairy, Livestock & Field Crops
Cathy Wallace
(585) 343-3040 x138
email Cathy Wallace


EVENT HAS PASSED
Calf Congress 2013 - "Growing the Next Generation"
December 4 - December 5, 2013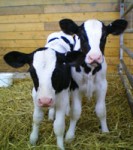 A variety of calf management topics will be presented of interest to dairy producers and agriservice personnel alike. The focus will be on the young dairy replacement heifer. The format includes a pre-conference evening reception and dinner with presentations and a panel discussion followed by a full day of speakers concluding with a moderated panel discussion.
Calf Congress Mail-In Form (PDF; 443KB)
Upcoming Events
Organic Dry Bean Discussion Group Meeting
August 12, 2016
1:00 - 4:00 p.m.
Penn Yan, NY
There will be viewing and discussion of the dry bean crop, cultivation for dry beans, the benefits of certain cover crops ahead of dry beans, and the potential for organic reduced tillage. There will be ample time for open discussion regarding organic dry beans.
Grain Bin Rescue Training
August 16, 2016
7:00 p.m.
Penn Yan, NY
Free Training with 2 hours of demonstrations. Learn the 4 most common ways people become entrapped in grain bins and prevention.
Finger Lakes Soil Health Discussion Group Meeting

August 18, 2016
5:00 - 8:15 p.m.
Seneca Castle, NY
Why Hemdale Farms switched to zone tillage, and how they've been successful doing it for field crops and vegetables will be described. Equipment will be available for viewing. The many niches available for cover crop planting, and the benefits of different cover crops will be covered by Thomas Bjorkman, Cornell. There will be ample time for open group discussion on reduced tillage, cover crops, and all aspects of improving soil health.
DEC, CCA & CEU's credits have been requested.
Announcements
Fall Feeding Decision Tools
Many farms in the Lake Plains and Finger Lakes Regions in New York have diminished forage supply for the feeding season we are about to enter. Drought conditions have challenged our production systems in 2016. Here are some tools to help with decision making. Click on link for
Fall Feeding Decision Tools
.
2016 Hay Contest at the NYS Fair
Do you want to see how your hay stacks up? Entering the hay contest as a farmer, is a chance to show off all of your hard work to manage and put up high quality forages. Likewise, if you're employed in agri-service and know of a farmer who puts up excellent forage year after year, encourage them to enter the Hay contest.
ENTRY DEADLINE: 4:30 p.m. on July 29, 2016
. The Exhibitor Fee is $10.00 and includes an analysis from the Dairy One Forage Lab. For entry forms and information visit:
http://nysfair.ny.gov/competitions/how-to-enter/
When you get to the website:
Scroll down to the section: Agricultural - Farm Products > Under the 4th Blue Tab (Labeled: Conventional & Organic Forage and Grain) you will see: Conventional & Organic Forage and Grain Rules & Classes (you can download the PDF). You can either download the PDF for the entry form or apply online.
Latest Dairy Market Watch
An educational newsletter to keep producers informed of changing market factors affecting the dairy industry.
How to Read Dairy Market Watch
.
Dairy Market Watch - June 2016
Northwest New York Dairy, Livestock & Field Crops - Cornell Cooperative Extension
Your Trusted Source for Research-Based Knowledge