Event Details
Date
December 4 - December 5, 2013
Location
RIT Inn & Conference Center
5257 West Henrietta Road
Henrietta, NY 14467
Host
Northwest New York Dairy, Livestock & Field Crops
Cathy Wallace
(585) 343-3040 x138
email Cathy Wallace


EVENT HAS PASSED
Calf Congress 2013 - "Growing the Next Generation"
December 4 - December 5, 2013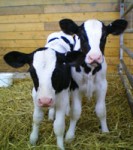 A variety of calf management topics will be presented of interest to dairy producers and agriservice personnel alike. The focus will be on the young dairy replacement heifer. The format includes a pre-conference evening reception and dinner with presentations and a panel discussion followed by a full day of speakers concluding with a moderated panel discussion.
Calf Congress Mail-In Form (PDF; 443KB)
Upcoming Events
Raising Your Bull Calves Can Add To Your Dairy Farm Profitability
December 7, 2015
10:00 a.m. - 2:00 p.m.
Albion, NY
If you are thinking about adding a new profitable enterprise to your dairy or beef operation, dairy beef production could be a natural fit.
Calf & Heifer Congress - 2015 "Manage What Matters"
December 15 - December 16, 2015
Tuesday 12:30 - 9:00 pm, Wednesday 9:00 am - 5:00 pm
East Syracuse, NY
The program will cover topics pertinent to replacement heifer management from birth to calving. An excellent slate of speakers and outstanding dairy producers will deliver practical information of interest to dairy producers, industry, extension personnel and college staff alike.
View Upcoming Event Potential Sponsorship
Corn Congress - Waterloo Location

January 14, 2016
8:30 a.m. - 3:00 p.m.
Waterloo, NY
SAVE THE DATE...
More details coming soon!
Announcements
2016 Cornell Field Crop Guidelines Available in Mid-December
The 2016 edition of the Cornell Integrated Field Crop Management Guidelines will be available in mid-December. For the 2016 there will be three different product options for the Cornell Guidelines. Users can obtain a print copy, online-only access or a package that combines print and online access. The print edition of the 2016
Field Crops Guide
is $26 plus shipping. Online-only access is $26. A combination of print and online access costs $36.50 plus shipping costs for the printed book.
Cornell Guidelines can be obtained through your local Cornell Cooperative Extension office or from the Cornell Store at Cornell University. To order from the Cornell Store, call (800) 624-4080 or order online at:
Cornell Store
Field Crops Specialist Position Available
To view the position description and apply visit https://cornellu.taleo.net/careersection/10164/jobdetail.ftl?job=28922
. Please feel free to share with others that may be interested in the position.
Northwest New York Dairy, Livestock & Field Crops - Cornell Cooperative Extension
Your Trusted Source for Research-Based Knowledge