Event Details
Date
December 4 - December 5, 2013
Location
RIT Inn & Conference Center
5257 West Henrietta Road
Henrietta, NY 14467
Host
Northwest New York Dairy, Livestock & Field Crops
Cathy Wallace
(585) 343-3040 x138
email Cathy Wallace


EVENT HAS PASSED
Calf Congress 2013 - "Growing the Next Generation"
December 4 - December 5, 2013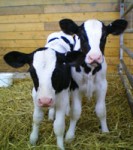 A variety of calf management topics will be presented of interest to dairy producers and agriservice personnel alike. The focus will be on the young dairy replacement heifer. The format includes a pre-conference evening reception and dinner with presentations and a panel discussion followed by a full day of speakers concluding with a moderated panel discussion.
Calf Congress Mail-In Form (PDF; 443KB)
Upcoming Events
Cornell Small Farms Program: BF 122: Berry Production
November 8 - December 16, 2016
6:30 p.m. - 8:00 p.m.
If you're exploring the idea of adding berries and bramble fruits to your farm, this course will help you consider all the aspects of this decision, from varieties and site selection all the way through profit potential and marketing.

Cornell Small Farms Program: BF 151: Woodland Mushroom Cultivation
November 8 - December 13, 2016
6:00 p.m. - 7:30 p.m.
Mushrooms are an emerging niche crop with many benefits, including improving farmer stewardship of forested lands and the ability to offer a unique and highly desired product. With a bit of practice, mushrooms can be easily grown in the woods on many products that can be the surplus of healthy forest management.

This course trains new and experienced farmers in the background, techniques, and economics of farm scale woodland mushroom production. Students will learn the basic biology of mushrooms, cultivation techniques for shiitake, oyster, lions mane, and stropharia mushrooms, proper conditions for fruiting, management needs, and harvesting and marketing mushrooms.


Cornell Small Farms Program: BF 201: Effective Marketing for the Busy Farmer
November 9 - December 14, 2016
6:00 p.m. - 7:30 p.m.
Most of us go into farming with the thought of making some - or all - of our
livelihood through the sale of what we make or grow. As you grow your operation to provide more of your family's income, having a carefully planned marketing strategy becomes more critical.

Completion of this online course will enable you to better understand how to price your products, position yourself in the "buy local", direct sales or wholesale marketplace, and understand low-cost "guerrilla" marketing tactics to get the best bang for your buck and make your farm operation financially sustainable. If you complete the activities in this course, you will possess a marketing plan to guide decisions for which market channels to enter, branding and crisis management plans and pricing guidelines for your farm products.


Northwest New York Dairy, Livestock & Field Crops - Cornell Cooperative Extension
Your Trusted Source for Research-Based Knowledge