Event Details
Date
December 4 - December 5, 2013
Location
RIT Inn & Conference Center
5257 West Henrietta Road
Henrietta, NY 14467
Host
Northwest New York Dairy, Livestock & Field Crops
Cathy Wallace
(585) 343-3040 x138
email Cathy Wallace


EVENT HAS PASSED
Calf Congress 2013 - "Growing the Next Generation"
December 4 - December 5, 2013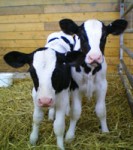 A variety of calf management topics will be presented of interest to dairy producers and agriservice personnel alike. The focus will be on the young dairy replacement heifer. The format includes a pre-conference evening reception and dinner with presentations and a panel discussion followed by a full day of speakers concluding with a moderated panel discussion.
Calf Congress Mail-In Form (PDF; 443KB)
Upcoming Events
Temple Grandin to visit Ontario County
September 17, 2015
12:00 p.m.
Stanley, NY
Livestock handling talk and farm walk-through
Thursday, September 17, 2015
12 Noon - 3:30 PM
Lawnhurst Farms, LLC, 4124 County Road 5, Stanley, NY
This event is designed for dairy and beef farmers to help them improve livestock handling. There will be time after the program for questions and book signing.

Cost: $25 per person, includes a BBQ Beef lunch.
Registration will be capped at 100 people.
Please register by
September 10, 2015
at www.nwnyteam.org or by writing out a check payable to CCE and mailing it with names of attendees to:
CCE of Genesee County, Attn: Cathy Wallace, 420 E Main St. Batavia, NY 14020.
BQA in a Day
September 19, 2015
10:00 a.m. - 2:00 p.m.
Canandaigua, NY
Announcements
Latest Dairy Market Watch
An educational newsletter to keep producers informed of changing market factors affecting the dairy industry.
How to Read Dairy Market Watch
.
Dairy Market Watch, August 2015 Report.
Deadlines Reminder...
The new Farm Bill contains a number of important changes to USDA programs that will impact our farmers. They are outlined below:
The registration period for 2016 coverage for the Dairy Margin Protection Program (MPP) is from
July 1 to September 30, 2015
.
Farmers who participated in the 2015 program will get an automatic increase to their Production History of 1.0261 or 2.61%. This will allow them to enroll just that much more milk marketing's. For producers who are signing up for the first time, they will get their production History as established according to the original rules, with no adjustment or "bump". The process for establishing a Production History is described in the MPP tools section of www.dairymarkets.org.
2015 Cornell Field Crop Guidelines Available
The 2015 edition of the Cornell Integrated Field Crop Management Guidelines is available! New for 2015 are three different product options for the Cornell Guidelines. Users can obtain a print copy, online-only access or a package that combines print and online access. The print edition of the 2015
Field Crops Guide
is $26 plus shipping. Online-only access is $26. A combination of print and online access costs $36.50 plus shipping costs for the printed book.
Cornell Guidelines can be obtained through your local Cornell Cooperative Extension office or from the Cornell Store at Cornell University. To order from the Cornell Store, call (800) 624-4080 or order online at:
Cornell Store
Northwest New York Dairy, Livestock & Field Crops - Cornell Cooperative Extension
Your Trusted Source for Research-Based Knowledge