Reducing the Risk of Compaction When Grazing Cover Crops
Nancy Glazier, Small Farms & Livestock
Northwest New York Dairy, Livestock & Field Crops
October 31, 2019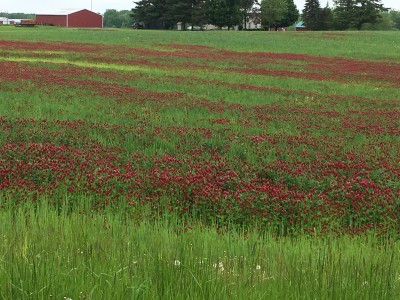 The benefits of cover crops have been known for many years; one is remediating compaction. Cover is critical for soil health, reducing erosion, and scavenging nutrients. What about adding livestock? The first hurdle is fencing and water. Temporary or semi-permanent fencing can be set up relatively easily and taken down to get out of the way of equipment. Water demand will be less with cooler temperatures and the remainder needed can be hauled. Adding cover crop grazing can give permanent pastures a longer rest period before the next grazing season or help with that summer slump.
The predominant concern of grazing cover crops is soil compaction. A recent report from Practical Farmers of Iowa was published highlighting a four-year study looking at this issue. Two farm locations were used, both with conventional cash crops that partnered with nearby livestock farmers. The control was no cover crops and no livestock, the treatment was cover crops that were grazed. On both farms compaction was significantly less with cover crops and grazing treatment. The grazing periods were short for both fall and spring. Possibly a truer comparison would be to add a third scenario of cover crops with no grazing. Planning can work through a lot of the issues. Fall precipitation can make the process even more challenging.
Some points to ponder:
Remember the three - grasses, legumes, and forbs (broadleaves). Ideally, more than one of each type is in the mix.
Allow adequate growth of at least 8" prior to grazing. This is two-fold - provides adequate forage plus sufficient root mass for cushioning.
The motto, "take half, leave half" still applies. Leave at least 4-5" of residual.
Ideally, graze when ground is frozen or dry. Livestock will need to be moved to another area (sacrifice area, barnyard, etc.) with rain events over 0.5", unless ample plant cover is there (over 2 tons DM/acre). Be aware of sorghums, sudan, and millets with frost and prussic acid. Some of these annuals may be frostkilled by the time you read this.
Cover crops are highly digestible; you may need to add some dry hay to slow digestion down. The right mix may balance fiber and protein.
Bloat may be a concern with winter wheat. Feed dry hay prior to putting livestock out for the first time.
If possible, move the livestock to a new paddock every one - two days. This helps reduce the risk of compaction while more evenly dispersing manure and urine.
The key to success is adaptation. A different type of grazing plan is needed for cover crop grazing. This would not have worked last year as it was too darn wet. Another challenge we face is we have less frozen ground through winter months. Livestock may do a great job of reducing heavy spring biomass if cover crops have grown too much. Let me know if you have any questions, or would like to show me you've made it work.
Additional resources to accompany Nancy Glazier's November 2019 Ag Focus article "Reducing the Risk of Compaction When Grazing Cover Crops."
Grazing Cover Crops: A How To Guide - http://pastureproject.org/wp-content/uploads/2018/12/Grazing_Cover_Crops_How_To_Guide_FINAL.pdf
Grazing Cover Crops to Avoid Soil Compaction - https://www.iowalearningfarms.org/files/page/files/Cover%20Crops%20and%20Soil%20Compaction.pdf
Soil Compaction in Grazed Cover Crop Fields - https://practicalfarmers.org/research/soil-compaction-in-grazed-cover-crop-fields/
Upcoming Events
On-Farm Dairy Processing Online Series 2022
May 25, 2022
June 1, 2022
June 8, 2022

A FREE, virtual three part webinar series for dairy producers interested in diversifying or vertically integrating their business. Our discussion will include market availability and considerations, business planning and goals, interacting with regulatory agencies, planning requirements, and equipment types and layout, audit readiness, compliance training and record keeping.
Herdsperson Training - Genesee County
June 7, 2022
LeRoy, NY
Registration Now Open! This workshop will teach fresh cow assessment and monitoring practices to recognize and minimize fresh cow metabolic disease rates and improve fresh cow health. This training is in-person and will be offered in both English and Spanish.
Herdsperson Training - Ontario County
June 8, 2022
Canandaigua , NY
Registration Now Open! This workshop will teach fresh cow assessment and monitoring practices to recognize and minimize fresh cow metabolic disease rates and improve fresh cow health. This training is in-person and will be offered in both English and Spanish.
Announcements
Poultry Producers - Be on the Lookout for Highly Pathogenic Avian Influenza!
After the recent incident of Highly Pathogenic Avian Influenza in Long Island, anyone involved with poultry production should review their biosecurity activities to assure the health of their birds.
Amy Barkley, Livestock and Beginning Farm Specialist with the SWNY Dairy, Livestock, and Field Crops Program, has
developed a resource sheet to help poultry producers be on the lookout for Highly Pathogenic Avian Influenza
.
A shared Box folder has been created to share
additional resources as they become available
.
3/28/22 - Ban on Fowl Shows and Exhibitions
With cases of Highly Pathogenic Avian Influenza increasing in NYS, Commissioner Ball has issued an order to ban all live fowl shows and exhibitions to help stop the spread. The situation will be re-revaluated at the end of May prior to the upcoming fair season.
The NWNY Team Blog
Our goal for
this blog
is to share with farmers and allied industry professionals, technical and applicable resources regarding all aspects of dairy farming, livestock and small farms, field crops and soils, and topics related to farm business management and precision agriculture.

The blog will feature Crop Alerts, Dairy Alerts, Bilingual (Spanish) Resources, Upcoming Events and more from our team members. This blog is free for everyone to use, explore and enjoy. When new material is published, subscribers will receive an email notification.

We hope you enjoy this new platform, and are looking forward to engaging with you in the future!